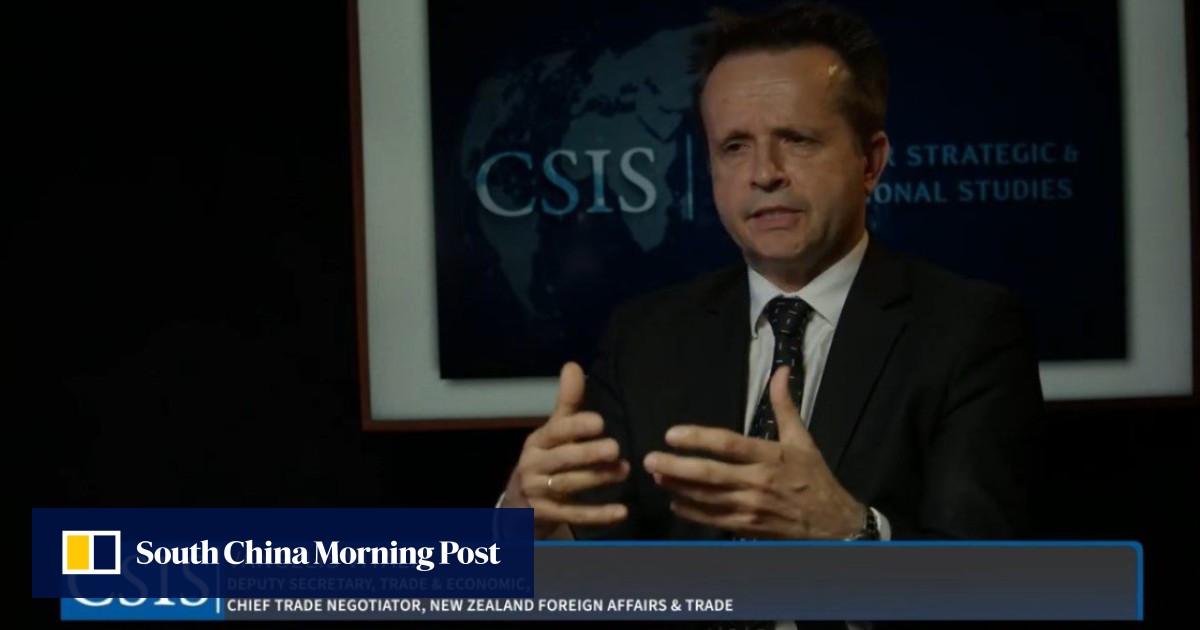 Asked whether New Zealand, the trade bloc's current chair, would be open to changing labour and "rules of origin" commitments in the CPTPP if the US were interested in joining, its deputy trade and economic secretary Vangelis Vitalis said: "We're in an ongoing process of updating and upgrading the existing agreement".
"If the
United States
was to find a way to become an aspirant to submit an application, that would certainly be one of the conversations," he added.
Vitalis, speaking at an event hosted by the Washington-based Centre for Strategic and International Studies, also said it was a "source of immense regret" to see the US not be a part of the bloc.
The CPTPP rose from the ashes of the Trans-Pacific Partnership, the 12-member alliance
Donald Trump
withdrew the US from on his first full day as president in 2017.
The terms were negotiated during the administration of Trump's predecessor,
Barack Obama
, who framed the initiative at least in part as a way to counter China's ascent.
"Those championing the TPP, including President Obama, often cast it as a vehicle for maintaining US leadership in Asia in the face of China's rise, arguing that through the agreement, the United States can 'write the rules' for regional trade and investment," the Congressional Research Service wrote soon after the terms were set.
The initial TPP grouping, including the US, would have comprised about 40 per cent of total global trade, giving it more clout than the current incarnation, with just under 16 per cent.
Meanwhile, China has applied for membership to join the CPTPP, a move that New Zealand
publicly endorsed
in June.
Taiwan
has also submitted an application.
CPTPP membership requires approval from all member countries, namely Australia, Britain, Brunei, Canada, Chile, Japan, Malaysia, Mexico, Peru, New Zealand, Singapore and Vietnam. Britain, having applied in 2021,
reached an agreement
in March to join, and formally signed the pact in July.
Crawford Falconer, London's Second Permanent Secretary for the Department for Business and Trade, said on Wednesday that if the US were serious about joining and had reservations about specific items in the agreement, Britain would be "up for that discussion".
But he added: "I don't get the impression at the moment that the US has got two or three issues [about joining] … I think it's more fundamental".
The officials' positions on US participation in CPTPP reflects comments by officials from other founding CPTPP members,
Japan
in particular.
Earlier this year, Japanese Prime Minister
Fumio Kishida
personally urged US President
Joe Biden
in a joint press conference in Washington to join CPTPP as a way to deepen economic ties.
White House Press Secretary Karine Jean-Pierre poured cold water on the suggestion, telling reporters soon afterward: "This is not an option we're exploring", saying Washington was instead focused on its own
Indo-Pacific Economic Framework
.
Taro Kono, who served as Japan's defence minister and foreign minister, and Takashi Yamashita, the country's former justice minister, have called on Washington to join the bloc.
Kono, speaking at a think tank event last year in Washington, said the objectives that Biden had laid out for IPEF would be better served through CPTPP if the US were a member.
In a blunt assessment, Kono also said at the time: "Now the Biden administration is talking about Indo-Pacific economic whatever. I would say forget about it."
EMEA Tribune is not involved in this news article, it is taken from our partners and or from the News Agencies. Copyright and Credit go to the News Agencies, email [email protected]