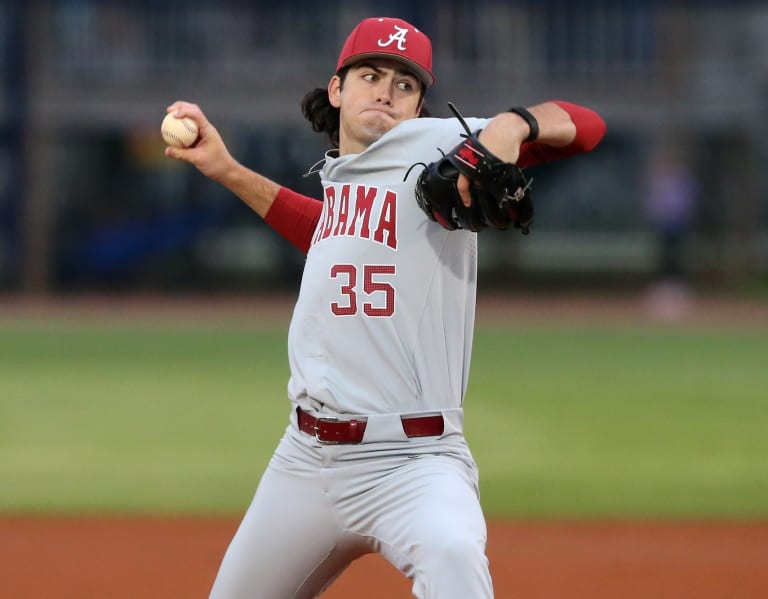 There is a massive weekend on the horizon for Alabama's diamond sports. The baseball team is riding high but faces perhaps its toughest test of the spring on the road. Meanwhile. the softball team is at the Rhoads House taking part in a pivotal series for the SEC standings. Here are some of the stories that have taken shape this week.
Baseball
What happened: The Crimson Tide's recent stretch of wins was nothing short of vital for the squad's postseason chances. Since winning two of three over Auburn for its first series win in league play, Alabama has been victorious in four straight. The Crimson Tide (30-12, 9-9 SEC) swept Missouri in Columbia and used a late burst to rebound in the midweek category against in-state Samford. Alabama outscored Missouri 16-8 through the first two games of that series, edging out a 3-2 win on Sunday to cement the sweep. This past Tuesday, the Crimson Tide was able to beat Samford with two strong innings late in the game. Despite squandering a three-run lead, Alabama scored four runs in the sixth and five in the eighth en route to a 13-6 triumph.
What's on deck: There is never an easy series in SEC baseball, but Alabama's next one is a sizable challenge. Three games await in Baton Rouge, Louisiana at the home of the top-ranked LSU Tigers. The potential importance and implications of a series upset here for the Crimson Tide cannot be overstated. The Tigers (32-8, 12-5 SEC) have lost two of three. A series win would give Alabama a winning record in the SEC. There's plenty at stake here. First pitch of the series is Friday at 6 p.m. CT. Saturday is another 6 p.m. start, followed by a 1 p.m. first pitch on Sunday.
Names to know: The momentum and tone for the series will be set on Friday night, and if Alabama is to come out of the gate hot, Luke Holman is going to have to go stride for stride with Tigers ace Paul Skenes. Holman pitched himself into the starting rotation earlier this season and gave up just one earned run in his last start. He's settled into SEC competition, but this is going to be his biggest challenge up to this point. Catcher Dominic Tamez, who often appears in the designated hitter's spot, has an eight-game hitting streak going. Colby Shelton broke the record for most home runs in a single season by a freshman, sending his 16th over the fence against Samford. Closer Alton Davis II has risen when called upon, dealing in 51/3 innings last weekend (two games), including a three-inning, three-strikeout outing in the series finale to seal the sweep. He didn't give up a run in either game he appeared in against Missouri.
Softball
What happened: The softball team entered last weekend's Iron Bowl series riding high following a sweep of Mississippi State but did not capitalize. Due to inclement weather last Friday, the No. 16 Crimson Tide (34-15, 10-8 SEC) was forced to play a doubleheader on Saturday. Alabama and Auburn split the Saturday games, but the Tigers took advantage of a sixth-inning collapse and bad offensive day by the Crimson Tide to take a 3-1 victory- and the series- on Sunday. Since the teams entered the weekend with identical records in league play, the results put Alabama behind the eight ball relative to its rivals. There was no midweek contest this time around, but that also means that the Crimson Tide will have had ample time to focus on the second Tigers team it will take on in Tuscaloosa this weekend.
What's on deck: Softball and baseball have the same opponent this weekend. For softball, though, the games are at home. Saturday is Senior Day for softball, as this is the last home series of the spring. Alabama has another opportunity to get ahead of a division opponent in the standings with a series win or sweep. No. 14 LSU (37-11, 10-8 SEC) has won three in a row, also sweeping Mississippi State. First pitch on Friday is scheduled for 6 p.m. CT. The action gets underway on Saturday at 1 p.m. Sunday's first pitch is once again early, at 11:30 a.m..
Names to know: Catcher Ally Shipman had three hits- and three RBIs in the Crimson Tide's lone win against Auburn. She's up to 48 on the season, second by only one to freshman Kenleigh Cahalan, who has kept up her pace as one of Alabama's best offensive players. There were questions surrounding the status of third baseman Ashley Prange due to a leg injury, but she is expected to play against the Tigers, per coach Patrick Murphy. Prange is the Alabama leader in home runs, with a dozen, and the Crimson Tide offense struggled mightily in her two-game absence against Auburn. Alabama scored just one run in each of the two games she missed.