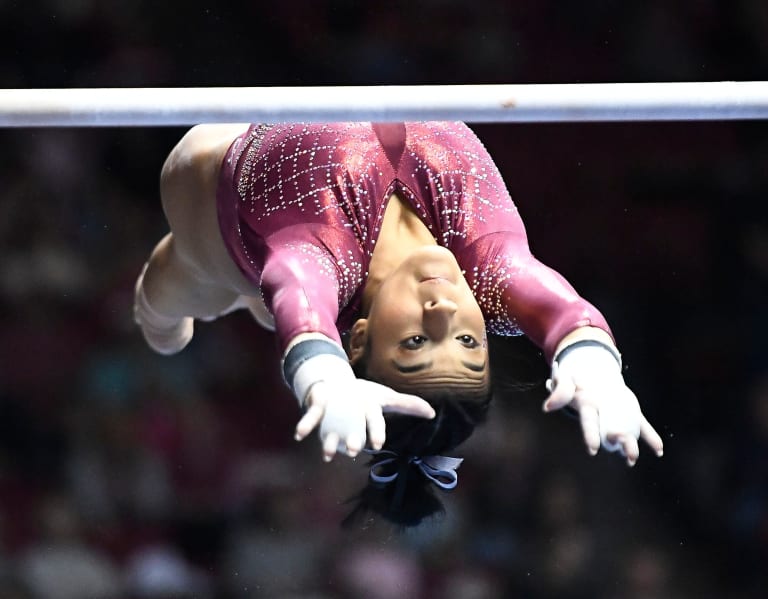 This week is a big one for Alabama athletics. Gymnast Blanco nearly won an NCAA national title on bars, while softball pitcher Montana Fouts added another no-hitter to her resume. Both softball and baseball handled their midweek business to enter the pivotal weekend on a high note.
Here are some of the stories that have taken shape this week.
Gymnastics
What happened: Even though the Crimson Tide's season ended in Norman, Oklahoma back on April 1, one of the best competitors in program history had the chance to add another accolade to her decorated career.
After earning the 2021 NCAA title on beam, Blanco finished tied for second place in bars during the NCAA championships in Fort Worth, Texas on Thursday. The senior's 9.950 score was not enough to buck the recent trend of UCLA edging out Alabama on the big stage as Jordan Chiles scored a 10 to take home the title for the Bruins.
It may have been the last time Blanco competed in a Crimson Tide leotard. If that is the case, she leaves behind a legacy as one of the greats to ever do it at the Capstone.
Baseball
What happened: Alabama (24-10, 4-8 in the SEC) dropped two of three games to Mississippi State last weekend and is still looking for its first SEC series win of the season. Despite entering Sewell-Thomas Stadium with just one win in league play, the Bulldogs were able to pull out two victories in the Crimson Tide's backyard, beating Alabama 12-8 in the series opener before closing out the three-game set with a 8-4 victory. The Tide won the middle game 11-1 in seven innings.
Fortunately for Alabama, it remained unbeaten in midweek contests with a 13-0 thrashing of Southern Miss this past Tuesday. Midweek woes kept the Crimson Tide out of the NCAA Tournament last season, and while winning the games against the Bulldogs would have been ideal, the midweek statistic is the type of substantial improvement this squad needed to make to vie for a postseason berth this spring.
What's on deck: It's Iron Bowl time. Butch Thompson's Auburn squad is coming to Tuscaloosa on the heels of six defeats in seven games. The rivals are dead even in terms of league record with both teams sitting at 4-8.
Auburn's 2-7 road mark suggests difficulty in hostile environments, but Alabama is 2-4 in home conference games to date. The Crimson Tide will have to play better late in games to win, something it failed to do against Mississippi State, and that means consistency on offense and defense. Alabama has scored double digit runs in two of its past three outings. First pitch of the series is scheduled for 6 p.m. CT on Friday. Another 6 p.m. start will follow on Saturday, and the series is set to be capped off by a 1 p.m. first pitch on Sunday.
Names to know: Freshman third baseman Colby Shelton is a stud. He's already made an impact for this Crimson Tide team after taking the place of former hot-corner mainstay Zane Denton. He hit his 13th home run of the campaign against Southern Miss, and is the team leaderin the statistic. Second baseman Ed Johnson, a Tennessee Tech transfer, can be placed in the lineup either at his position or as a designated hitter and has a nine-game hitting streak. During this time frame, he has a homer, a double and nine runs batted in. Before Tennessee Tech, Johnson played briefly at none other than Auburn. Once the action this weekend is underway, Johnson will join the rare group of Crimson Tide names to be on both sides of one of college sports' best rivalries, a list that also includes gymnastics head coach Ashley Johnston.
Softball
What happened: After taking two out of three games against South Carolina last weekend, the No. 14 Alabama softball team had a successful midweek showing, taking a short trip to Homewood to beat Samford 6-2 on Tuesday. Alex Salter pitched four innings in relief of Lauren Esman to get the victory. Alabama now sits at 29-12 on the season with a 6-6 mark in SEC play. Tuesday's victory marked the 1,300th win in program history.
Fouts (15-6) earned a pair of wins against South Carolina, helping the Crimson Tide to a 2-1 victory in nine innings during the series opener before before tossing her fourth career no-hitter during a 4-0 triumph in the second game. Alabama was unable to close out the sweep, falling 3-1 in the series finale.
What's on deck: The Crimson Tide is on the road to take on Mississippi State this weekend. The Bulldogs have lost six in a row, and sit at 3-8 in the league. Alabama has won three of four. First pitch on Friday is scheduled for 4 p.m. CT. Back-to-back early afternoon starts will follow, with a 1:30 p.m. first pitch on Saturday and a 1 p.m. start on Sunday.
Names to know: Bailey Dowling was the offensive MVP of Tuesday's game against Samford, with two hits and a bases-clearing double in the top of the second inning which turned out to be the dagger. One can't clear bases without other players first getting on, and Kenleigh Cahalan has excelled at that in her freshman season. She has reached in 11 straight contests and logged a hit against Samford. Five consecutive road games await the Crimson Tide, and consistency is going to be important. Those big hits with runners on go a long way in establishing momentum, which is all the more important when it comes to playing on the road.