Gotion High-tech
, China's fourth-largest electric vehicle (EV) battery producer, said it has received "a large number of orders" as it started operations at its first overseas plant, putting it on course to achieve its global ambitions.
The factory in Gottingen, in central Germany, is expected to reach a production capacity of 5 gigawatt-hours (GWh) by mid-2024 and 20GWh eventually when the facilities are fully operational, expected to take place in four phases over a period of time, the company said without specifying a time frame.
Gotion, which has a 2.1 per cent share of the global market, said the commissioning and operation of the battery production line show that it has achieved localised production and supply in Europe.
"Gotion has officially embarked on the path of 'Made in Germany'," the Hefei, Anhui-based company said in the statement on Sunday evening. "The factory has received a large number of orders from Europe. It is expected that it can supply products for European customers from October."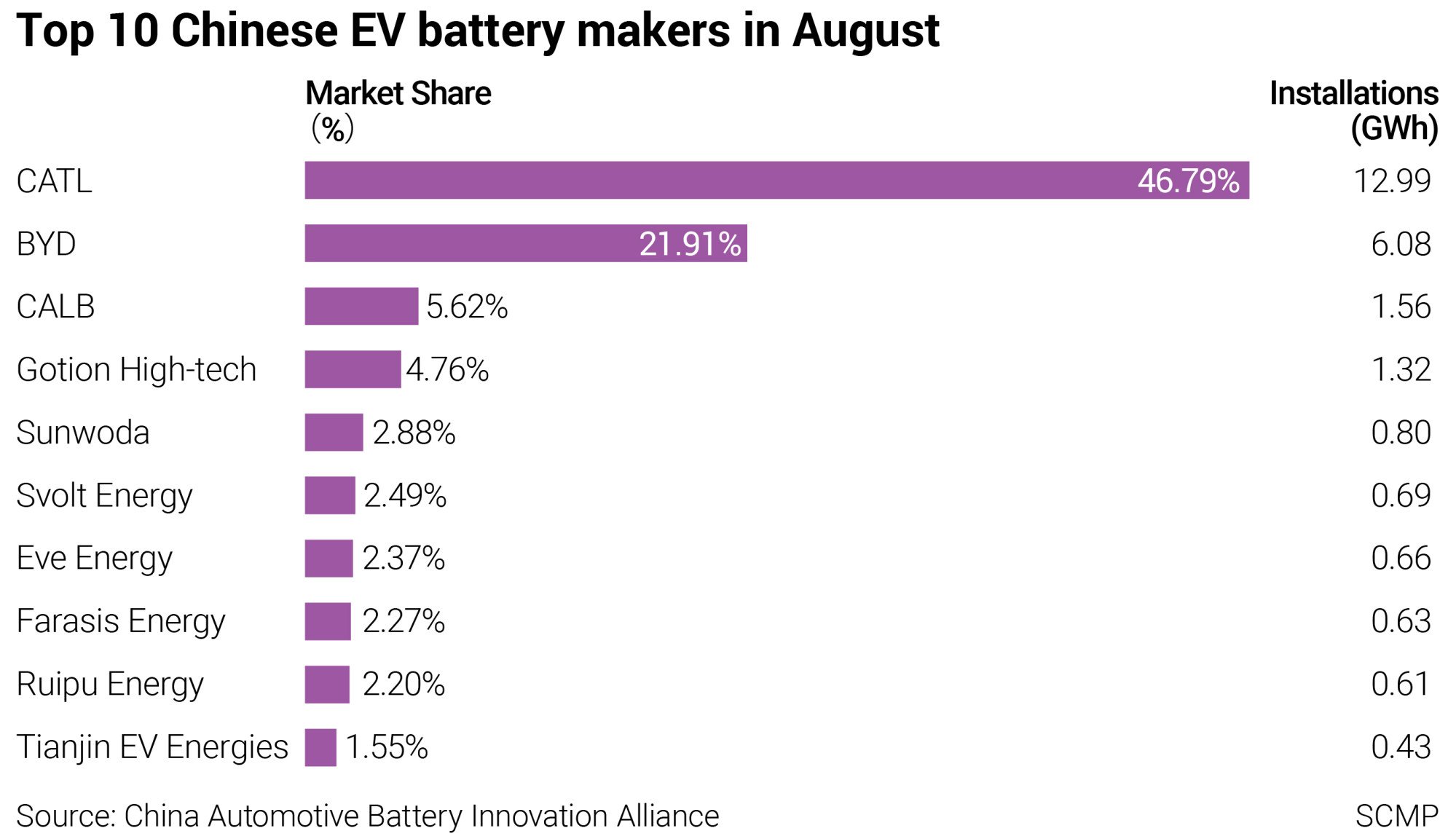 The inauguration of Gotion's Germany plant adds to evidence that Chinese EV battery producers continue to dominate the global market because of their manufacturing prowess and control over the complete supply chain. However, geopolitical tensions and protectionist measures are proving to be hurdles in the Chinese EV industry's internationalisation drive.
"Chinese EV batteries are viewed as high quality and affordable products in Europe and even in the US," said Davis Zhang, a senior ­executive at Suzhou Hazardtex, a supplier of specialised vehicle batteries. "The investigations will not prevent the battery players from accelerating their go-global pace."
On August 31, Gotion said it had acquired a 25 per cent stake in Slovakia-based battery start-up InoBat, which will also allow it to access Gotion's technology, raw materials and production capabilities as both parties plan to jointly build a 40GWh plant in Europe. One GWh of batteries can supply to about 13,000 electric cars with driving range of about 500km.
A week later, the US state of Illinois said Gotion will set up a US$2 billion battery plant in Manteno, which is expected to begin production in 2024. The plant's capacity will reach 10GWh of battery packs and 40GWh of battery cells a year when it is fully complete.
In April, Gotion, partly owned by German carmaker Volkswagen, narrowly won the state senate's approval to build a US$175 million plant in Michigan.
CATL
, the world's largest EV battery manufacturer based in Ningde, Fujian province, is also on an overseas expansion spree. In February, Ford Motor and CATL said they would cooperate on a US$3.5 billion factory in Michigan. Ford will own the plant and produce CATL's low-cost lithium ferrous phosphate battery under licence.
In April, CATL said it would start making batteries at its
US$2 billion plant
near Tesla's Gigafactory in Berlin.
Gotion acquired the Gottingen plant from Germany's Bosch two years ago and turned it into an advanced manufacturing base with an automation level of 70 per cent.
The plant's inauguration ceremony was witnessed by Anhui Communist Party secretary Han Jun and Stephan Weil, governor of Lower Saxony state.
Steven Cai, Gotion's chief technology officer, said the facility will generate €2 billion (US$2.1 billion) of revenue a year when fully complete.
In the first seven months of this year, six of the world's top 10 EV battery makers were from China, accounting for 63 per cent of the market.
The news is published by EMEA Tribune & SCMP