Chinese
electric vehicle (EV)
start-up Nio hopes a smartphone designed as a companion device for its vehicles will give it an edge in a hot but competitive market where features beyond driving range and vehicle styling are now necessary to stand out.
The world's first production smartphone designed specifically for use with a car, the device offers more than 30 car-specific features, such as initiating self-parking mode, unlocking the car with a button press even if the smartphone is powered off, and transitioning a video call from the phone to the car's screen and speakers, the company said.
"We are making the phone specifically for Nio car owners," William Li, co-founder and CEO of
Nio
, said at a launch ceremony for the smartphone on Thursday. "We hope a greater experience of smart mobility will be created to entertain our customers."
Nio, which has
forecast a boom in third-quarter deliveries
, is spearheading a trend among a clutch of carmakers and smartphone vendors to enhance the experience of car ownership with technology, including artificial intelligence (AI), robotics and communications.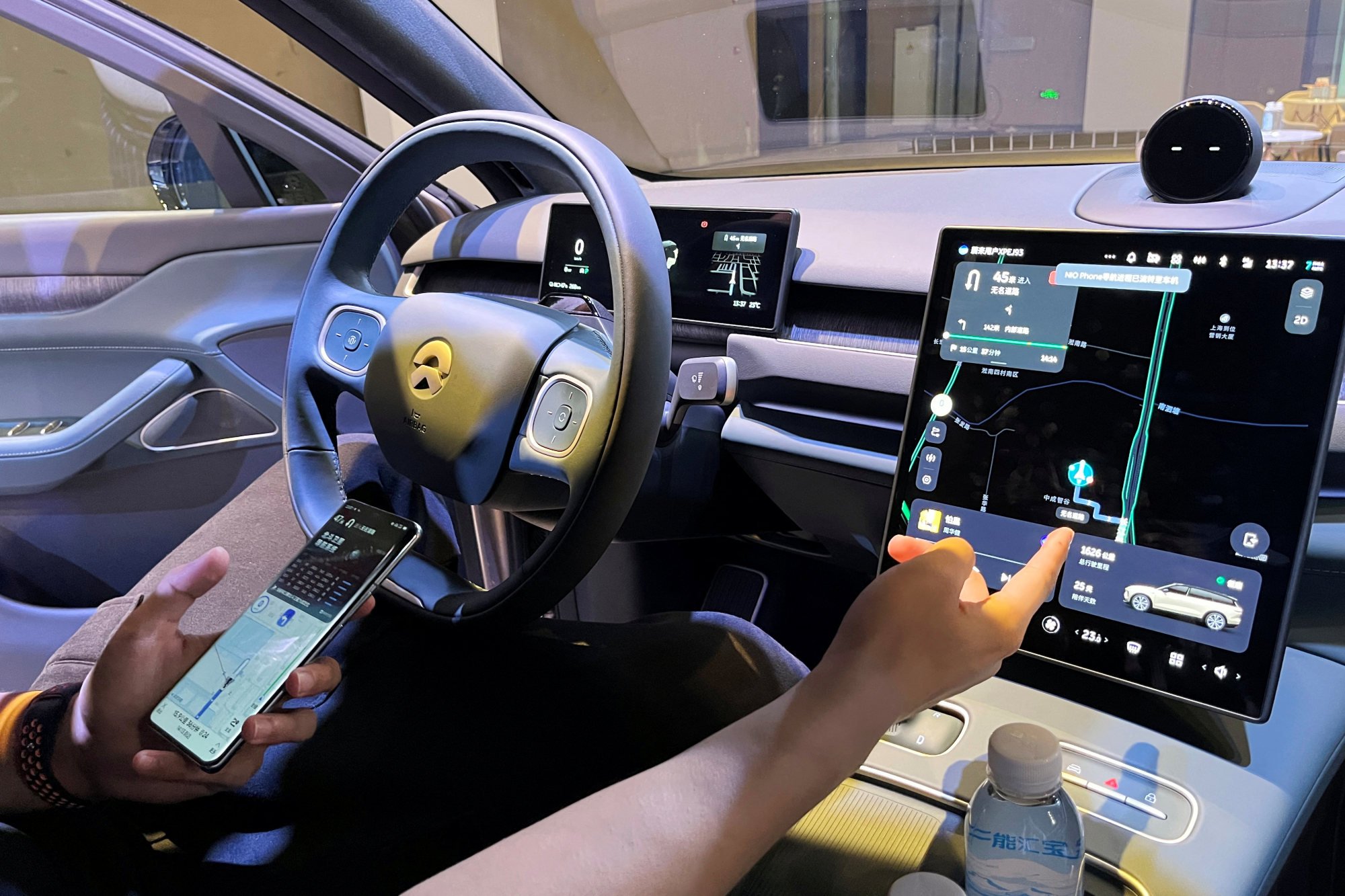 The fully functional Android-based phone is priced from 6,499 yuan (US$890) to 7,499 yuan and is compatible with all eight of Nio's vehicle models. It is made by Hunan-based Lens Technology, a supplier of smartphone lenses that boasts Apple as a customer.
"The Nio phone's connectivity with smart EVs will make the vehicles safer, more entertaining and helpful in play and work," said Cao Hua, a ­partner at Shanghai-based ­private equity firm Unity Asset Manage­ment, which invests in vehicle supply-chain firms. "The birth of the Nio smartphone will open a floodgate for more car-specific phones amid increasing use of digital technologies in the automotive industry."
Polestar, the EV brand of
Geely Automobile Holdings
-owned Volvo Cars, said early this month that it plans to launch its own smartphone in mainland China in December, in tandem with deliveries of its new Polestar 4 sport-utility vehicles.
Meanwhile, Chinese smartphone vendor
Xiaomi
is well on its way to building and delivering its first smart EV early next year, after it received a production licence from China's top economic planning agency last month.
Increasingly, an EV's appeal in China is defined by how smart it is, not how far it can go or how cheap it is, as range increases and falling prices, due to lower production costs and competition, have gradually overcome those basic consumer concerns.
"Young people in China no longer treat EVs as just vehicles, they want them to [function like] smartphones," said Cao, whose funds also count AI and vehicle robots among their investments.
Intelligence is measured by the
vehicle's digital bells and whistles
, manifested in features such as voice-activated controls, facial recognition, over-the-air software upgrades, phone-linked features and self parking.
Nio has yet to make a profit since its establishment in 2014, but it is part of a trio of carmakers, along with Guangzhou-based
Xpeng
and Beijing- ­head­quartered
Li Auto
, viewed as China's best response to
Tesla
.
It is also gearing up to launch a
much-anticipated solid-state battery
, first announced in January 2021, that it claims can provide the world's longest driving range. The battery can power all Nio models, and an ET7 luxury sedan fitted with a 150-kilowatt-hour version of the battery can go as far as 1,100 kilometres on a single charge, Nio said.
The news is published by EMEA Tribune & SCMP