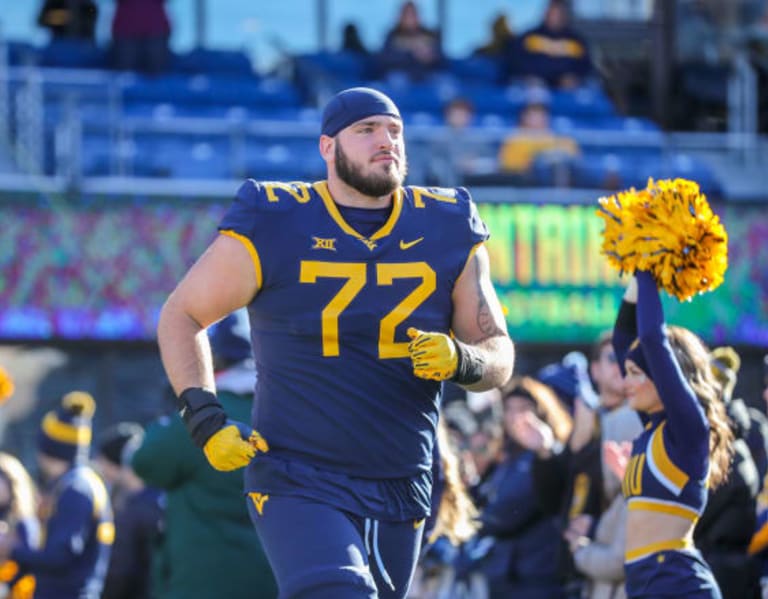 For Matt Moore and West Virginia's offensive line, the group's versatility is already standing out.
One of the focuses this spring has been experimentation within the unit, discovering untapped potential and developing new skill, position shifts and IQ.
"You always want to get the best five players out there. You can't do that if you pigeonhole them into one place, and you always want multiple players that can play center," said Moore.
Primarily, veterans Doug Nester and Brandon Yates have been at the center position, with Nester alternating between that and right tackle, while Yates has also been taking reps at right guard. Both have been filling in for Zach Frazier who has been out after recovering from an off-season procedure.
"They've both done a really nice job and it's really just the snapping and it's the control," said Moore. "They really enjoyed having the control, having the cadence, making the calls, and it really takes their football IQ to another level."
Between those two alternating between center and the right side of the line, Ja'Quay Hubbard has also been alternating between right guard and tackle, creating even more options and strength when one of the two are at center.
Matt Moore has been pleased with the left side of the line as well, claiming Wyatt Milum and Tomas Rimac have been "solid".
Aside from Nester and Yates, freshmen Landen Livingston and Charlie Katarincic have also begun taking reps at center, garnishing some praise from their offensive line coach.
"Charlie at center, really good football knowledge, got to get stronger, but he can be a really good center. He has that it factor. He understands formations, leverage," said Moore. "He has the athleticism and the smarts so I'm trying to dual train him. I've got to have a plan for center down the road."
The depth doesn't end there for the unit either. Johnny Williams has "made great strides" and impressed coaches at pass protection.
Maurice Hamilton also looks to develop into another option, with Matt Moore saying he has "as much talent as anybody out there." Also, Nick Malone has been "great" and is "on the cusp" of being the sixth lineman if needed.
Between the veterans and the new youth joining the unit, its depth and versatility is only getting stronger.
"The big thing is always trying to create more camaraderie, more chemistry, constantly working on that and moving people around," said Moore.