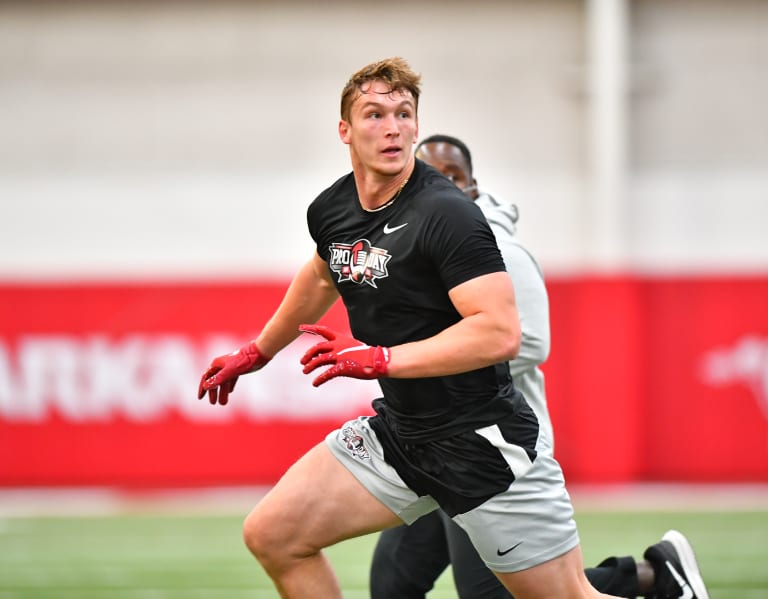 After not being able to participate in on-field drills at the NFL Combine due to a hamstring injury, Arkansas linebacker Drew Sanders put his athleticism on display in front of NFL scouts at the Razorbacks' Pro Day on Wednesday.
It was the last step for Sanders in the draft process as far as showing scouts what he can do on the field.
"This is really kind of that last step before the draft," Sanders said. "You always have meetings and that kind of stuff but this was my last thing of showing what I could do workout-wise. So I'm kind of over that last hump now."
A transfer from Alabama, Sanders spent one season in Fayetteville and he made the most of it. He earned first team All-American honors from the Associated Press and was named second team All-American by four other outlets, as well as being named first team All-SEC by the AP, Coaches, Pro Football Focus and USA Today.
Sanders' honors came after he finished second in the SEC and 14th in the nation with 9.5 sacks and he added 13.5 tackles for loss and 103 total tackles on the year.
With his workout on Wednesday, Sanders seemed to only build on his impressive 2022 campaign with Arkansas.
"It went alright," Sanders said. "Going through the drills I got stuck on a couple of things, but other than that it was pretty solid I'd say."
The native of Denton, Texas, ran a 4.59 40-yard dash, had a 9'10" broad jump, and arguably the most impressive feat was his 37″ vertical jump. He also ran a 4.38-second 20-yard shuttle and a 7.15-second L drill.
Sanders told reporters that he felt good on his vertical, but not so much on the broad. He also added that he didn't run quite like he wanted to, but he will take it.
Now that the workouts are over, it is time for Sanders to do a few more meetings with teams, get prepped for the draft and get back in football shape.
"Now you're done with your 40 and all this kind of workout stuff," Sanders said. "You're going back to football and you've got to go back to your conditioning, back to drills. So you kind of flip the switch there."
While it's been a rough few weeks that has gotten him out of his comfort zone — specifically all of the talking and at the combine — Sanders said he's not taking the experience for granted.
"You only go through this once," Sanders said. "You have to enjoy the little moments like this. It was good being back here with all the guys and seeing them. Just little experiences like that you've got to learn to enjoy them."
As far as where he stands with NFL teams, Sanders said some of the feedback he's gotten is that he has a lack of experience at the middle linebacker position, where he transitioned to with Arkansas last season after being an outside linebacker at Alabama.
One could argue that it's even more impressive for Sanders to pick up the position so well — All-American campaign — in such a short amount of time. Though he's seen his draft stock shift up and down, Sanders said he's done all he can now.
"Yeah, I mean you can look at that stuff," Sanders said. "Of course I was looking at it in the beginning, getting excited about it. I just kind of stopped. Just kind of quit focusing on that. It's really in God's hands now. I mean I can't really change too much. So why worry about it when you can't affect it that much."
The 6-foot-4, 236 pound linebacker said he will now return to his home in Denton to continue training with his trainer and nutritionist — his mom and dad, respectively.
"I'm pretty hard on myself I'd say," Sanders said. "That kind of takes that off of them. But they're gonna push me as well too. Just kind of a get the job done kind of thing."
Sanders is listed as the No. 51 overall prospect and the No. 2 inside linebacker prospect, according to ESPN. A recent mock draft from ESPN's Jordan Reid has Sanders going No. 27 overall to the Buffalo Bills.
NFL draft analyst Chad Reuter recently put out a four-round mock draft that has Sanders being taken No. 59 overall in the second round by the Bills. NFL Mock Draft Database's consensus mock draft has Sanders going No. 55 overall to the Detroit Lions.