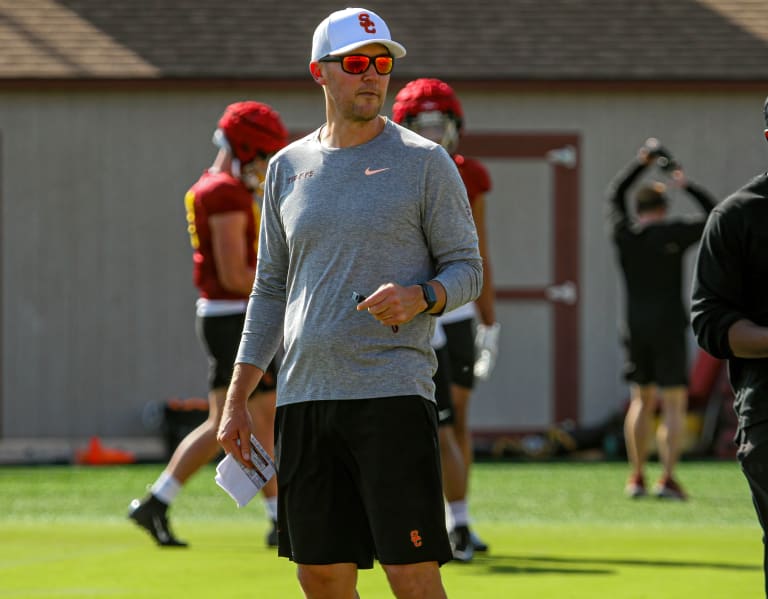 As he does each week during the spring, USC coach Lincoln Riley joined reporters over Zoom on Saturday morning after the Trojans' eighth practice of the month.
He covered a wide range of topics over nearly 15 minutes, talking about new five-star signed Duce Robinson and his fit on the offense, how baseball and the MLB draft affect USC's plans, how much Kyler Murray helps Riley handle this situation, any trends so far this spring, the state of the nickel position and more.
Read the full transcript of Riley's comments below:
Duce Robinson college position and fit:
"Some of that will be getting him here, kind of finishing our evaluations of the players that are here this spring, obviously getting him and Ja'Kobi here and anybody else that becomes a part of that room, kind of seeing what the overall skill looks like and then trying to find the place where we feel like he can come in and give us the best advantages and make the biggest impact. I certainly don't see him as the tight end. I think he's a guy who you could conceivably do a lot of things with which has been our excitement in recruiting him. We've known Duce for almost four years. It was a three-and-a-half year recruitment. And so we've gotten to know him really well, gotten to see his body evolve and change a lot from Day 1. He's really kind of leaned out with running. He's gotten faster, more agile as the years have gone on because he was always pretty big. He's got a unique skillset, man, that we're fired up to add it to our good group right now."
"He's not going to be an every-down, on-the-ball tight end. We know that, no question. So I would imagine he's a guy we'll have the opportunity to move around and do some unique things with because from a matchup standpoint, you can go out recruiting four or five years and not see that combination. It's a very unique combination of the skillset that he has, and then just on top of it, a tremendous person, great family. He's the kid that in the age of all these big announcements, he drops the video and he's in the weight room with his dad and his family when it drops and we weren't even able to talk to him. I mean like, that's just him, though. He's not flashy, great kid. His parents have done a great job with him. He's obviously got some cool things coming up and we're glad, obviously thrilled that we are the ones that get to have this next step with him."
Conversations with Duce about baseball and this summer's draft?
"Duce has big goals in both sports and I think there was some comfort factor there because I think that it matched some of the other guys that we've been able to coach, so we were able to have some very real conversations about. I think the expectation is, I certainly don't pretend to be a baseball expert but I think there's a good chance that Duce is going to be drafted and very potentially a good chance that he gets drafted high. And I think if that's what happens I think his intention is to sign a professional contract and then play college football, which he can do now. So if that does not happen, then I think all options are on the table in terms of potentially playing both here at 'SC. So we'll see how that evolves."
"But I know this, there's two kind of knowns right now. One, he's going to play football at USC. Two, baseball is going to be a big part of his future, which is obviously really exciting. There's some comfort level in that we've been able to do it with a couple of guys, including one pretty high-profile guy that worked out well. I think the ultimate goal in this is like it was for Kyler, my hope is at the end of his career at USC, he's in a position where he can pick. That was a pretty fun spot to get to with the other guy. It's hard to do; it's really, really hard to do. But Duce has the ability to do it and it's been fun kind of visiting through that plan. A lot of talks with him and his family and a lot of people in those sports. I feel like we have a tremendous plan ready to put out there and then it's going to be up to Duce to do the work from there."
How much did experience with Kyler help, and how difficult is it to keep both dreams alive?
"The experience was awesome, but as far as how valuable it is, I really can't, I have a hard time describing it to you, honestly, because it's so unique. There's two things. You can be a head coach of a Division I football program that allows a player to go try to play another sport. That's not the deal. It's, can you help facilitate and put together a plan that helps them potentially excel at both? And there's a lot to that, more than I ever realized. The first year with Kyler, I thought we kind of botched it, to be honest, in a few key areas. I thought he didn't have a great year of baseball, he was the backup quarterback a year. And then I thought we learned a lot from that year and as a staff we grew, we had a much better idea of what we did right, what we did wrong. We made some key adjustments kind of in the area of scheduling and rest and recovery and communication. Even for one of these athletes, there's a ton of communication that goes on because they work with so many people. Now double the amount of sports, now add a whole other sport to the mix. It's just a lot. It becomes almost like a full-time job."
"I thought we were much more prepared in Year 2 to do it and obviously things went pretty good on the baseball diamond, he goes ninth overall, football obviously did what he did. I think having some of that experience with Kyler will help us, we ought to be off to a much quicker start with Duce. Probably less of a rough draft and a little bit more got an idea of what the finished product will look like. We'll make a few tweaks along the way to fit Duce specifically, but excited about it. We've been able to work with Andy and those guys in baseball already and they're tremendous, Andy and his group, of working together. So the synergy between those groups are great and we'll have a great plan for Duce."
Was it a matter of giving Kyler too much on his plate his first season?
"That's a really, really simple way of putting it, in a way, yes. It's a whole lot to it because you're trying to find what that line is of you're trying to train for two different sports, but you also have to recover, you also have to put in the mental training, oh by the way, they're going to school, there's that. You've got communication between two sets of strength coaches, two sets of academic coordinators, two sets of operations, two head coaches, two different position coaches. There's just a lot going back and forth and it's going to take more than the average athlete, but you gotta be careful because you can go overboard or he can go overboard and sometimes you have to protect him from that."
"So we found some just small inefficiencies in what we were doing, and some of that was based on feedback from him when it was all over and we had a chance to take a breath and really look back at it. But the small inefficiencies really can hurt a guy because their schedule's so tight there's no room for error. We just learned a lot from it. We were just much more efficient, in sync, we got kind of in a good rhythm with him and the rest is history."
With Duce in the fold, was someone with his height or size needed to complete the receiver room?
"Yeah, I think with the last two spots in the high school class in terms of the offensive skill, that's what we wanted to attack. We got a little bit bigger there. Obviously Ja'Kobi Lane brings some of that, certainly Duce brings some of that, Walker Lyons, when he gets here, certainly brings some of that. We've been able to add some real speed. We got some juice in that room. So you start to mix up the skillsets, I think that could be a fun combination to work with and we're pretty pumped about. I think he fits a need. It'd be fun to get him and Ja'Kobi and some of these guys here and throw them in the mix with our guys, feel like we'll have a chance to put out a pretty good product in terms of our skill position."
Good competition between offense and defense … any trends emerging or things standing out on either side?
"I would say both – we're 8 practices in – both sides have had one day where they were pretty dominant. The other six have been back and forth. We just finished one today, and we got to scrimmage a bit today. We kind of half-practiced, half-scrimmaged. Kind of went in phases, defense started strong, then offense was pretty good in the middle, defense won the 2-minute drill at the end of practice. It's kind of been like that. It feels – we're a little bit stronger, just a little bit more depth, when you put the 2's – and we don't really know who the 2's are – but when the second wave of players goes in, there's not as much of a drop-off. There's just more good players on the field. Some of the players we've brought back are a little more physically developed, a little bigger, a little stronger. We just feel sturdier, I guess, to me as a whole, which to me obviously was a goal for us. We talked a lot about it in the off-season. So, it's been extremely competitive, guys going at it. It was good to go out and get some live today, some live tackling and really kind of let these guys get going. And they've certainly met the challenge. Eight practices in, we're happy. We've been a little limited at some of the positions, and that's why we changed practice the other day. You only get 15 of these. We've got our window of time, so we'll end up doing a 4-day practice week obviously one of the next two weeks to make up for it. We just had enough guys out at enough key positions that were kind of tough to practice with. You don't want to take away the practice for the other 90% of the team, but if one group can't do it, it can severely limit you. Gave our guys a chance to recover a little bit, so hopefully we'll get the practice on the back end, with a few more bodies ready to go. But it's been good. We're improving. Guys are learning. The back and forth, that exists, and it's been very consistent."
Doing too much too soon in Spring?
"Just too many nicks. Right now, we've practiced – we had a couple before spring break. They only practice once every two days. We lift and do walk-throughs and stuff in between, so they're still busy. But I don't think we've worn them down. What happens is you get a couple guys out at a key position, all of a sudden, one you miss those guys, but now you've got other guys that are having to take all of the reps, which is good for their development, but you don't want to put them in a position where they're taking more reps than you want. Then you've got groups like the O-line and D-line right now, running backs and I'd say like linebackers – our front seven, we've stayed pretty healthy through spring. We've got pretty good depth. You start cutting reps to save for some of the skills guys, but then you're doing it at the disservice to those guys, the bigs, then you're not getting those guys reps. More than anything, it was look at more than a couple guys nicked up that we'll get back in the next couple of days. It's like, alright, we can practice now and trudge through it, or we can put this practice on the back end where it's likely we're going to have five maybe more bodies back at key spots and can get more out of the practice. So we just took advantage of the time. Obviously couldn't do it during the season, but just taking advantage of the time right now."
State of the nickel position?
"The spot last year was inconsistent. Had some good moments. But we weren't productive enough at that spot. I feel about that spot kind of like we felt about inside linebacker. Had our moments, had some really nice plays, but we weren't consistently the presence that we needed to be. Obviously it's a super key position in our defense. It gets a lot of action. Those guys have to do a lot. They gotta blitz. They're in run fits. They gotta cover. They're right in the middle of the action. I've been extremely impressed with both Jaylin and Latrell this spring. They've both taken some big, big steps. Jaylin has had a fantastic first half of spring, and really Latrell has too. Those are guys I'd put in a category right now with Ceyair that they've made some big improvements. They've improved their bodies. They both got to play a good amount last year, both still relatively young guys that kind of figured out a little bit of what it takes and what it's like, and they've had good offseasons. Really just see them playing with more confidence right now. They know where their help is, they're understanding their fits better, more committed to their coverage technique, and that's showed up. We need more production, but like those two guys there. And when we get full strength at DB, we'll certainly start looking at one other body to work there, but those two right now are getting the primary share of the reps."