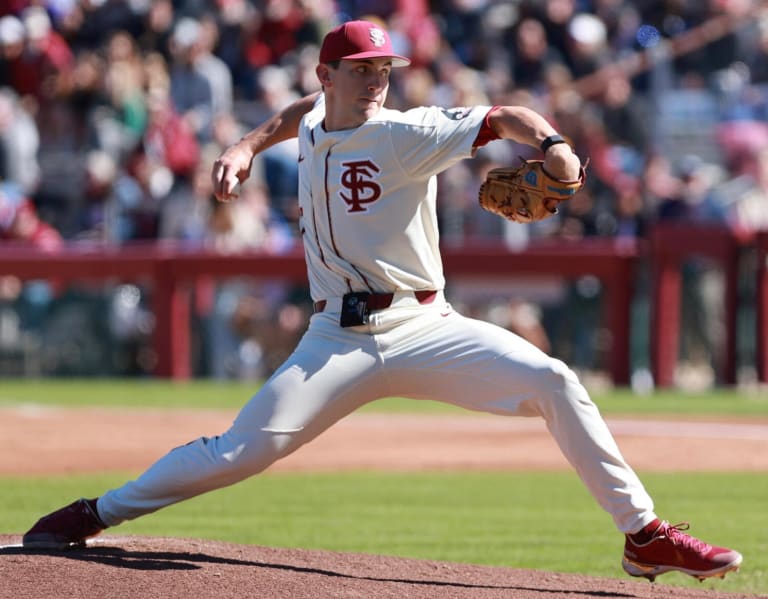 The streak had to end eventually — and the Seminoles could not be more relieved.
Florida State (13-16, 4-9 ACC) was able to jump ahead of the Tigers early in Game 1 on Thursday and stay ahead as they ended their 10-game losing streak with a 5-1 win.
From the onset, the Seminoles looked to be in control as not only did Jaime Ferrer extend his hitting streak on a two-run homer in the first but also starting pitcher Jackson Baumeister struck out six of the first nine batters he faced.
Ferrer's hitting streak is now at 20 games, which is the longest hitting streak by a Seminole since James Ramsey's streak of 24 games in 2011.
Clemson (17-14, 2-8 ACC) was unable to figure out Baumeister, as he achieved a career-high 14 strikeouts Thursday. That's the most strikeouts by a Seminole since Parker Messick's 14 strikeouts against TCU last season. Baumeister threw seven innings and relinquished only four hits and a pair of walks.
To go along with his home run in the first inning, Ferrer also had an RBI single in the third. James Tibbs hit his 10th home run of the season and Carrion contributed an RBI double to build the solid lead.
For Tibbs, he has already tied his home run total from last season.
Florida State ran into trouble in the 8th inning as a trio of FSU relievers struggled to find the plate. Jamie Arnold, Doug Kirkland and Carson Montgomery combined for four base-on-balls in a single inning compared to Baumeister's two.
The Tigers had the bases loaded with the tying run at the plate, but Montgomery was able to get the final out of the inning after relinquishing a run via a sac fly.
Montgomery found his footing in the ninth inning to close the door on not only the game but a disastrous losing streak for the Seminoles. A gigantic sigh of relief flushing over the first base dugout.
Florida State and Clemson face off in Game 2 on Friday at 4 p.m. EST. The game will be televised on the ACC Network Extra. Connor Whittaker will take the mound for the Seminoles.
Saturday's game has been moved up to 11 a.m. (ACC Network Extra).