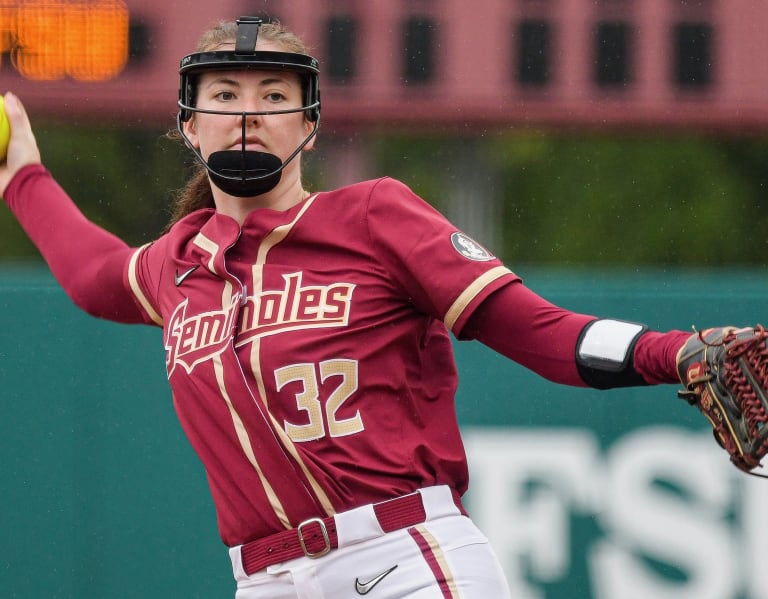 The No. 4 Florida State softball team (43-8, 19-2) dominated from start to finish on Sunday afternoon in a 12-0 run-rule victory over Notre Dame (29-16, 11-12-1) at Melissa Cook Stadium
The Seminoles dominated all aspects of the game as they outhit the Irish 13-1 and committed just one error compared to the Irish's four errors.
For the second straight game, the Seminoles wasted no time getting the offense going as Kaley Mudge led off the game with a double. Kalei Harding drew a walk, and Mack Leonard moved the runners to second and third on a groundout. Michaela Edenfield then hit one into shallow center field to score both Mudge and Harding.
The Irish had their biggest threat of the game in the bottom of the first as a fielding error and a hit by pitch put runners on first and second, but the Seminoles turned their 10th double play of the season to get out of the inning.
The game then entered a 20 minute weather delay in the second inning, but the Seminoles came back in the top of the third as Harding hit her eighth home run of the season to give the Noles a 3-0 in the third inning.
The Seminoles then exploded in the fourth inning as 14 batters came to the plate. The Seminoles scored eight runs on eight hits which was highlighted by Edenfield's two-run home run. Mudge, Jahni Kerr, Bethaney Keen and Harding each picked up an RBI in the inning.
The Seminoles added one more run in the top of the fifth after Krystina Hartley led off with a double and advanced to third on a throwing error. Flaherty then reached on an error to score Hartley.
Kathryn Sandercock got the start in the circle and was phenomenal as she pitched 3.2 innings and allowed just one hit. Makenna Reid came in and closed it out and did not allow a hit in 1.1 innings pitched. Sandercock was credited with the win to improve to 18-3 this season.
The Seminoles will return to the field on Wednesday as they take on No. 15 Florida in Gainesville. First pitch is set for 6 p.m. on ESPNU.