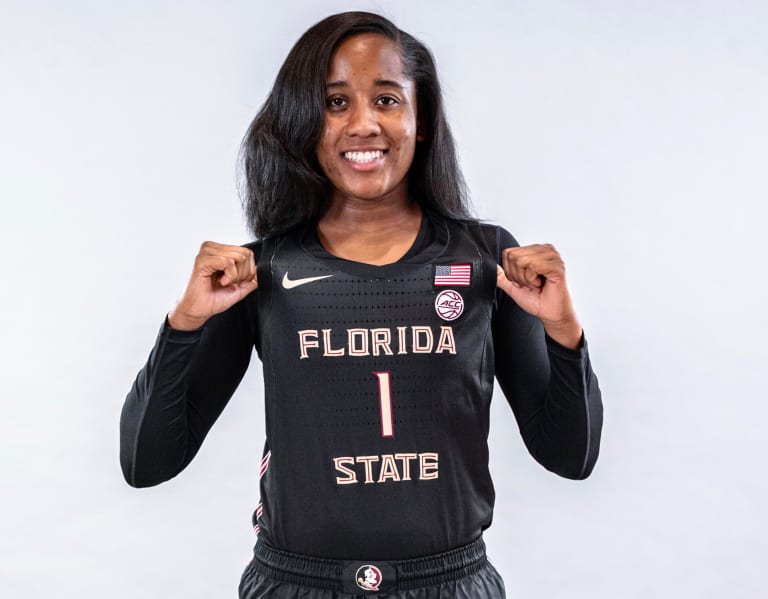 FSU sports information
Florida State Women's Basketball Head Coach Brooke Wyckoff has announced the addition of graduate transfer guard Alexis Tucker – a highly efficient shooting guard who excelled at UC Santa Barbara.
"We are excited to welcome Alexis to our Seminole Family for the 2023-2024 season," Wyckoff said. "Alexis is an experienced player who brings an ability to score at all three levels. Her size and physicality will be a great asset to our team on the perimeter and defensively. I am looking forward to all that she will bring to our team both as a person and basketball player."
A native of Hawthorne, Calif., Tucker is coming off a career season where she very nearly led the Gauchos to the NCAA Tournament after a star-studded performance in the Big West Tournament. Her 28-point showing carried UCSB to a 75-66 with over Cal State Bakersfield on March 10 to clinch a spot in the championship final.
In her senior season in 2022-23, Tucker averaged 14.3 points, 6.1 rebounds and shot 45.5 percent from the floor. She ranked 59th nationally with 130 made free throws and her 83.3 free-throw percentage ranked 74th in the country. Tucker's 130 made free throws led the Big West Conference.
Highlighting her big-game experience, in the opening round of the Big West Tournament she delivered a double-double with 11 points and 10 rebounds in 31 minutes played against UC-Davis. Despite a 61-59 defeat to Hawaii in the tournament championship, Tucker was brilliant with 21 points, seven rebounds and went 7-of-7 from the free throw line.
Tucker finished her senior season with 26 games in double-figure scoring, including her final 17 games played.
Tucker played her first season at UCSB as a junior in 2021-22, averaging 11.0 points with 4.1 rebounds in 26 games played. She began her career at Texas Tech from 2019-21, averaging in double figures as a freshman with 10.7 points and 5.5 rebounds while shooting 53.8 percent from the floor.
While at Texas Tech, she was a two-time Big 12 Freshman of the Week who had three 20-point performances in her first season. She delivered an impressive 23-point outing in her first collegiate game on Nov. 14, 2019, against Sam Houston.
Born in Long Beach, Calif., Tucker starred at Serra Catholic School and was a four-star recruit coming out of high school. She was rated a Top-70 player in the 2019 class and ranked 12th at her position.
The 2023-24 Seminoles will carry several impressive guards, including consensus National Freshman of the Year Ta'Niya Latson, All-ACC Defensive Player of the Year candidate Sara Bejedi, All-ACC Freshman Team member O'Mariah Gordon, potential breakout player Brianna "Snoop" Turnage as well as Tucker.
With the addition of Tucker, Florida State currently has 11 student-athletes for the 2023-24 season. An incoming freshmen class includes Spanish talents Lucia Navarro (Valencia) and Carla Viegas (Malaga) as well as Tennessee 4A Miss Basketball Avery Treadwell (Knoxville). One of the top junior college forwards in the nation in Sakyia White (Tuscaloosa, Ala.) will also be headed to Tallahassee.