The United States and host India made the most of Chinese President Xi Jinping's absence from the Group of 20 meeting on Saturday in New Delhi, India. They promoted promoting US-led multilateral lending to counter China's infrastructure diplomacy, went on a charm offensive with developing nations and inserted some minimal language into the communique that indirectly condemned Chinese ally Russia over its Ukraine invasion.
The G20, which includes China and Russia and accounts for 85 per cent of global GDP, saw Russian President Vladimir Putin also miss the proceedings at a time when he is at risk of being arrested on war crimes charges.
While there's been "a lot of analysis about who is or isn't in Delhi for this summit and why or why not that may be, the United States is focused on the fact that President Biden is here and rolling up his sleeves with the other G20 countries and partners to produce real results," said Jon Finer, principal deputy national security adviser on Saturday in New Delhi. "It's incumbent upon the Chinese government to explain why a leader would or would not participate."
US President Joe Biden spoke later in the day of Xi's absence: "It would be nice to have him here but the summit is going well."
It was not immediate clear why Xi chose to give it a
miss
, but the Chinese delegation was led by Premier Li Qiang, who urged the group in a conciliatory speech to be
inclusive
and avoid confrontation.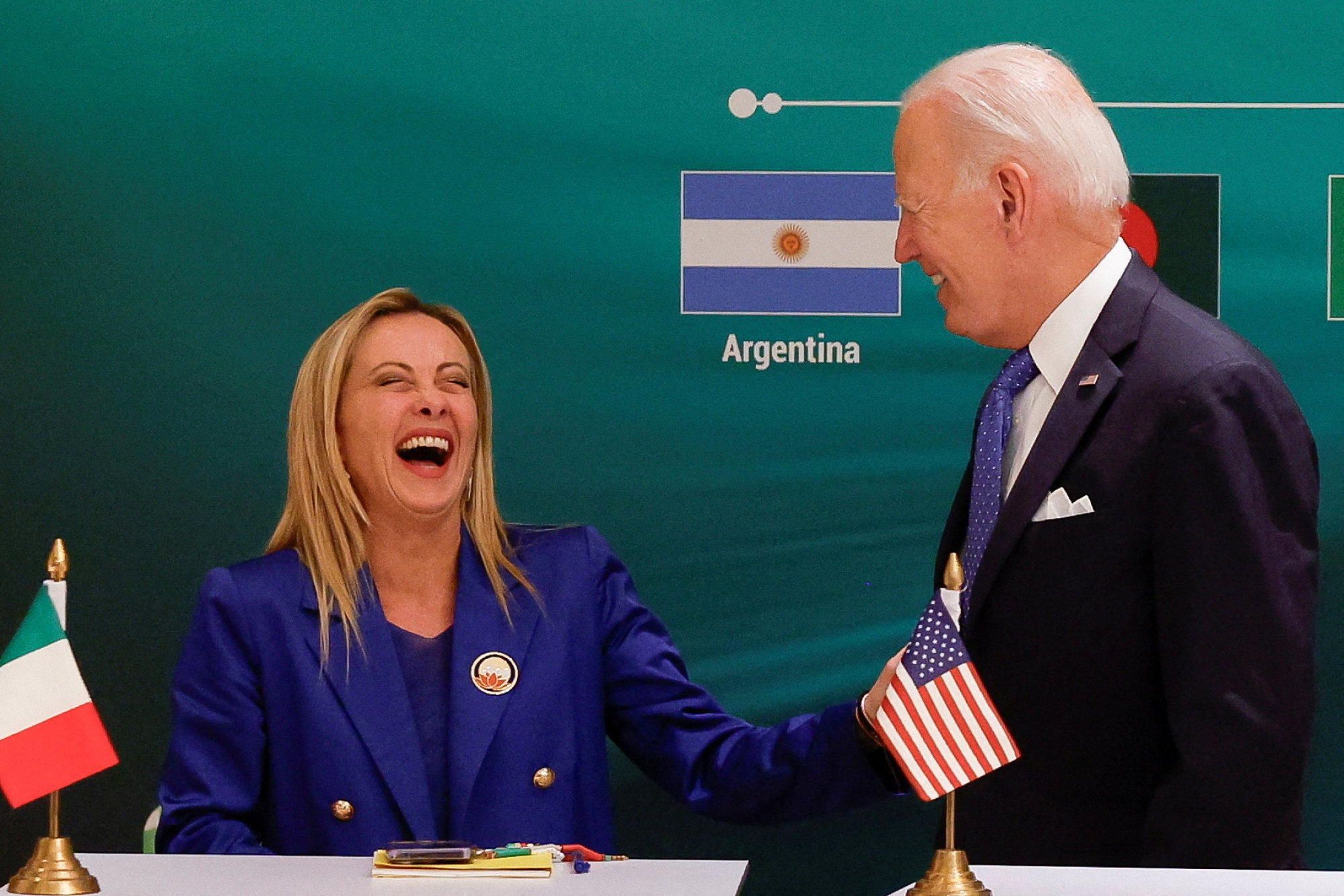 On Saturday, the assembled leaders announced a memorandum of understanding to establish the "India-Middle East-Europe Economic Corridor", a multinational rail and ports deal linking the three regions. This comes as the Biden administration tries to counter Xi's massive signature Belt and Road Initiative by touting Washington as an alternative partner and investor for developing countries.
"This is a big deal. This is a real big deal," said Biden in announcing the pact, aimed at promoting clean energy and better communities. "As we work to address infrastructure gaps across low- and middle-income countries, we need to maximise the impacts of our investments."
The US added that reforms to the World Bank and other multilateral financing institutions could unlock up to US$200 billion in new lending capacity over the next decade, including a Biden administration pledge to request from Congress a US$25 billion contribution by Washington.
While the US has little hope of competing head to head with the BRI, it has touted its development aid, multilateral financing and the high standards it brings to projects. China's investment in its 148-country BRI was estimated at around US$70 billion in 2022 alone, with a similar amount spent in 2021.
G20 leaders also announced a range of other projects aimed at generating economic growth, including a partnership with the European Union and US to expand the Lobito Corridor, an African infrastructure project channelled through the Zambian port of Lobito, as well as other initiatives covering a range of sectors across different regions.
The Group of 20 economies stopped short of explicitly condemning Russia's invasion of Ukraine — an outcome that the US and many European members sought — in a leaders' declaration released by Indian Prime Minister Narendra Modi, reflecting divisions among member nations.
India, this year's G20 revolving president, has placed a premium on maintaining solid relations with Moscow, a long-standing source of its military weaponry.
But the fact that the group was able to produce even a watered-down declaration surprised some who expected that the political seams over Ukraine and other contentious issues would be too great to paper over.
Without mentioning Russia by name, the declaration said: "All states must refrain from the threat or use of force to seek territorial acquisition against the territorial integrity and sovereignty or political independence of any state."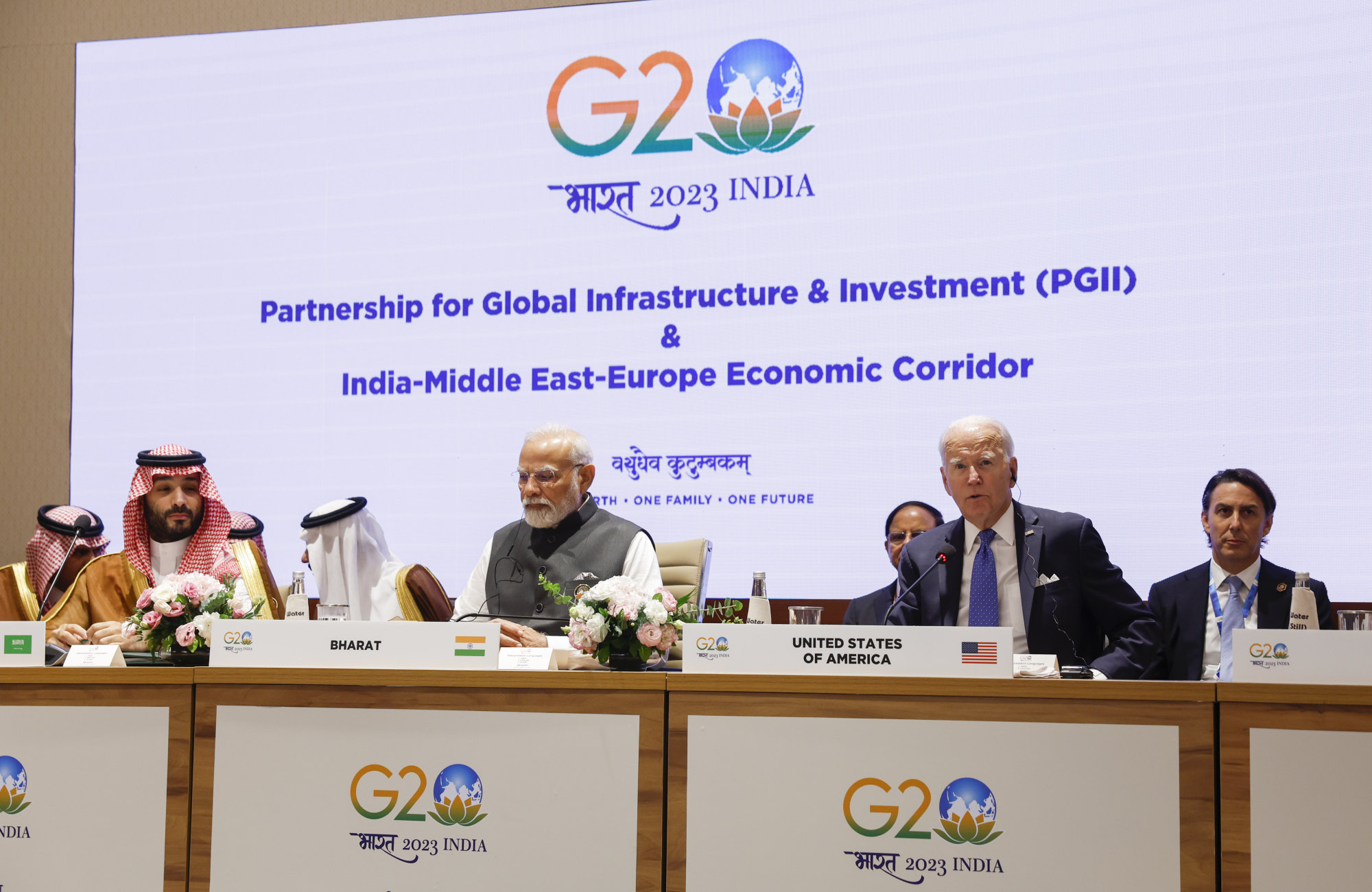 G20 leaders also failed to make much progress on a pledge to significantly reduce the use of fossil fuels, despite a UN report this week that called for a sharp lessening "indispensable" to achieving net-zero emissions. This year is expected to be the hottest in human history amid a string of disasters made worse by climate change.
Biden spent time in New Delhi meeting with other world leaders without having to compete for attention with Xi or Putin, even as host India – a key member along with Japan and Australia of the Quad grouping — used its presidency to position itself as the voice of the "
Global South
", a status China has similarly vied for.
"The ongoing G20 summit in New Delhi is surely setting a stage by which India gets to assert its global prowess," said Farwa Aamer, director of South Asia Initiatives at the Asia Society Policy Institute. "The absence of Xi and Putin should no longer overshadow the forum's potential," she added, citing the initiatives and stronger diplomatic ties it has engendered with developing countries.
To that end, the G20 formally added the 55-member state African Union to its ranks on Saturday. China is the continent's largest trading partner and one of its largest lenders, while Russia is its leading arms provider. The membership comes as Africa increasingly seeks investment and diplomatic ties with global powers beyond the US and its former European colonisers, which has set up a competition for influence.
In addition to G7 member countries Britain, Canada, France, Germany, Italy, Japan and the US, plus the European Union, — the G20 grouping comprises Argentina, Australia, Brazil, China, India, Indonesia, Mexico, Russia, Saudi Arabia, South Africa, South Korea and Turkey.
The summit ends Sunday, when Biden travels to Vietnam, which has experienced tension with China over competing territorial claims in the South China Sea.
Agencies contributed reporting
EMEA Tribune is not involved in this news article, it is taken from our partners and or from the News Agencies. Copyright and Credit go to the News Agencies, email [email protected]