George Floyd died due to police officer, after the death of Floyd, violence, and riots reported in Minneapolis. He was an unarmed black man, he was working in a hotel as a security guard for 5 years.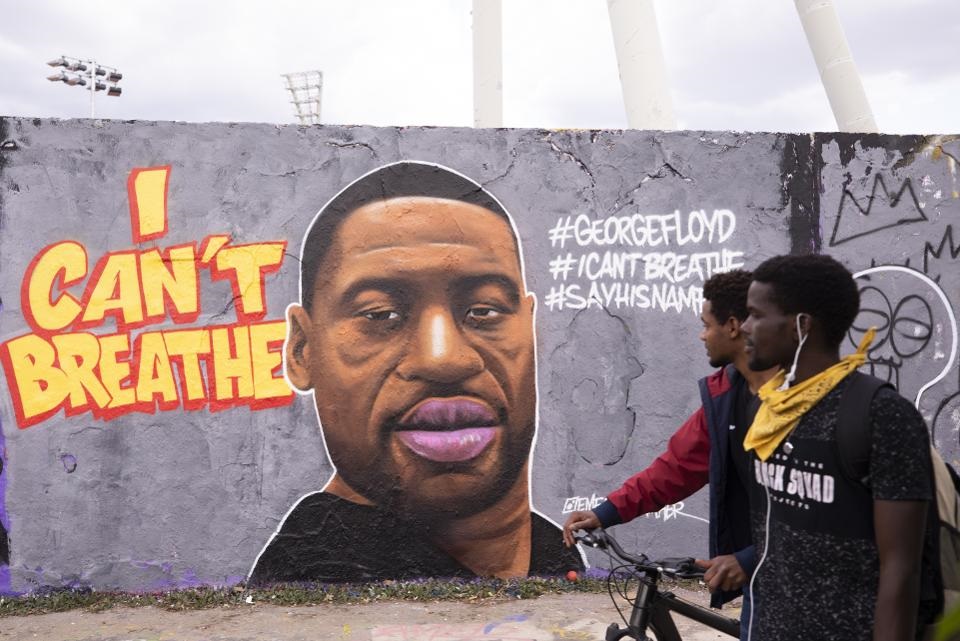 George Floyd, a 46-year-old African-American man, died on Monday after being handcuffed by a police officer. The video was recorded and sparked a large demonstration in Minneapolis on Tuesday and Wednesday. The death of George Floyd has caused outrage nationwide.
The Federal Bureau of Investigation (FBI) and authorities in Minnesota have launched investigations into his death. The officer, who knelt on Floyd's neck is a white man, who has been identified as Derek Chauvin, a 19-year veteran of the force.
Detailed Story:
Violent protests erupted when a video surfaced on social media showing a 46-year-old black man named George Floyd being strangled in the street by a police officer, Derek Chauvin, while the man was speaking in a low voice. "I can't breathe, don't kill me." but the police officer didn't stop, and shortly after the incident, the man was rushed to the hospital in an ambulance where he died. after the video went viral, four police officers were suspended (Fired) by community leaders and members have called for the officers to be prosecuted.
Mayor Jacob Frey says being black should never be a death sentence. According to police sources, the man George was working in a hotel as a security guard was seen sitting on top of another person's car while intoxicated and resisted trying to get off, during which the incident occurred. The FBI and the Minnesota Bureau of Criminal Apprehension are investigating the incident. 
Officers should be charged with murder, family demands, this is a racist attack. "They were supposed to be there to serve and to protect and I didn't see a single one of them lift a finger to do anything to help while he was begging for his life. Not one of them tried to do anything to help him," Tera Brown, Floyd's cousin, told CNN.
Protests After Death of George Floyd in Minneapolis
The demonstrations, which began Wednesday after George's death, were initially peaceful but suddenly turned "extremely dangerous," according to Minnesota Gov. Tim Walz. "The situation near Lake Street and Hiawatha in Minneapolis has evolved into an extremely dangerous situation," Smoke filled the air for a few minutes after Minneapolis Police Department officers fired noise devices and projectiles toward a crowd of dozens gathered outside the Third Precinct.
The situation near Lake Street and Hiawatha in Minneapolis has evolved into an extremely dangerous situation. For everyone's safety, please leave the area and allow firefighters and paramedics to get to the scene.

— Governor Tim Walz (@GovTimWalz) May 28, 2020
Protesters chanted slogans like "No justice, Justice for George" and "I can't breathe."
Reaction to Twitteraties on George Floyd's Death
He called out for his mama. George Floyd needs justice. People like these policemen are supposed to protect America? Everyone, no matter their skin colour, deserve to be treated as a human. #BlackLivesMatter #JusticeForGeorgeFloyd pic.twitter.com/hQs9TcaqPw

— ??? (@NxcoleEliza) May 28, 2020
Earlier today, @attorneycrump & Philonise Floyd (the brother of George Floyd) were on CNN talking about justice for Floyd. Philonise mentioned speaking to me & Gwen Carr, he said his brother said the same thing that Eric Garner said 11 times, #icantbreathe, & still nobody cared. pic.twitter.com/H9Cwogla7A

— Reverend Al Sharpton (@TheRevAl) May 28, 2020
Justice for George Floyd and for all the people who lost their lives because of the colour of their skin
?????? Stand together!! Stand strong!!#BlackLivesMatter#JusticeForGeorgeFloyd pic.twitter.com/mnrYSzPdUR

— (-: (@seputarmayong) May 28, 2020
They're insane. He did not put up a fight. He just wants to breathe. Hanya karna perbedaan warna kulit??
I was crying when i saw this video. Inhumane, really.#BlackLivesMatter#GeorgeFloyd #JusticeForGeorge pic.twitter.com/0k0OLPc7Dqpic.twitter.com/9meodTEM9I

— ️️ ️️️️️️ (@waaferkeju) May 28, 2020
Read this news: US couple who pointed guns at BLM protesters plead guilty
Follow us on Instagram