HawgBeat Hoops Mailbag w/ JC Hoops: 1/15/23
After No. 15 Arkansas dropped a home game to No. 4 Alabama on Wednesday, had a pair of five-stars on campus for visits and lost to Vanderbilt on Saturday, there are plenty of questions for this week's HawgBeat Hoops Mailbag with JC Hoops. As always, all questions on The Trough premium message board are answered, while only a couple of the top questions from Twitter are answered.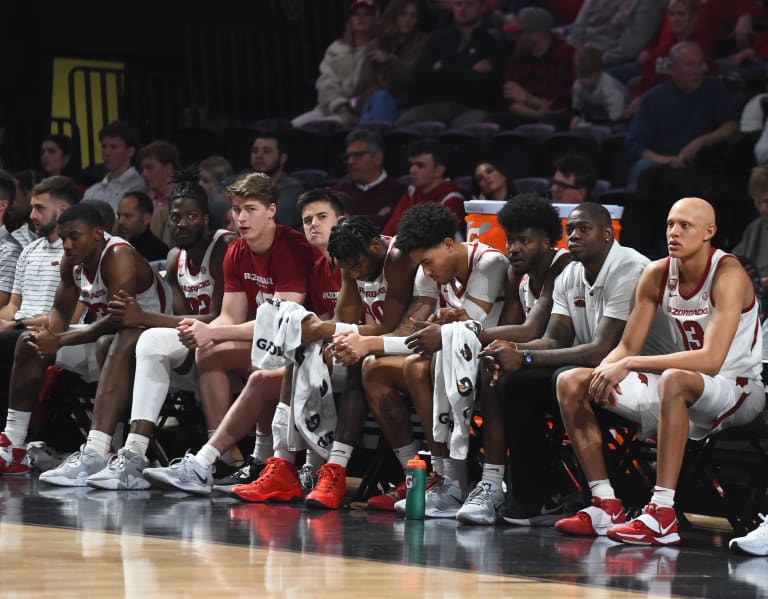 After No. 15 Arkansas dropped a home game to No. 4 Alabama on Wednesday, had a pair of five-stars on campus for visits and lost to Vanderbilt on Saturday, there are plenty of questions for this week's HawgBeat Hoops Mailbag with JC Hoops.
As always, all questions on The Trough premium message board are answered, while only a couple of the top questions from Twitter are answered.
How do we always end up in the same situation with Muss? Bust our a** on defense, can't throw it in the ocean or find any thing that looks like an offense at start of conference play? I'm not bashing him, I trust he will get things figured out. But how do we wind up in the same spot year after year? – HawgBeat user @Hogdaddy10
I think it's a mixed bag of injuries, not figuring out rotations early enough and roster building.
The first Elite Eight team hit a slump without Justin Smith and then came back strong, still mainly led from the defensive end, but they had guys who could space the floor. Moses Moody was 36% from three, Jalen Tate and JD Notae were 34%, and Desi Sills was 32%. The found their offensive groove because they had capable shooters in three starting spots and one off the bench.
Last season, the rotation was wonky. No one knew their role until after the Vanderbilt loss or so, and there were really only two shooters on the roster. Again, defense spurred the turnaround, but there was a limited amount of spacing and shooting. Notae was high volume and under 30% while Umude finished around 37% – but no one else really took any outside shots. That team still managed to score a decent amount because of its ability to cut and score inside.
This season, there are the injury issues from the first Elite Eight squad and the lack of defined roles from last season. There is hardly any cutting that was present on last year's poor shooting team, and the shooting is even worse than last year (which I didn't think would be possible, personally).
I think until Musselman starts building a roster with a couple shooters that are ready to step into the rotation rather than just filling with a ton of talented athletes. Nothing wrong with the long athletes, but when they can't shoot, and no one else on the team can, either, it really limits the offensive capability.
Yes, Trevon Brazile and Nick Smith Jr. knocked down shots and would help space the floor, but even still, their percentages were strictly against non-conference competition. There's no sample of them on this roster playing against SEC competition and maintaining their shooting percentages. Everyone else's percentage has fallen since conference play started.
It really does come down to roster building. Granted, the shooting wouldn't be nearly as bad if the team were healthy, so I'm not going to be overly critical of the roster building over the off-season for this roster, but I think that is where the offensive struggles lie over the past few years: not having any shooters.
The best shooter Arkansas has had under Musselman that has taken at least 50 threes was Stanley Umude at 37.1%. Behind him is Moody at 35.8%. That's not a sustainable way to build an offensive team in one of the best conferences in the country, in my opinion.
Now, Musselman makes up for that by having elite defensive teams – but offenses in the conference are getting better, and defense will only carry Arkansas so far. At some point they have to score, and I don't know if this team will figure out how to do that at this point.
Do you think the concerns with Pinion's defense outweighs the potential 3pt shooting he could provide? Is there a way they could "hide" Pinion while on defense? What lineup would work best? – HawgBeat user @Razor3367
I think it depends on how they would use him. Teams are aware enough of him that he won't be open just by standing in the corner. They'd need to have sets and quick-hitters for him to get open off some curls or double screens or something. If they try that approach and it works, I definitely think having him on the floor would be beneficial.
If he's just standing in the corner, or if he's still not getting looks, I don't think just having a threat on the floor would matter if he's not having any opportunities. It might help with some spacing as far as attracting his man to the perimeter, but the other four would be able to still pack it in.
*Maybe* running a matchup zone would work, but I don't think Musselman would go for that. I'm not even sure if it would work. Essentially that would just allow him to cover a designated area with some flexibility. What type of flexibility depends on the coach, but typically can be something like a straight zone but if a offensive player dribbles the closest man picks him up as a man until he passes, fill back into the zone, and repeat.
Matchups are tricky, but I think it *could* help to hide Pinion some because he wouldn't be held accountable for a man at all times. But again, I don't think Musselman would go for it and there's no guarantee it would work, necessarily. Just a thought.
I'll still suggest the two-big lineup would work best. Makhi Mitchell, Jalen Graham, Jordan Walsh, Ricky Council IV, Anthony Black. Run a high-low set against zones and try to get your offensive post weapons to score and go inside-out.
If you were talking about the best lineup with Pinion specifically, I'd put him in Council's spot and bring Council as the 6th man. The inside-out game would really benefit a corner shooter if perimeter defenders start to dig down to help or double the post.
Do you think we see the "big" lineup permanently, or you think it'll be a game to game decision? – Twitter user @ConwayTweetE
After seeing it two games in a row, I would love to say yes, because I love the bigger lineup, but I tend to think it would be used more situationally for a couple reasons.
Going big to match up with an opponent's frontcourt is one thing, and obviously that's what Arkansas has had to do the last two games, but just playing two bigs consistently is another. You have to look at different levels of versatility, ability to space, fit, etc.
Personally, I have been a fan of the Mitchell twins playing together. Offensively, they seemed to work well in tandem and even ran some four-out sets with them alternating who was on the perimeter and who was in the post. It seemed as though the offense was moving the ball better and the spacing was better with them on the court.
However, defensively it didn't work out too well. Granted, it wasn't strictly on the twins, because perimeter defenders were allowing straight line drives all game, but the help side was lacking for the most part. The twins are excellent post defenders in man situations, but have got to figure out the help side aspect.
As long as Musselman continues to tinker and figure out a rotation and lineup that works, I think we'll see one or two more lineup variations before locking into something "standard". I don't really see that being the two big lineup, but would expect to see it again against bigger teams.
Do you see Arkansas getting back on track like they have each of the past two years? – Twitter user @HHeaven2021
I do.
I say that mainly because of the past two years, but also because even without Brazile and Smith, this is the most talented roster Musselman has had at Arkansas. He just needs to figure out how to adjust after losing the two focal points of the offense, which, obviously is no small task.
Outside of that, this team is made up of winners. These players are accustomed to winning games from their days in high school, on the circuit in the summer, even previous college stops. I think the players are also going to take it personally to try to figure out what's going wrong and step up to get back on track.
That's always easier said than done, though. Players can put in more time and effort on their own and coaches can try to scheme up new things and adjust rotations, but sometimes things just don't work.
We know Musselman will keep changing things and working on things, but I think the overarching question and what Razorback fans will see by the end of the season: is this team built to be good offensively? Before the injuries, absolutely, but with two star players out everyone will be finding out as the season goes on if this team can be a good offensive team.
Until the Vanderbilt game, the defense hadn't been an issue. This slow start to conference play doesn't feel as bad as previous years outside of Saturday's loss, but giving up a ten-point lead to end up losing by 13 was bad.
Two losses were to ranked opponents and two were on the road. They were in the game against Alabama for 36 minutes and were within three against LSU. The collapse against Vanderbilt is puzzling, too, especially considering the fact Arkansas scored 84 points in a loss. That's the third highest point total in a loss under Musselman and second highest in conference play.
My thinking is that the defensive lapse against Vanderbilt was a one-off occurrence where perimeter defenders consistently got beat and help side defenders were absent. Knowing Musselman's track record of being a great defensive coach, those things should get corrected one way or the other.
The rotation still isn't finalized, and the team is searching for consistency, leadership, and effort. Arkansas fans have seem similar stretches the past two years that ended in successful seasons. While I don't think the season is lost, I do think that with the current makeup of this roster the ceiling is lowered, but getting back on track and making the NCAA Tournament is easily within reach.