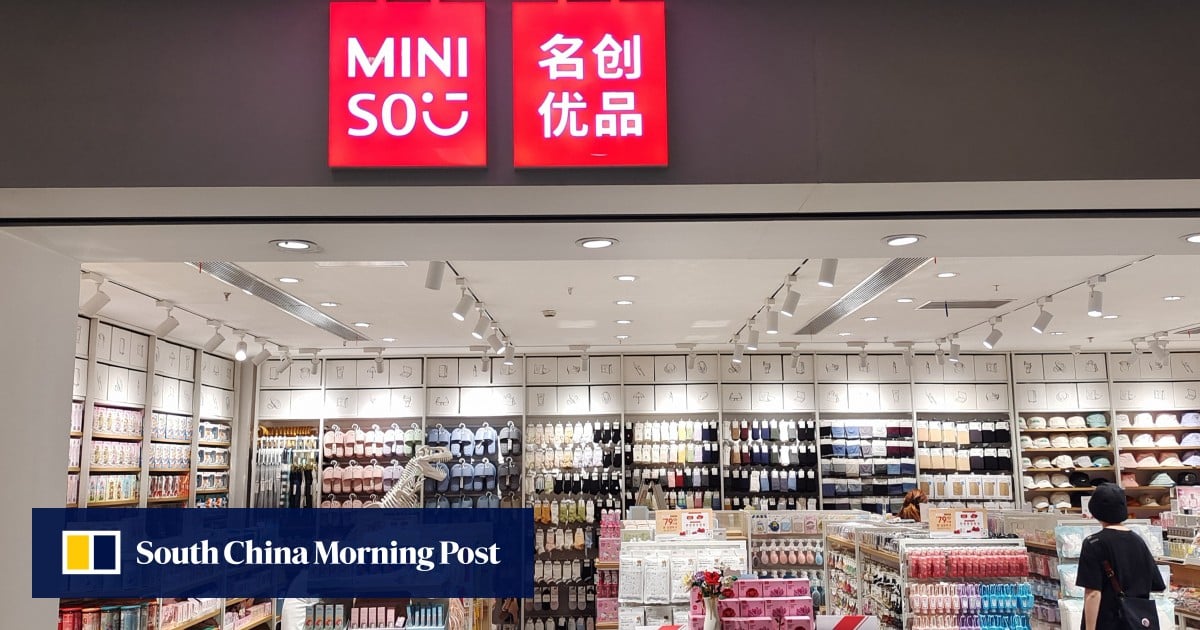 Miniso Group Holdings, the
Hong Kong
and
US
dual-listed Chinese budget retailer, has seen its net profit grow by 155 per cent year on year, as consumers increasingly turn to affordable items amid China's slowing economy.
The Guangzhou-headquartered company announced its annual results for the financial year that ended on June 30 on the Hong Kong stock exchange's website on Friday. Its adjusted net profit rose to 1.84 billion yuan (US$252.8 million) from the 722.6 million yuan it recorded in the same period last year.
Its total annual revenue increased by 13.8 per cent from 10.1 billion yuan in 2022 to 11.5 billion yuan this year, and was mainly attributable to an increase of nearly 50 per cent in revenue from overseas markets, according to the company's filing. Its revenue from China grew by 2.8 per cent.
"In spite of the uncertainties brought by the macro environment, looking forward to the financial year 2024, we will remain focused on our long-term strategic goals: delivering on our globalisation strategy, bolstering the strength of our product offerings and optimising our store network," the company said in its annual results announcement.
In a separate statement, Miniso said it would repurchase up to US$200 million worth of its outstanding ordinary shares over the next 12 months, saying that the share buy-back would "demonstrate the company's confidence in its business outlook and prospects and would benefit the company".
Driven by a gloomy economic outlook and
record-high unemployment
, Chinese consumers are increasingly cautious about loosening their purse strings and are more inclined to hunt for bargains, according to a
study.
by global consultancy Bain & Co and market research firm Kantar Worldpanel in June.
The average selling price of fast-moving consumer goods in mainland China fell 0.8 per cent year on year in the first quarter of 2023, after Beijing abandoned its zero-Covid policy, according to the report.
Founded by Chinese billionaire
Ye Guofu
in 2013, Miniso has established a store network worldwide by selling a variety of design-led lifestyle products – from small electronics and beauty tools to snacks and toys – at affordable prices.
Some well-known brands Miniso has collaborated with include Barbie, Peanuts, Hello Kitty, Disney and Pixar.
The company had 5,791 Miniso stores
worldwide
as of the end of June, a 10 per cent increase year on year, with more than 60 per cent of the stores located in China, according to its filing. More than 80 per cent of Miniso stores in China are located in second or lower-tier cities, according to the company.
Highlighting its cost advantages and value for money, Miniso said it planned to expand and upgrade its store network by entering more lower-tier cities in China.
The news is published by EMEA Tribune & SCMP