"These supplies must get to the civilians of Gaza without delay."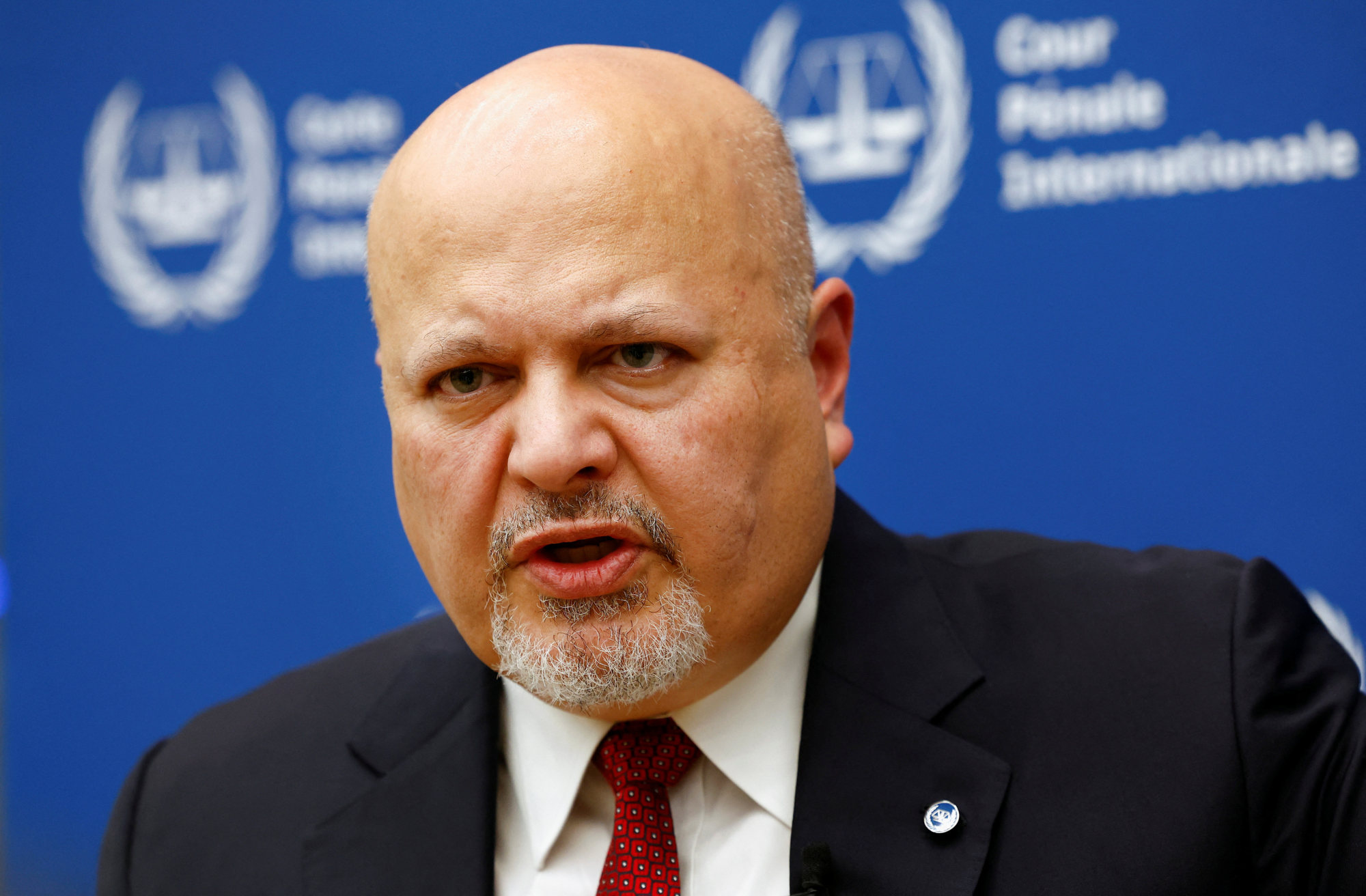 Khan said his office had a continuing investigation into "any crimes committed on the territory of Palestine and any crimes committed, whether it's by Israel and Palestine or whether it's acts committed on the territory of Palestine or from Palestine into Israel."
"This includes current events in Gaza and also current events in the West Bank," Khan said, adding that he was "very concerned also by the spike of the number of reported incidents of attack by settlers against Palestinian civilians" in the territory Israel has occupied since 1967.
Khan also said hostage taking was a breach of the Geneva Conventions.
"I call for the immediate release of all hostages taken from Israel and for their safe return to their families," Khan said.
"Israel has clear obligations in relation to its war with Hamas, not just moral obligations but legal obligations" to comply with the laws of conflict, the British lawyer said.
"These principles equally apply to Hamas in relation to firing indiscriminate rockets into Israel," Khan said.
On Sunday the United Nations warned it feared a breakdown of public order after looting at food aid centres in Gaza run by its agency for Palestinian refugees, UNRWA.
UN chief Antonio Guterres said the situation was "growing more desperate by the hour" as casualties in the war increase and essential supplies of food, water, medicine and shelter dwindle.
Hamas's armed wing, the Ezzedine al-Qassam Brigades, said on Sunday its "fighters are currently engaged in heavy fighting with machine-guns and anti-tank weapons with the invading occupation (Israeli) forces in northwest Gaza".
Israel's army said a new "stage" of the war started with ground incursions since late on Friday, an escalation from two brief operations earlier in the week.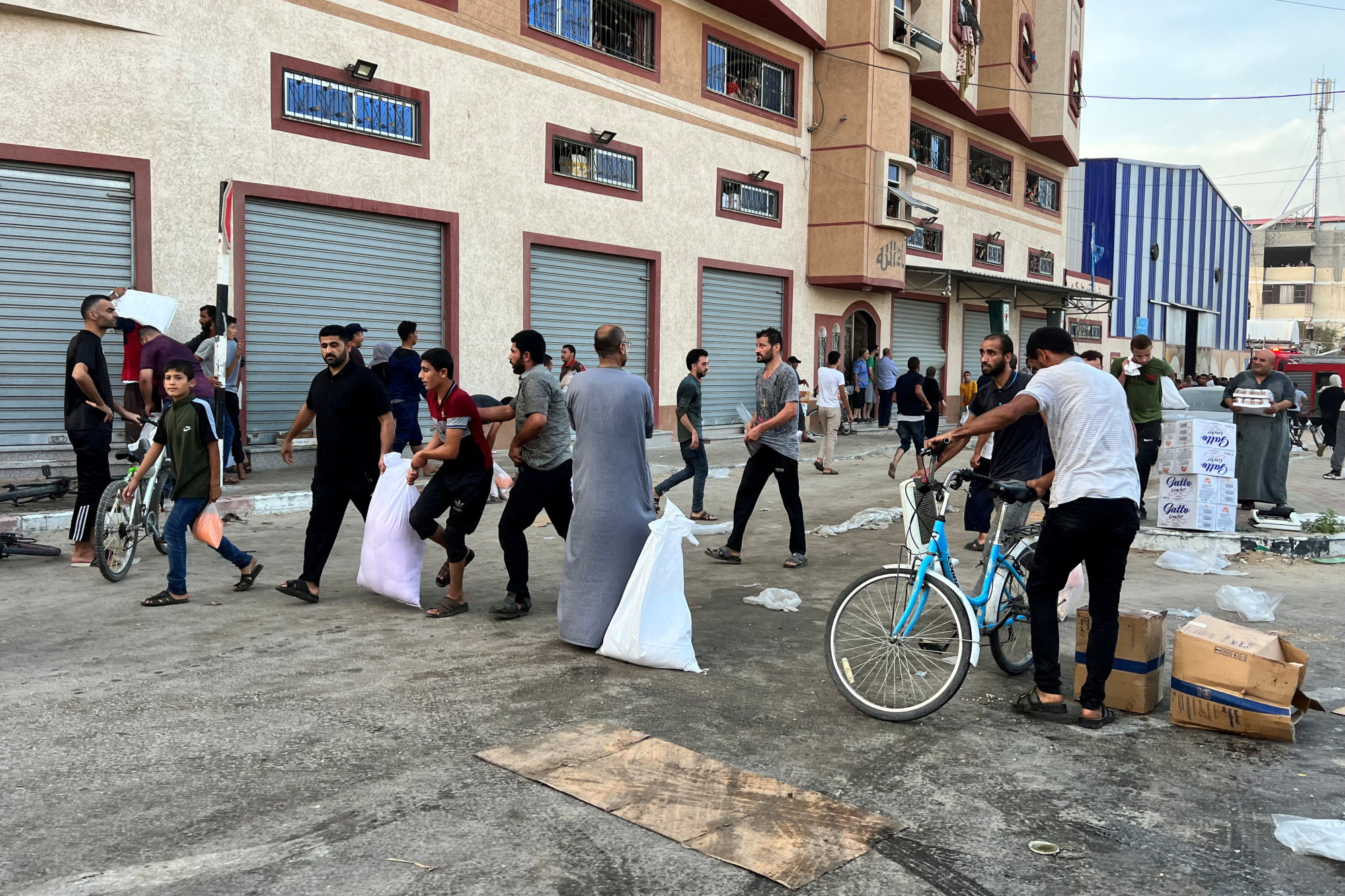 British Prime Minister Rishi Sunak and French President Emmanuel Macron "stressed the importance of getting urgent humanitarian support into Gaza" during a conversation on Sunday, the UK government said.
According to France's presidential office, the pair also reaffirmed Israel's right to defend itself within the limits of international law.
The Palestinian Red Crescent Society said on Sunday Israel was repeatedly bombing around
Al-Quds hospital in central Gaza
, causing damage and putting civilians at risk.
Elsewhere, pro-Palestinian rallies were held in Madrid in Spain, Athens in Greece and Casablanca in Morocco on Sunday calling for a ceasefire.
In the US, a government official, speaking on condition of anonymity, said 40 more aid trucks may enter Gaza on Sunday and that Israel was committed to allowing 100 to arrive daily.
On Sunday, Israel's military said it had struck hundreds of Hamas targets and increased its ground forces in Gaza.
The army said troops had "confronted" militants who emerged out of a tunnel in north Gaza, highlighting challenges in Hamas's vast underground network to Israel's ground operation.
In a late-night televised address on Saturday, Netanyahu announced a "second stage of the war" to "eradicate" Hamas.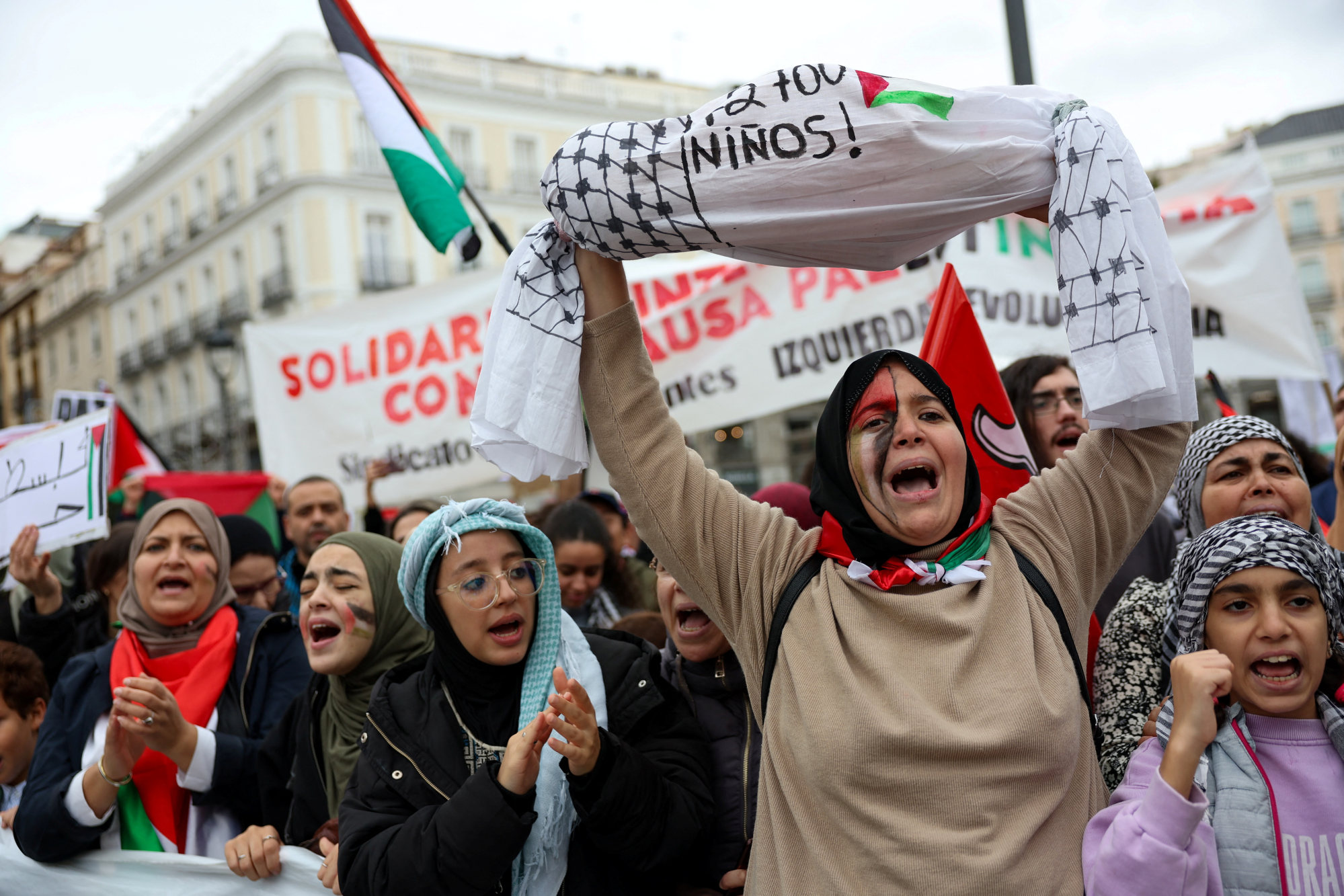 Israeli military spokesman Daniel Hagari again urged Palestinian civilians to go south "to a safer area", but residents remained wary as air strikes continue.
While Israel mourned its dead, sympathy has grown for the families whose loved ones were abducted by Hamas and are at heightened risk as the war intensifies in Gaza.
Hamas has released four hostages but this week said "almost 50" had been killed by Israeli strikes, a claim that was impossible to verify.
"We demanded that no action be taken that endangers the fate of our family members," said Meirav Leshem Gonen, the mother of hostage Romi Gonen.
Hamas's armed wing said it was prepared to release the hostages if Israel freed the Palestinian prisoners it was holding.
Ifat Kalderon, whose relatives are believed held in Gaza, told Agence France-Presse she supported the idea of a prisoner release in exchange for the hostages.
"Take them, we don't need them here," she said, referring to Palestinian detainees.
The ground operations have heightened fears that Israel's other enemies – the Iran-allied "axis of resistance" forces in Lebanon, Syria, Iraq and Yemen – enter the conflict.
The United States has warned Israel's enemies to stay out and strengthened its military presence in the region.
Skirmishes have intensified on the Israeli-Lebanese border with Iran-backed Hamas ally Hezbollah, raising fears of a new front.
Hezbollah, which reported one of its fighters was killed on Sunday, said it downed an Israeli drone, while Hamas's military wing in Lebanon announced it had launched rockets at Israel.
Iran's President Ebrahim Raisi warned on X, formerly Twitter, that Israel's "crimes have crossed the red lines, which may force everyone to take action."
Hamas militants stormed across the Gaza border on October 7 in the deadliest attack in Israel's history, killing 1,400 people, mostly civilians, and kidnapping 239 others, according to Israeli officials.
The Hamas-run health ministry in Gaza says the retaliatory Israeli bombardment has killed more than 8,000 people, mainly civilians and half of them children.
Violence has also spiked in the occupied West Bank since the October 7 attacks, with more than 110 Palestinians killed, according to the territory's health ministry.
Additional reporting by Reuters
EMEA Tribune is not involved in this news article, it is taken from our partners and or from the News Agencies. Copyright and Credit go to the News Agencies, email [email protected] Follow our WhatsApp verified Channel