Gantz has said that a wartime cabinet would focus strictly on the "security challenges."
The announcement comes as Israel bombarded downtown Gaza City on Tuesday and expanded a massive mobilisation of reservists, vowing punishing retaliation against the Hamas militant group that increasingly left residents of the tiny Palestinian territory with nowhere to go.
Four days after militants stormed into Israel, bringing gun battles to its streets for the first time in decades, Israel's military said Tuesday morning that it had regained effective control over its south and the border.
The war has already claimed at least 1,600 hundred lives on both sides – and perhaps many hundreds more. Israel has also said that Hamas and other militant groups in Gaza are also holding more than 150 soldiers and civilians hostage.
The conflict is only expected to escalate from here. Israel expanded the mobilisation of reservists to 360,000 on Tuesday, according to the country's media. And one major question is whether it will launch a ground offensive into Gaza – a tiny strip of land wedged among Israel, Egypt and the Mediterranean that is home to 2.3 million people and has been governed by Hamas since 2007.
While UN agencies appealed for a humanitarian corridor to bring in medical supplies, the Israeli military said it struck hundreds of targets overnight in Gaza City's Rimal neighbourhood, an upscale district that is home to ministries of the Hamas-run government, as well as universities, media organizations and the offices of aid organizations.
After hours of non-stop attacks, residents left their homes at daybreak to find some buildings torn in half by air strikes and others reduced to mounds of concrete and rebar. Cars were flattened and trees burned out on residential streets that had been transformed into moonscapes.
The devastation in Rimal signalled what could be a new Israeli tactic: warning civilians to leave certain areas and then hitting those areas with unprecedented intensity. If these air strikes continue, Gaza's civilians will have fewer and fewer places to shelter as more neighbourhoods become uninhabitable.
Israel's chief military spokesman emphasised the unprecedented nature of the current campaign, saying "all options are on the table."
"Hamas terrorists won't have a place to run to in Gaza,″ Rear Admiral Daniel Hagari said. "We will reach them wherever they are."
In a briefing on Tuesday, army spokesperson Lieutenant Colonel Richard Hecht suggested Palestinians should try to leave through the Rafah border crossing with Egypt – but Hamas later said that Israeli strikes had made it unusable.
With the border with Israel sealed, Rafah is the only way out of Gaza, where the situation there only threatened to deteriorate.
Since Hamas took control, Israel and Egypt have severely restricted the flow of goods into the territory and the movement of people in and out. Now Israel is pounding the territory with air strikes and saying it would lay total siege to it, cutting off all fuel, food and electricity.
The bombardments and Israel's threats to topple Hamas sharpened questions about the group's strategy and objectives. Hamas leaders have not spoken publicly about whether they anticipated Israel's ferocious retaliation – and the potential risk of losing much of the group's government infrastructure – when they launched the weekend attack.
In response to Israel's aerial attacks, the spokesman of Hamas' armed wing, Abu Obeida, said on Monday night that the group will kill one Israeli civilian captive any time Israel targets civilians in their homes in Gaza "without prior warning."
Israeli Foreign Minister Eli Cohen warned Hamas against harming any of the hostages, saying, "This war crime will not be forgiven." Netanyahu appointed a former military commander to manage the hostage and missing persons crisis.
The UN said on Tuesday that more than 187,000 people have left their homes in Gaza – the most since a 2014 air and ground offensive by Israel uprooted about 400,000.
UNRWA, the UN agency for Palestinian refugees, is sheltering more than 137,000 people in schools across the territory. Families have taken in some 41,000 others.
The Israeli military said more than 900 people already have been killed in Israel. In Gaza, 765 people have been killed, according to authorities there; Israel says hundreds of Hamas fighters are among them. Thousands have been wounded on both sides.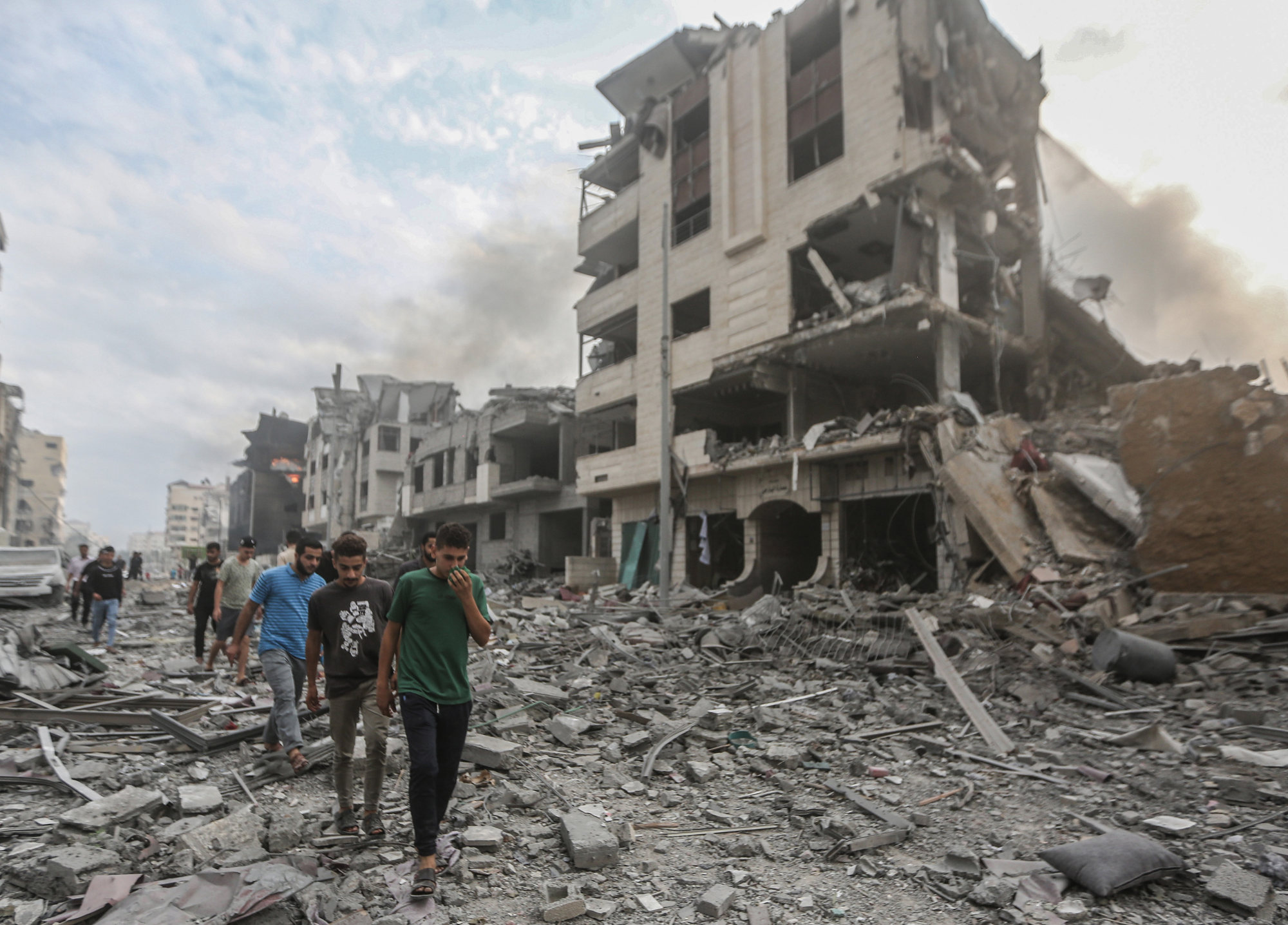 The bodies of roughly 1,500 Hamas militants have been found on Israeli territory, but it wasn't immediately clear whether the numbers supplied Tuesday by the military overlapped with deaths previously reported by Palestinian authorities.
The surprise weekend attack by Hamas left a death toll unseen since the 1973 war with Egypt and Syria – and even those deaths happened over a longer period of time. The weekend attack was also notable for the high number of civilians killed.
That fomented calls to crush Hamas no matter the cost, rather than continuing to try to bottle it up in Gaza. Israel is run by its most hard-right government ever, dominated by ministers who adamantly reject Palestinian statehood.
Israeli Defence Minister Yoav Gallant on Monday ordered a "complete siege" on Gaza.
EMEA Tribune is not involved in this news article, it is taken from our partners and or from the News Agencies. Copyright and Credit go to the News Agencies, email [email protected] Follow our WhatsApp verified Channel