Asked whether such raids had taken place, he said: "I'm not going to talk about how we are operationally acting from within our encirclement around Gaza City. You are in the right direction, that's all I can say."
The military wing of Hamas said its fighters were inflicting heavy losses and damage on advancing Israeli forces.
It was not possible to verify the battlefield claims of either side.
War began on October 7 when Hamas fighters burst across the fence enclosing Gaza and killed 1,400 Israelis, mostly civilians, and abducted more than 200, according to Israeli tallies. Since then, Israel has unrelentingly bombarded Hamas-run Gaza, killing more than 10,000 people, around 40 per cent of them children, according to tallies by health officials there.
"It has been one full month of carnage, of incessant suffering, bloodshed, destruction, outrage and despair," UN Human Rights Commissioner Volcker Turk said in a statement at the start of a trip to the region, during which he will visit the Rafah crossing from Egypt, the sole route for aid.
Israel gave residents a window from 10am to 2pm to leave Gaza City. Residents say Israeli tanks have been moving mostly at night, with Israeli forces largely relying on air and artillery strikes to clear a path for their ground advance.
"For your safety, take this next opportunity to move south beyond Wadi Gaza," the military announced, referring to the wetlands that bisect the narrow, coastal territory.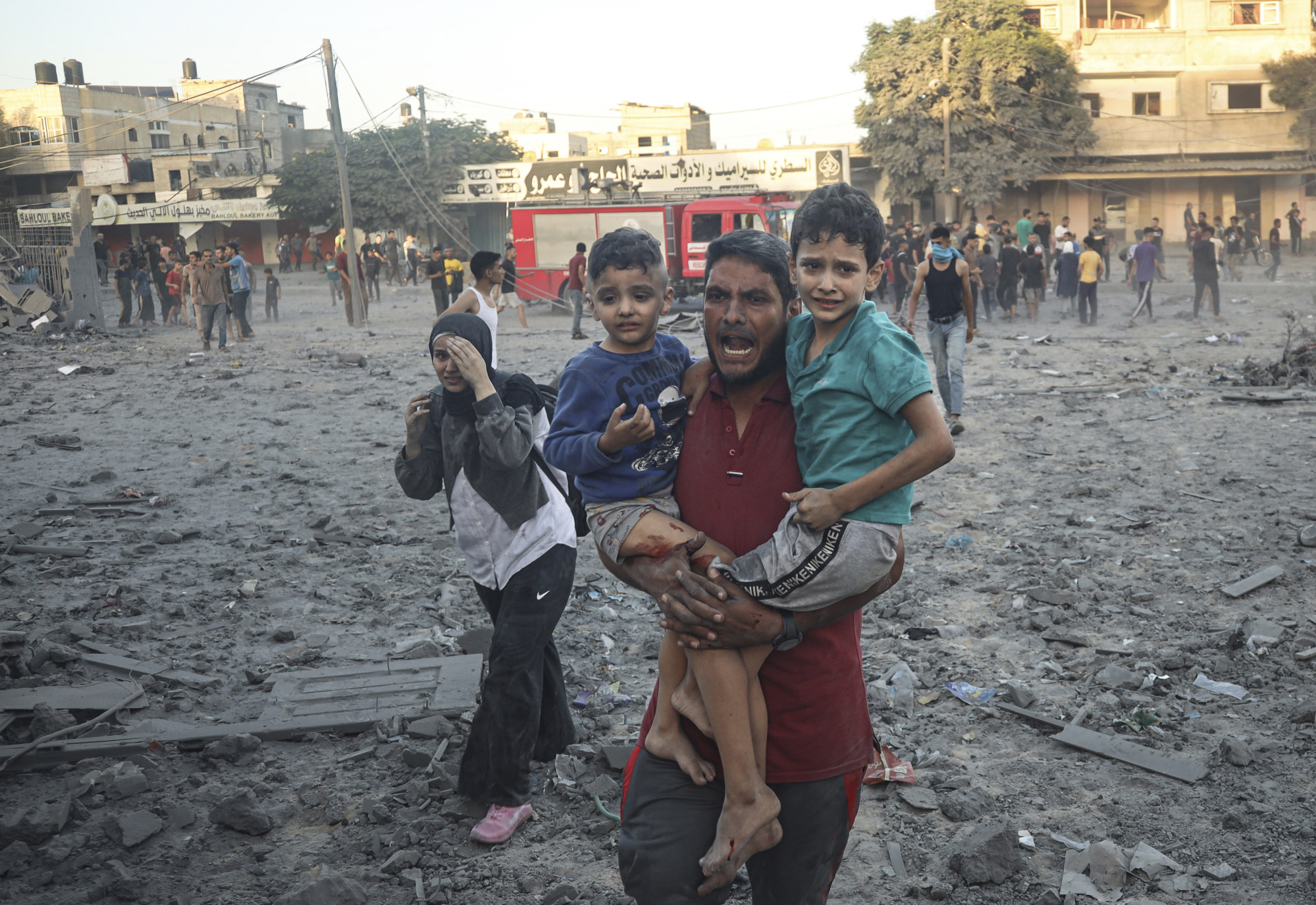 Gaza's interior ministry says 900,000 Palestinians are still sheltering in northern Gaza including Gaza City.
"The most dangerous trip in my life. We saw the tanks from point blank [range]. We saw decomposed body parts. We saw death," resident Adam Fayez Zeyara posted with a selfie of himself on the road out of Gaza City.
While Israel's military operation is focused on the northern half of Gaza, the south has also come under attack. Palestinian health officials said at least 23 people were killed in two separate Israeli air strikes early on Tuesday in the southern Gaza cities of Khan Younis and Rafah.
"We are civilians," said Ahmed Ayesh, who was rescued from the rubble of a house in Khan Younis where health officials said 11 people had been killed. "This is the bravery of the so-called Israel – they show their might and power against civilians, babies inside, kids inside, and elderly."
As he spoke, rescuers at the house used their hands to try to free a girl buried up to her waist in debris.
Israel has so far been vague about its long-term plans for Gaza, should it succeed in its operation to vanquish Hamas. In some of the first direct comments on the subject, Prime Minister Benjamin Netanyahu said Israel would seek to have security responsibility for Gaza "for an indefinite period".
"We've seen what happens when we don't have that security responsibility," he told US television's ABC News.
Israel pulled its troops and settlers from the Gaza Strip in 2005, and two years later, Hamas took power there, defeating the Palestinian Authority which exercises limited self-rule in a separate, Israeli-occupied territory, the West Bank.
Simcha Rothman, a lawmaker in Netanyahu's religious-nationalist coalition, said in a social media post: "Our forces must not shed blood to give the Gaza Strip to the Palestinian Authority wrapped in a bow … Only full Israeli control and a complete demilitarisation of the strip will restore security."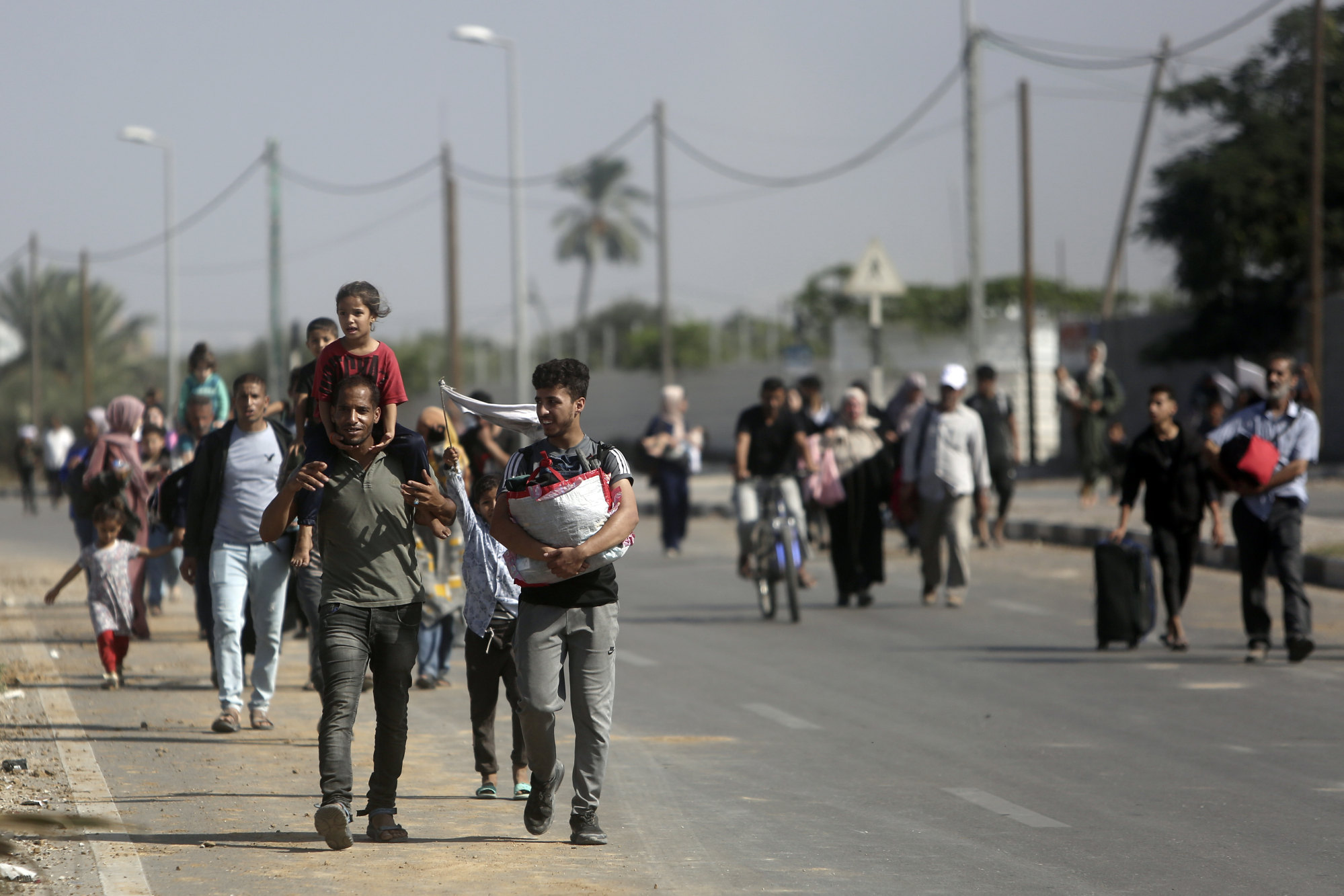 But White House spokesman John Kirby said US President Joe Biden opposed Israeli reoccupation: "It's not good for Israel, it's not good for the Israeli people," Kirby told CNN.
Secretary of State Antony Blinken had spoken with leaders in the region about what governance of Gaza could look like after the war, Kirby said: "Whatever it is, it can't be what it was on October 6. It can't be Hamas."
The leader of Israel's opposition Labour Party, Merav Michaeli, said Israel needed to work with the United States, Arab countries and the PA on a plan for a "political victory" in Gaza to make Israel safe once Hamas is defeated militarily.
Both Israel and Hamas have rebuffed calls for a halt in fighting. Israel says hostages should be freed first. Hamas says it will not free them or stop fighting while Gaza is under attack. Washington has backed Israel's position that a ceasefire would help Hamas.
Unrelenting horror stories of civilian suffering on both sides have polarised world opinion over the past month.
In Shefayim, Israel, Avihai Brodutch described 31 days of agony after Hamas abducted his wife and three children from Kfar Aza, a kibbutz about 3km (two miles) from Gaza.
"My kids, they're so young, and they've done nothing wrong to anybody," he said of his 10-year-old daughter Ofri and sons Yuval, eight, and Uriah, four.
Since last week, hundreds of Gazans who hold foreign passports have been permitted to exit through the Rafah crossing into Egypt. But the overwhelming majority are trapped inside the strip, and those who have been able to escape describe their torment at leaving loved ones behind.
"It's just a horror movie that keeps putting on repeat," Suzan Beseiso, 31, a Palestinian-American who managed to leave Gaza for Egypt last week, said in Cairo. "No sleep. No food. No water. You keep evacuating from one place to another."
EMEA Tribune is not involved in this news article, it is taken from our partners and or from the News Agencies. Copyright and Credit go to the News Agencies, email [email protected] Follow our WhatsApp verified Channel