Palestinians reported a deadly Israeli strike on a Gaza City area school serving as a shelter on Saturday.
Witnesses said the strike hit al-Fakhoura school in Jabalia, where thousands of evacuees were living. At least 15 people died and dozens more were wounded, said Mohammad Abu Selmeyah, an official in the health ministry in the Hamas-run enclave.
Pictures of the aftermath showed broken furniture and other belongings lying on the ground, patches of blood and people crying.
"I was standing here when three bombings happened, I carried a body and another decapitated body with my own hands," a young boy said in video footage, crying in despair. "God will take my vengeance."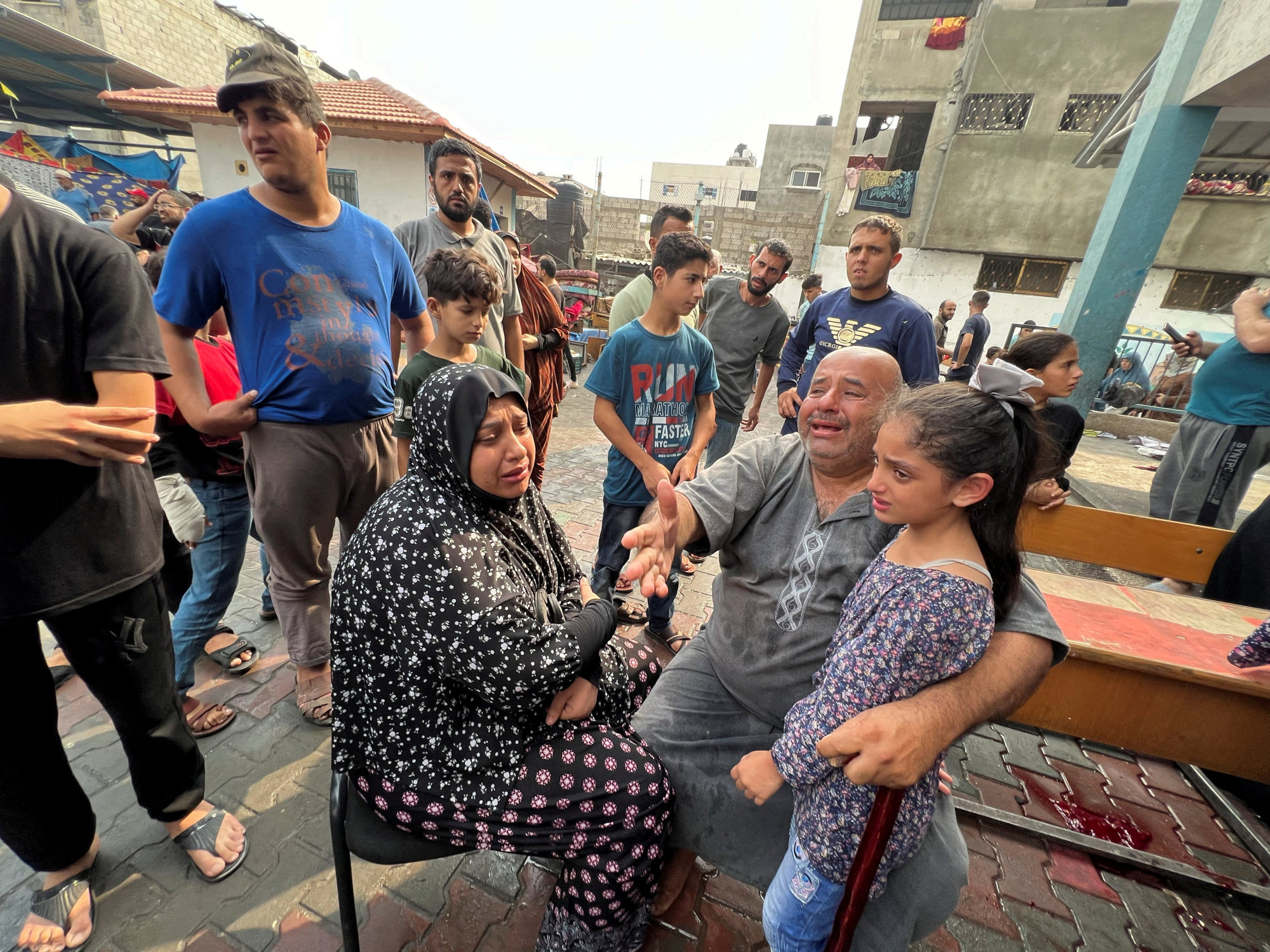 Nearby, a resident comforted a woman in shock. One man asked angrily: "Since when has it become normal to strike shelters? This is so unfair."
Juliette Touma, director of communication for the UN Palestinian refugee agency (UNRWA), confirmed that the UN-run school had been hit. She said there were children among the casualties, but that UNRWA had not yet been able to verify the exact death toll.
"At least one strike hit the schoolyard where there were tents for displaced families. Another strike hit inside the school where women were baking bread," Touma said by phone.
The ministry of health in Gaza said another Israeli missile strike killed two women at the door of the Nasser Children Hospital. Several more people were injured, it said.
The Israeli military had no immediate comment on either incident.
Israel's ground forces encircled Gaza City on Thursday after stepping up a bombing campaign it says aims at wiping out Hamas, after the militant group killed 1,400 people and took more than 240 hostage in an October 7 assault in southern Israel.
Gaza health officials said on Saturday that more than 9,488 Palestinians have been killed so far in the Israeli assault.
Israel last month ordered all civilians to leave the northern part of the Gaza Strip, including Gaza City where it says Hamas militants are hiding in tunnels, and head to the south of the enclave.
It has continued to bomb the whole enclave, saying the militants are hiding among civilians, and many people have stayed in the north, where they say they now feel trapped.
The military said it would enable Palestinians to travel on a main Gaza Strip highway, the Salah a-Din road, on Saturday between 1pm and 4pm. "If you care about yourself and your loved ones, heed our instruction to head south," it said in a social media post in Arabic.
US Special Envoy David Satterfield said in Amman that between 800,000 to a million people have already moved to the south of the Gaza Strip, while 350,000-400,000 remain in northern Gaza City and its environs.
In what appeared to presage a widening of Israel's ground offensive, the military issued footage showing armoured bulldozers churning up northern Gaza areas in what it described as "creating access routes for forces".
A combined tank and combat engineering unit carried out a "pinpoint raid" in the southern Gaza Strip "to map out buildings and neutralise explosives", it said.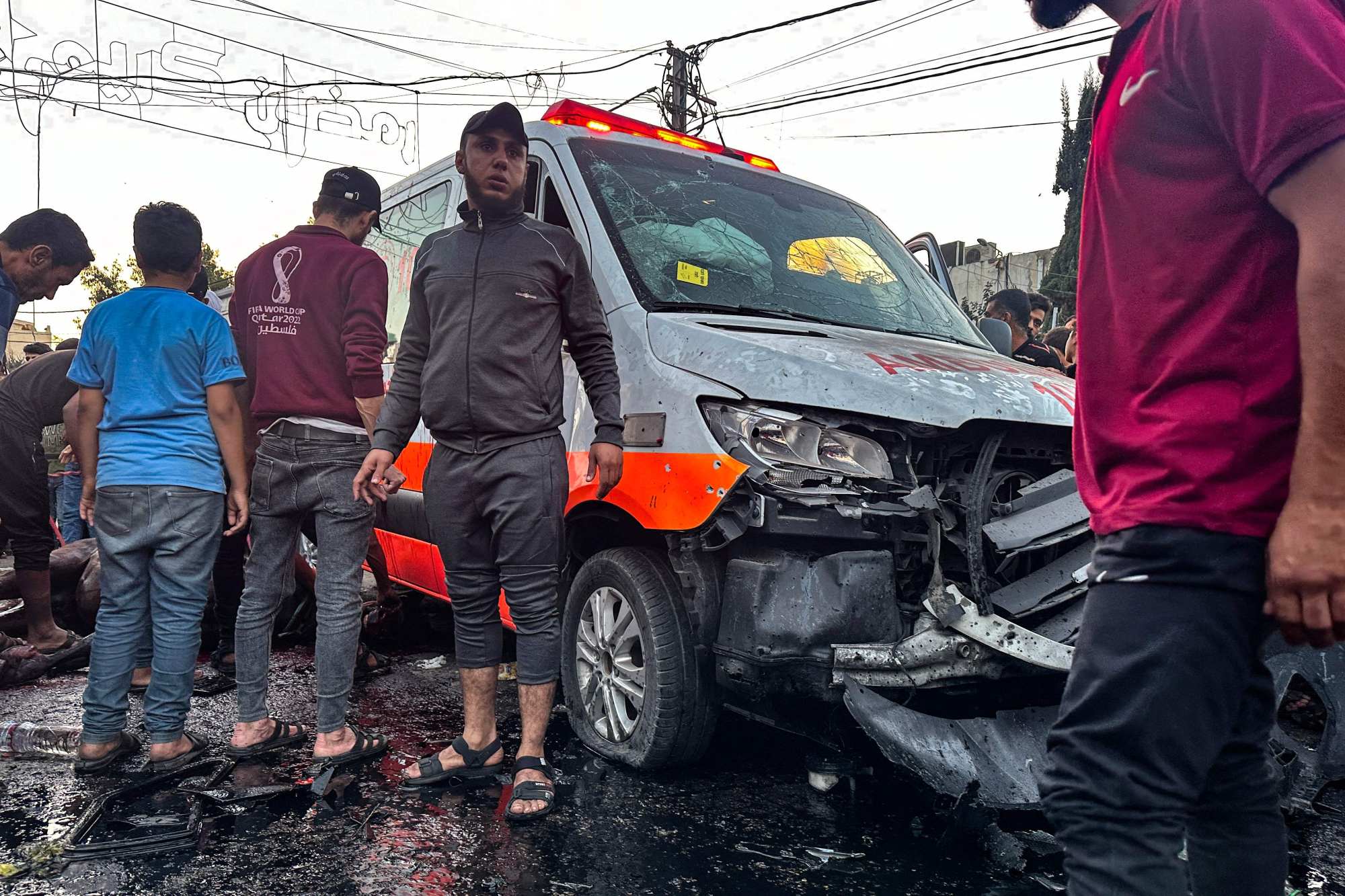 Israel's military also said it was striking what it described as "a number of Hezbollah terror targets in Lebanon" following fire from there, part of the biggest flare-up since 2006.
Lebanon's powerful Hezbollah group is backed by Iran, as is Hamas. Hezbollah leader Sayyed Hassan Nasrallah on Friday warned that conflict could spread if Israel continued bombing Gaza.
Lebanon's caretaker Prime Minister Najib Mikati emphasised the urgency of a ceasefire in Gaza when he met Blinken in Amman on Saturday, Lebanon state news agency said.
Blinken, in turn, emphasised his efforts to halt military operations for humanitarian reasons and to address the issue of prisoners.
Gaza health officials had said 15 people were killed in
an Israeli air strike on an ambulance
on Friday evening that was part of a convoy carrying injured Palestinians at Gaza's biggest hospital, al-Shifa.
Israel's military said it had identified and hit an ambulance "being used by an Hamas terrorist cell" and that a number of Hamas fighters were killed.
The Palestinian health ministry challenged Israel to provide proof that the ambulance was carrying militants. Israel said it intended to release additional information. It has accused Hamas of concealing command centres and tunnel entrances in al-Shifa, something Hamas and the hospital denies.
Gaza's living conditions, already dire before the fighting, have deteriorated further. Food is scarce, residents have resorted to drinking salty water and medical services are collapsing.
EMEA Tribune is not involved in this news article, it is taken from our partners and or from the News Agencies. Copyright and Credit go to the News Agencies, email [email protected] Follow our WhatsApp verified Channel