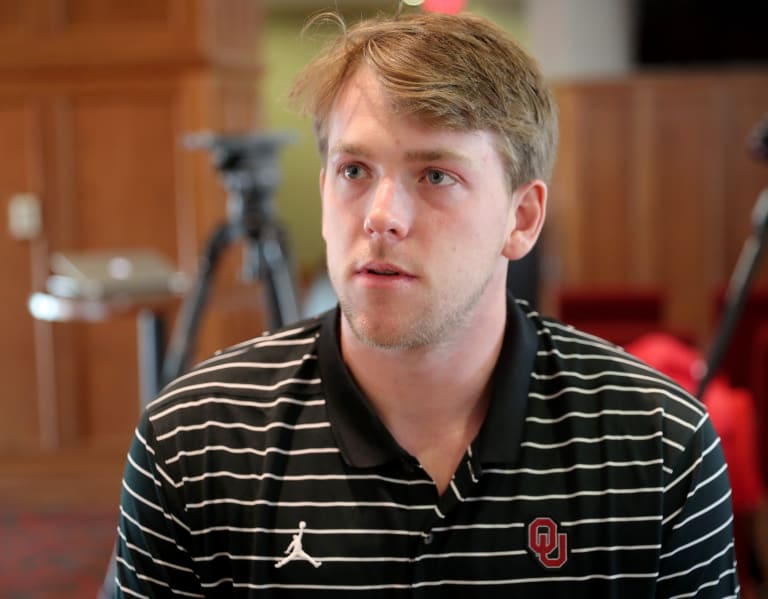 Joe Jon Finley didn't hesitate when his former tight end, Austin Stogner, called him in December about potentially transferring back to Oklahoma.
"I couldn't say yes fast enough," said Finley, Oklahoma's tight ends coach. "I know what kind of player he is. I've got no hard feelings. I was pulling for him when he was at South Carolina and could not be happier to have him back and he should have a big year."
Stogner, who played last year at South Carolina after transferring from OU following the 2021 season, figures to be a key contributor for the Sooners next season. The 6-foot-6, 255-pound tight end is now Oklahoma's most veteran player at the position, with Brayden Willis' departure for the NFL.
And for him, transferring back to Norman, while unusual in today's college football landscape, he believed was the best decision for his career and personal life.
"I missed the whole culture of this place and how great this place is," Stogner said Monday. "What people think of Oklahoma and what it stands for. I just wanted to get back and represent this University… I love coach (Brent) Venables. He expects the best out of everybody. The best is the standard and he keeps everyone to that high standard."
A former four-star tight end, Stogner's career has played out the way most anticipated.
Following a successful sophomore season in 2020 at OU, in which he totaled 422 yards and three touchdowns, but missed several games due to a staph infection that hospitalized him. In 2021, he totaled only 14 receptions for 166 yards and three touchdowns in nine games played.
It was clear Stogner didn't seem like himself, which is in part what led him to transferring to South Carolina to play for former OU tight ends coach Shane Beamer. But Stogner had a different role in South Carolina, often serving as a blocking tight end. He totaled only 20 receptions for 210 yards and one touchdown in his lone season there.
"At South Carolina, I was asked to block a lot," Stogner said. "I knew that was a part of the game I had to work on and I feel like I've gotten better at that. There's still always room to improve, but I think I'm doing a better job and I learned a lot – how to block and how to run some different routes there."
Now, Stogner is back in a system that heavily uses its tight ends in the passing game. Last season, Willis had a breakout year, totaling 39 receptions for 514 yards and seven touchdowns. Offensive coordinator Jeff Lebby is sure to utilize Stogner in a similar way.
Finley anticipates Stogner will replace Willis' production.
"It helps having a guy like (Stogner). He's a very similar type of player," Finley said. "They're both veterans. They know football. So you're not having to teach them the little details of inside zone or pass protection or whatever it is. They can step out there, they know how to play the game, they know how to play the techniques – again, it's just adjusting to the new offense, the way we call it, and especially the tempo."
A week into spring practice and Stogner says learning Lebby's offense has been the most challenging part of the transition. And it's not so much the playbook as it is the pace of the offense.
"It's totally different," Stogner said. "At South Carolina, we were like huddling, running a pro-style offense. It's more spread out and signal-wise, we're running a lot faster. Got to get used to the tempo. It's different than what I used to back there.
"Coach Finley talks about it a lot. Just go hard for two weeks and then it'll get easy. But that two weeks is going to suck. I'm in the middle of the two weeks now."
Stogner is carrying a good amount of the load right now in the tight end room, with sophomore Jason Llewellyn and redshirt sophomore Kaden Helms out this spring with injuries. Both are expected to be back for the season and are currently participating in walkthroughs and acting as extra coaches, according to Finley.
That leaves just Stogtner and three newcomers – Texas A&M transfer Blake Smith, Cameron University transfer Josh Fanuiel, and former defensive lineman Hayden Brey. Finley said it's been a challenge having only a handful of guys, but that Stogner has led the way in the room.
"He's a guy that's played a lot of football. He knows what he's doing," Finley said. "Now, we're just trying to get him to learn the offense and refine some things. Definitely not going to put too many reps on him because we've got to have him for fall."
Finley and Stogner did spend one year together at Oklahoma before he transferred, which has made the move back easier for both parties. There's a familiarity there that maybe isn't there with younger players and new faces.
Finley trusts Stogner and Stogner trusts Finley. That's why Finley was so quick to welcome Stogner back – because he knows he can lean on him not just this spring with limited numbers, but next fall when OU will need him to produce.
"He's thankful to be here," Finley said. "I think going out there and coming back – he's an Oklahoma guy. He's always loved Oklahoma. So going out there (to South Carolina), it made him realize how much he did love it. So he's really glad to be back and he's a big-time leader for my group, especially, and then for the offense as well."