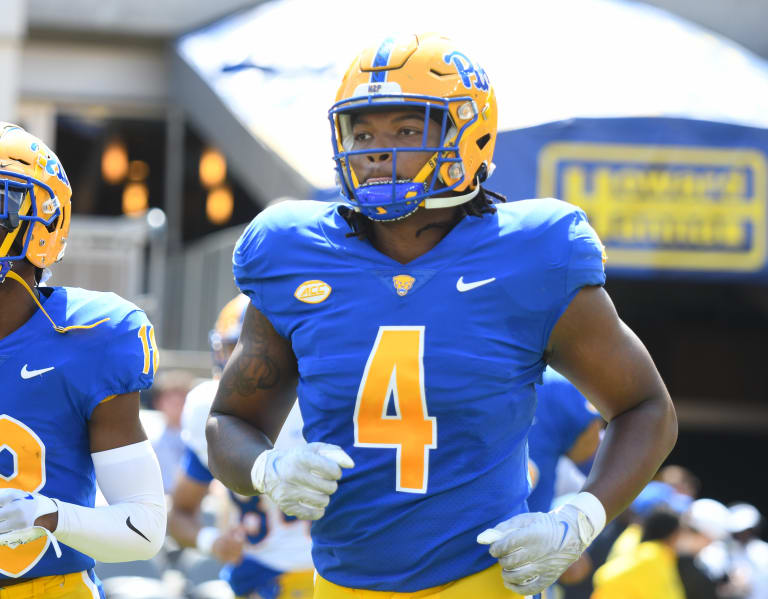 Nahki Johnson is not quite sure how to categorize himself on this Pitt football team. The class of 2021 recruit is entering his third year with the Pitt football program. Johnson was a four-star prospect out of West Mifflin and came to Pitt with some hype, but due to some experience ahead of him on the depth chart, he did not see the field much in his first two seasons.
Johnson, however, is ready to make an impact in his third season with the program. After a successful spring camp, he was named the defensive recipient of the Ed Conway Award, given to the most improved player throughout the spring.
Johnson spoke to the media about receiving the award following Pitt's Blue-Gold game on Saturday. During the interview session, he was asked about some of the young defensive linemen. He started to answer the question about his teammates before being reminded that he is also still pretty young himself.
"I don't know if I'm young or I'm old, like I'm in the middle right now," Johnson said with a laugh.
The third-year player has the experience and understanding of what it takes to play for this defense, but still has the upside of the big-time recruit who can be a difference maker for this defense next season and beyond.
Johnson flashed both aspects this spring to his teammates and coaches. Truthfully, Johnson's emergence started before spring according to Pitt head coach Pat Narduzzi. With some late season injuries and opt outs ahead of him on the depth chart, Johnson earned more reps at the tail end of the 2022 season and he flourished with more opportunities.
"I don't know if it's the light turned on," Narduzzi said of Johnson's offseason, "but it started to turn on in the bowl practices and bowl game, but it really turned on for spring."
Johnson was certainly one of the bright spots for the entire team this spring, but certainly among the defensive line. Given the departures of mainstays like Calijah Kancey, Deslin Alexandre, and Habakkuk Baldonado, the Panthers are looking for new impact players along the front four heading into next season, and Johnson figures in prominently to those plans.
The talk around the defensive line room under coach Charlie Partridge for years has been about the camaraderie and work ethic, and with some new faces playing bigger roles, that has persisted with a new wave of players. Johnson believes this particular group has something to prove, and that hunger has bonded them together.
"Nobody really knows what we're capable of, but we all know what we're capable of," Johnson said of the Pitt defensive line. "Coach P can put anybody out there and I'd trust anybody out on that field. It could be a starter, second, third string, it does't matter, I trust them all the same way."
The Pitt defensive line flexed its muscles in Saturday's Blue-Gold game. Johnson himself recorded two tackles, a half of a tackle for loss, and a hurry. Some new names like Elliot Donald, Sean FitzSimmons, and Samuel Okunlola also made some plays on the Acrisure Stadium turf during the spring game as well.
Johnson wasn't exactly the star of the Blue-Gold game, but he was a bright spot all spring. He went into this camp wanting to win the Conway Award, and was grateful to be recognized by his coaches for his added effort.
"I mean this in the humblest way, but I was just really excited," Johnson said of earning the Conway honor. "Because at the beginning of spring, I really wanted this award. I"m just really blessed that everybody seen me do what I'm supposed to do."
Johnson showed off what he could do this spring, but that wasn't uncommon in his first two season according to Narduzzi. Only now, the 6'2" and 255-pound redshirt sophomore is doing it more on a daily basis.
"He's putting a dent in the offensive line," Narduzzi said of Johnson's performance of late. "You noticed him in practice and then it was a consistency thing for him. There's times you would see it then you wouldn't see it for another practice and you're like where did that go? Can we have that back? He consistently put it together this spring."
Johnson appears ready for a more elevated role in year three. He is starting to resemble that four-star recruit coming out of West Mifflin, and he's also ready to emulate some prior WPIAL stars before him.
Pitt's Blue-Gold Game featured many current NFL stars walking the sidelines, with most of them hailing right from Western Pennsylvania. Aaron Donald, Damar Hamlin, Dane Jackson, and Jordan Whitehead are all Pittsburgh natives, turned Pitt stars, and are now playing in the NFL.
Johnson recalled watching all of their highlight tapes when he was growing up, and now that he's on the next step of his career and seeing how close he is to what they are accomplishing, he's using it as fuel.
"That's just motivation to me," Johnson said of Pitt's wave of NFL stars from the area. "The things that they're doing now, I just want to get to there to do the same things that they're doing. I really love what they're doing for the community and the city."