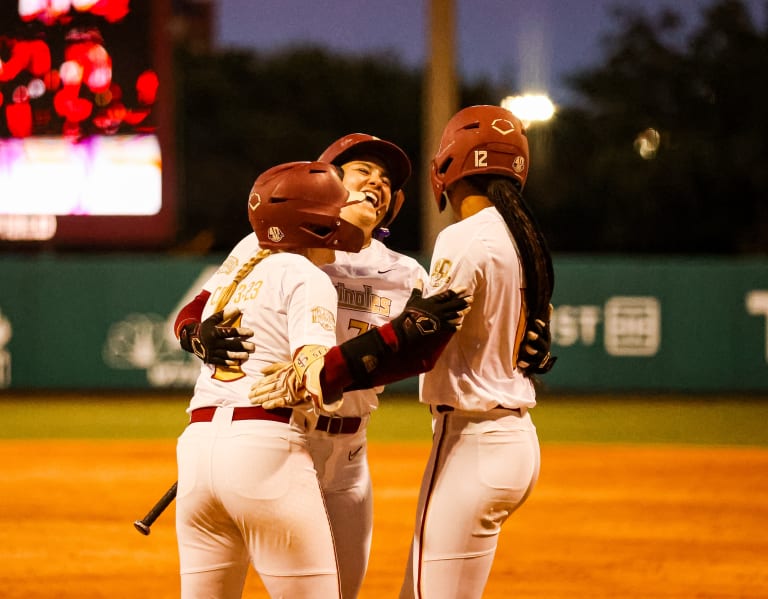 FSU sports information
The No. 4 Florida State softball team (34-7, 12-1 ACC) extended its winning streak to nine games with a 6-1 win over Virginia (27-14, 7-9) in front of 1,413 fans at JoAnne Graf Field on Friday night. The Seminoles have now won 17-straight games against Virginia and have won 25 out of the last 26 games against the Cavaliers.
In its first trip to Tallahassee since 2015, the Cavaliers came out swinging with a game-opening triple, and the runner would eventually score to give the Cavaliers a 1-0 lead. The Seminoles responded with a two-out rally as Kalei Harding hit a double, and the Seminoles drew three-straight walks to tie the game at one.
After a scoreless second inning, the Seminoles threatened again in the third inning as Hallie Wacaser walked and back-to-back infield singles from Michaela Edenfield and Mack Leonard loaded the bases for Katie Dack. Dack popped up to the right side, but the Cavalier defense lost the ball in the sun, and it dropped to clear the bases to give the Seminoles a 4-1 lead.
Both teams were scoreless in the fourth and fifth innings until Dack picked up her career tying fourth RBI of the night with a solo home run to left center field to extend the lead to four in the bottom of the sixth. After Kaley Mudge singled, Devyn Flaherty ripped one to left center to score Mudge to extend the lead to 6-1. Makenna Reid retired the Cavaliers in order in the top of the seventh including a strikeout to end the game.
Kathryn Sandercock got the start for the Seminoles and went 4.2 innings and allowed just two hits and one earned run. Sandercock earned the win to improve to 14-3 on the season. Reid came in to relieve Sandercock in the fourth inning and struck out four out of the seven batters she faced. Reid was credited with her third save of the season.
The two teams will play a doubleheader tomorrow beginning at noon with the second game taking place 30 minutes after the conclusion of game one. Both games can be seen on ACC Network Extra.