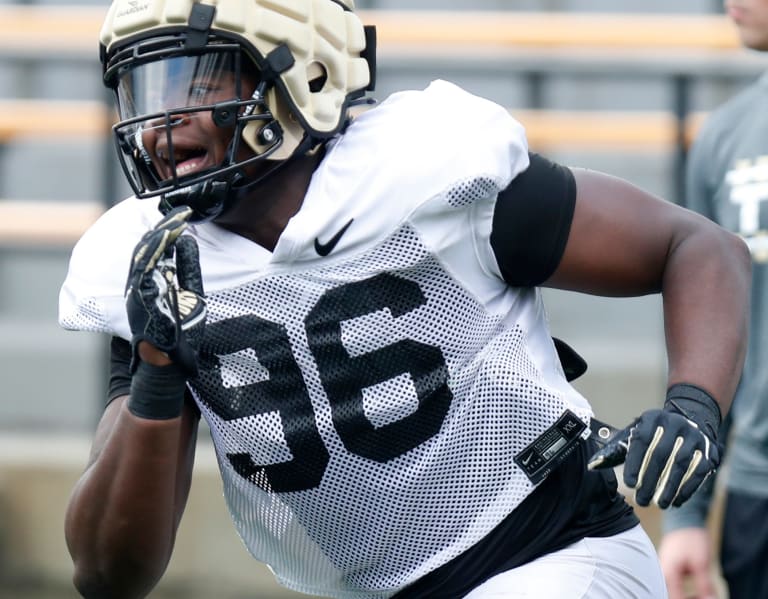 After entering spring practice dealing with an undisclosed injury, rising outside linebacker Khordae Sydnor hasn't missed a beat as Purdue transitions to a new defensive system. The talented young edge defender has already impressed Boilermaker defensive coordinator Kevin Kane.
"I think he's got a chance to be pretty dang good," Kane said. "He's got length, he's got size, he's got a motor, he has the mental ability, and he's got a passion for the game."
The combination of size, strength, and athleticism gives Sydnor all the makings of an impact player on the edge for the Boilermakers heading into 2023. Sydnor believes he has the ability to make a difference in several areas, and the new defense he's a part of will prove that.
"I love this defense – it shows my versatility. I get to rush the passer and drop into coverage, so I'm still adjusting to it and still learning, but I love it man, it's great," Sydnor said.
Sydnor was among the Boilermakers' best edge defenders during his standout redshirt freshman campaign. The New York native was second on the team in sacks and third in tackles for loss during his first full year of action. He reached those marks despite playing over 200 fewer snaps than the two players ahead of him in both categories, Kydran Jenkins and Jack Sullivan.
While he figures to see an uptick in playing time and be one of the prominent pass rushers for the Boilermakers in 2023, an expanded role in another area is also on the horizon. Pass coverage. Per Pro Football Focus, Sydnor had zero pass coverage snaps last season, but that will likely change in a new system.
As defensive coordinator at Illinois last season, Ryan Walters deployed two outside linebackers, Gabe Jacas, and Seth Coleman. The duo's main objective was getting to the quarterback, as they combined for 8.5 sacks for the Illini. However, Jacas and Coleman were also asked to play a key part in the passing game, seeing 55 and 87 snaps in pass coverage, respectively.
Sydnor and his fellow outside linebacker running mates will be key members of what Purdue hopes is an elite pass rush unit in 2023, but they are also expected to be stout in the run game and drop into coverage in certain scenarios. Similar to other position groups along the Purdue defense, the outside linebacker's versatility will play a large part in the success on that side of the football.
The various roles Ryan Walters asks his outside linebackers to play stems from the patented five-man front he runs to put the game in opposing quarterbacks' hands.
"He wants to show the same front every time, show the quarterback the same thing so they never know who's coming and who's not, so it's a great scheme," Sydnor said.
While Kevin Kane and the defensive coaching staff are still implementing their proven defense in West Lafayette, they are giving players some freedom as well. Sydnor thinks that trust is going a long way with the Boilermaker defenders and will pay dividends moving forward.
"They give us the leniency to make calls on the field, and they really trust us to be basically like quarterbacks on the field almost," Sydnor said.
As the new-look Purdue defense led by Walters and Kane begins to take shape this spring, the installation process has been seamless, according to Sydnor.
"The coaches do a great job just explaining our role, what we have to do. Even before we come out to practice, we're walking through and stuff like that, so they give us time to learn it," Sydnor said.
That process begins with going back to the basics for Sydnor and his Boilermaker teammates this spring. The new coaching staff in West Lafayette has made fundamentals a focal point as the transition to a newly branded defense begins.
"I mean, we rep a lot of technique, like Coach Walters always says — your technique has to be good when you're tired, so we do that as well," Sydnor said.
Kevin Kane is leading that charge as he oversees the Boilermaker defense. Kane shared the importance of mastering those fundamentals, which he's learned through his coaching career, and now applies it in West Lafayette.
"Good plays are the results of good fundamentals. Bad plays are the results of bad fundamentals. So that allows us to then focus on the fundamental part of things, so we spend a lot more time on [individual drills] and just doing the footwork, the alignments. All those things matter because it ties into what we do," Kane said.
The learning curve has not only been expedited by fundamental-based coaching. Players like Sydnor are taking it upon themselves to put in the extra work to learn their new system.Part of that learning process has been Sydnor's film sessions. Along with watching his own tape, he has also watched a lot of what Illinois did last season to establish itself as one of the top defenses in the country.In the early stages of playing in the defense, Sydnor is already excited about what the future has in store.
"Oh, we have a great group. — They [coaches] know that we can rush the passer, so I'm excited to see what this season holds for us because we got some guys," Sydnor said.
The group Sydnor is referencing is one of the most intriguing position groups on the roster ahead of next season. The redshirt sophomore is joined by fellow up-and-coming pass rusher Nic Caraway, veterans Kydran Jenkins and Scotty Humpich, and the developing Will Heldt and Roman Pitre.
Sydnor, in particular, put together an encouraging season in 2022 and is primed to build on that success with a breakout campaign in the new Boilermakers defense.