On Thursday, the Libyan Red Crescent said the death toll in Derna had soared to 11,300. Marie el-Drese, the aid group's secretary general, told Associated Press that a further 10,100 people are reported missing in the Mediterranean city.
Health authorities previously put the death toll in Derna at 5,500. The storm also killed about 170 people elsewhere in the country.
There are fears that the death toll
could reach 20,000
as efforts at rescue wind down and become more focused on recovery.
The catastrophe was triggered by Mediterranean Storm Daniel, which over the weekend dumped more than 40cm (16 inches) of rain within 24 hours on Libya's northeast coast – a region that normally receives about 15mm over the entire month of September.
The deluge overwhelmed two dams upstream of Derna, which unleashed an estimated 30 million cubic metres of water that crashed through Wadi Derna, the valley that bisects the city, wiping at least three neighbourhoods off the map.
Rescue crews are trying to find anyone who might be trapped in the wreckage. But Ghaithi said his ravaged city, which had a population of 100,000, also needs "teams specialised in recovering bodies", which litter both land and sea.
"I fear that the city will be infected with an epidemic due to the large number of bodies under the rubble and in the water," he told Reuters.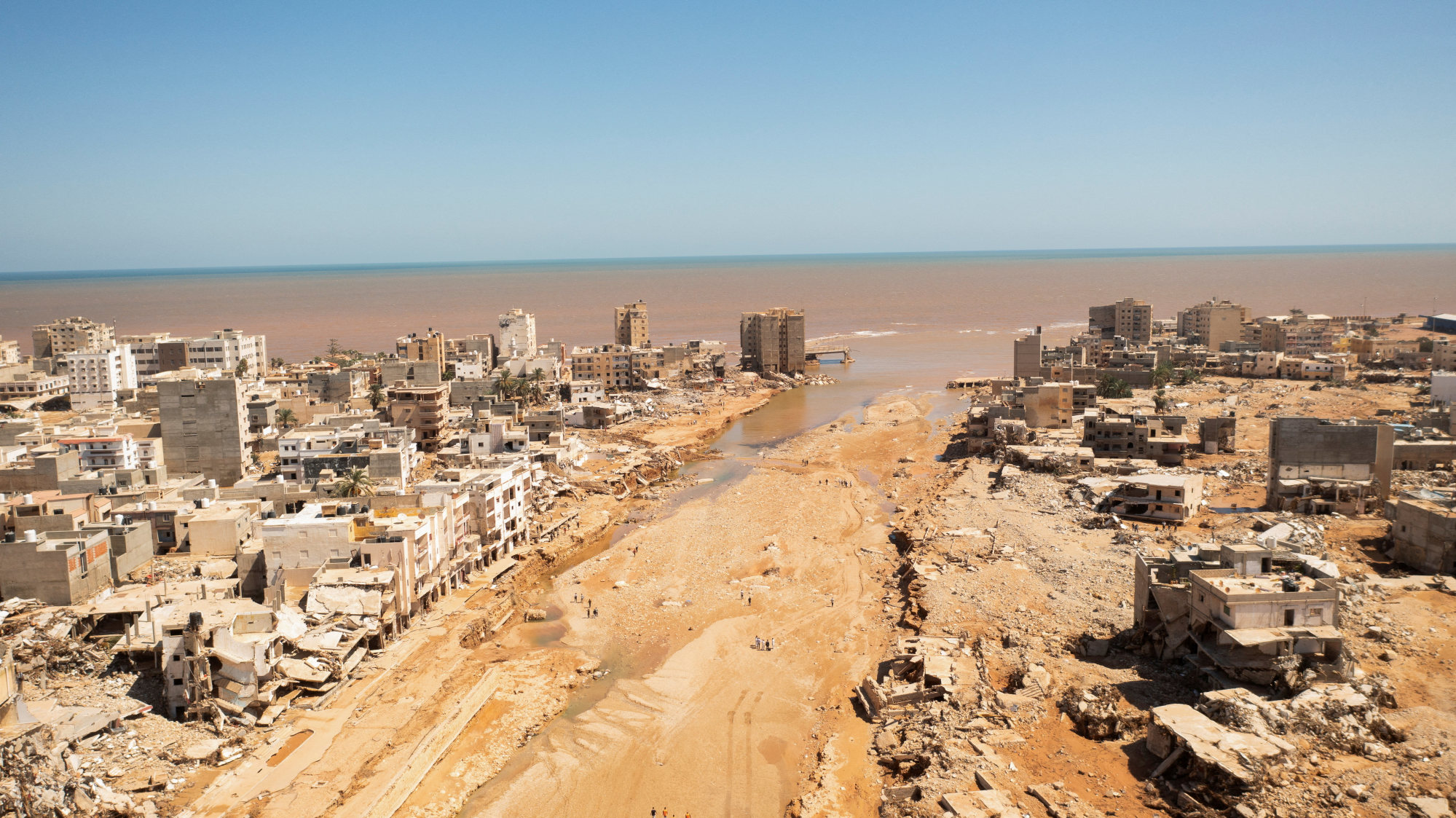 The challenge of retrieving the corpses is gargantuan in a country riven between two competing governments – one in the east, the other in the west – and plagued by infrastructure hollowed out by more than a decade of a previous war.
"We simply have no capabilities. Even masks and gloves, we don't have enough," Abdul Qader Saleh, a member of Derna's commission for boy and girl scouts, said in a phone interview from the devastated city Thursday. "Yesterday we saw bodies and we can't get to them. We need bulldozers, machines, even shovels."
Several countries have dispatched rescue teams, including Egypt, Turkey, Jordan, Tunisia, Algeria, the United Arab Emirates and France, among others. Germany, Finland and Romania have also sent assistance.
In the sea, teams of frogmen and units from the self-styled Libyan National Army – the armed group that acts as the armed force of the eastern administration based in Benghazi – have worked to recover bodies out of the Mediterranean near Derna.
Many are thought to have been pulled away from shore by the current, said Ahmad El Hadal, a Libyan journalist from Derna.
"As I'm talking to you now, I received reports they retrieved a body from Qardabah" – more than 95km southeast of Derna, he said.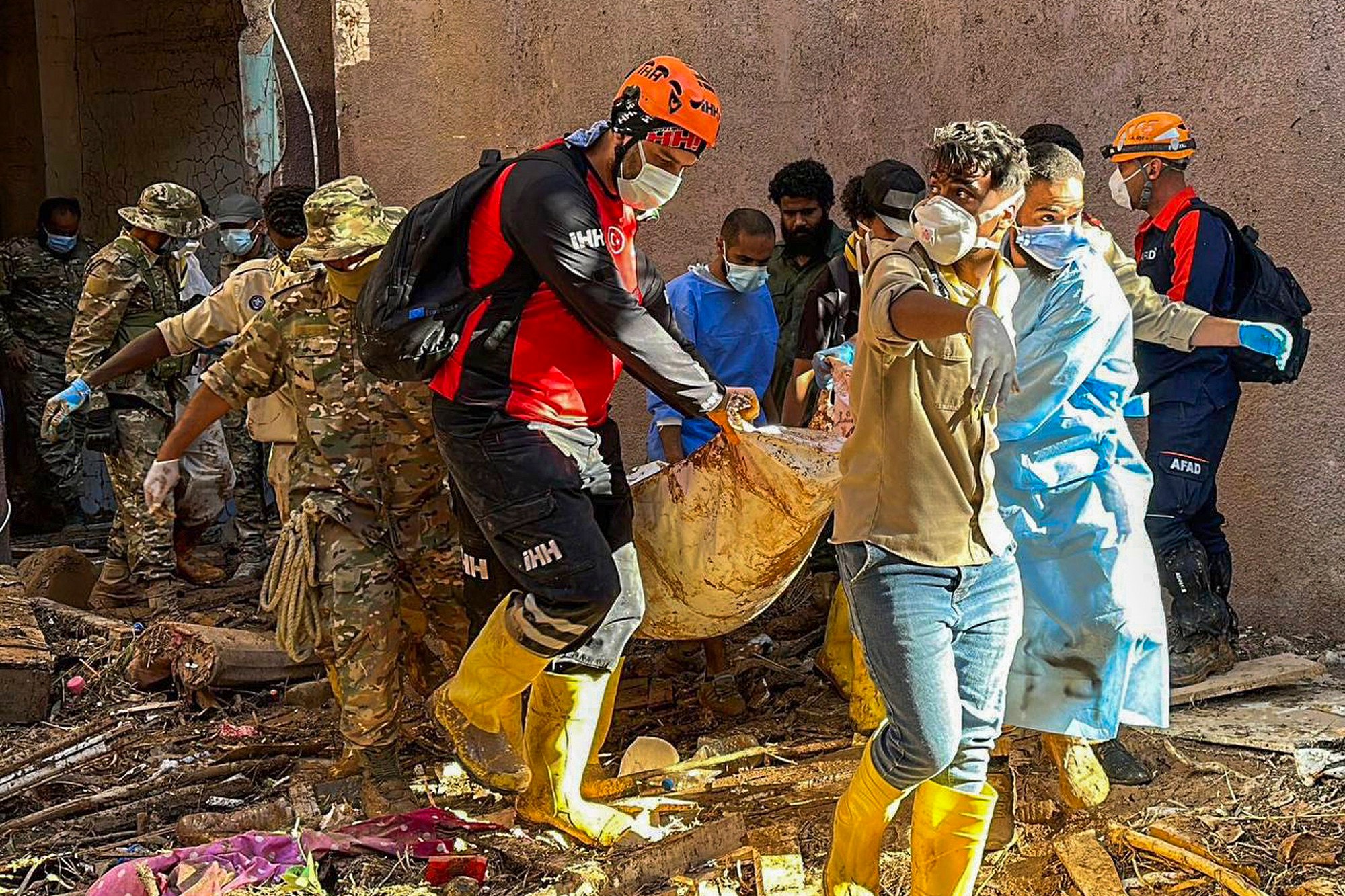 With the hospitals in Derna all but knocked out, emergency crews had initially deposited all corpses at one clinic with the aim of storing them for families to retrieve and of issuing death certificates, said Mohamed Eljarh, an analyst who heads the Benghazi-based Libya Desk consulting firm.
"Then they realised the bodies were decomposing, so now they're just taking photos for identification and then putting them in mass graves," he said.
"The bodies are still coming out. The smell of death is everywhere."
Osama Ali, a spokesman for the Ambulance and Emergency Service of the western government based in Tripoli, which has offered assistance to the east, said the procession of death was ceaseless.
"In one site we removed 500 corpses altogether," he said, explaining why authorities had to resort to mass graves.
But even those rudimentary burials have been affected by Libya's lack of resources, with body bags in short supply, said Zouiten of the World Health Organization. He added that a WHO plane carrying 32 tonnes of medical supplies, including body bags, was en route to Libya from the organisation's hub in Dubai and would arrive Friday.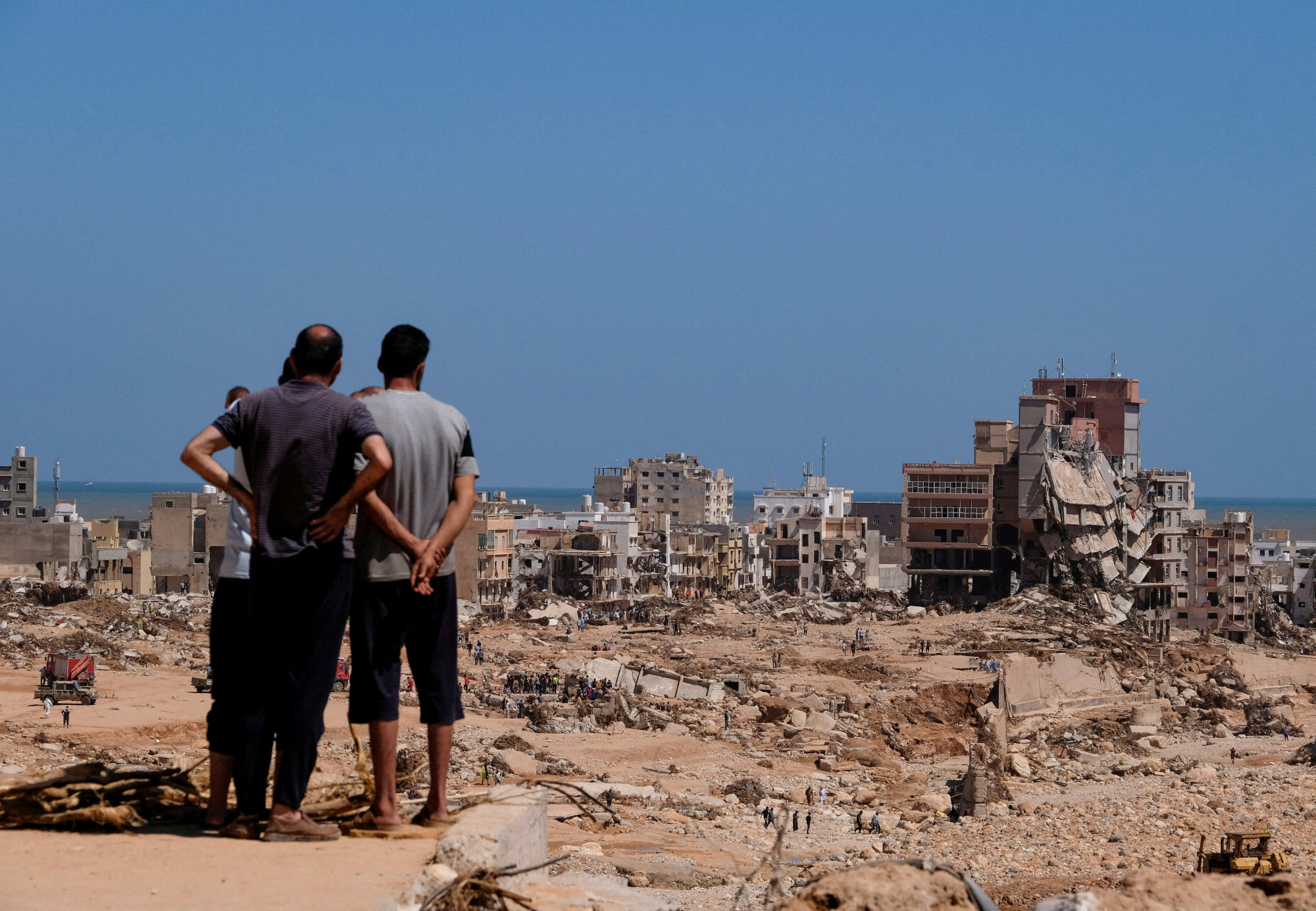 "It's reached the point where we don't even have enough kafans," said Nagib Tarhoni, a doctor at the largest hospital near Derna, referring to the shrouds used by Muslims for burial.
"We couldn't wash and wrap some of [the bodies] because they were too decomposed," he said. "Others we couldn't identify from the bloating, and of course many were mutilated in the floods."
Because much of the ground in Derna is waterlogged, authorities designated burial sites in cemeteries outside the city. But those have filled to capacity, Tarhoni said, forcing authorities to find new areas.
The terrible irony of the situation, analyst Eljarh said, is that despite the deluge that fell on Derna, there is no clean water available in the city. The floods knocked out the sewage system, leading to fears of tainted drinking water. And aside from human bodies, authorities will have to also clear away the carcasses of animals to ensure no contamination.
The greater question, Tarhoni said, is whether Derna can be made habitable again.
"People have lost jobs. They've lost homes. The city is facing a huge hygienic problem, water issues, supply issues, no hospitals. It's just not a liveable city any more," he said.
"The displacement will be on a huge scale."
Additional reporting by Associated Press
EMEA Tribune is not involved in this news article, it is taken from our partners and or from the News Agencies. Copyright and Credit go to the News Agencies, email [email protected]