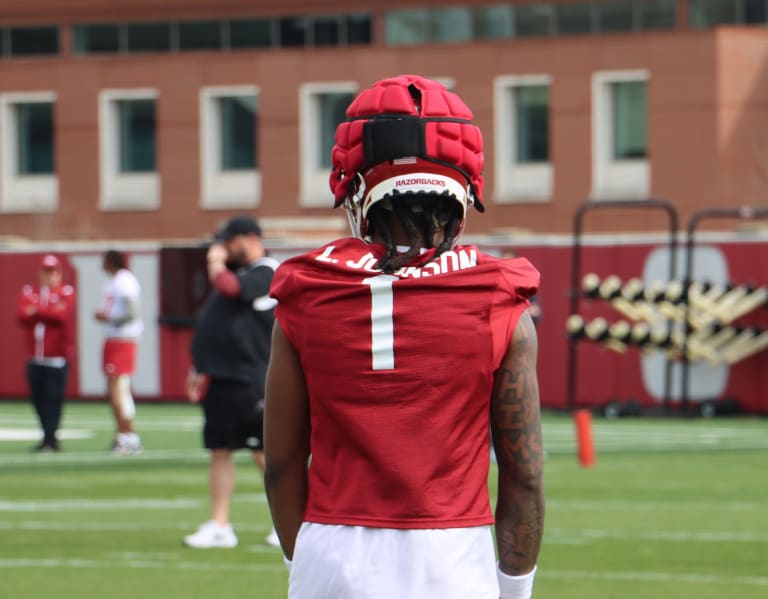 If you go to an Arkansas football practice and watch the receivers and defensive backs battle, you are sure to hear the voice of cornerback Lorando "Snaxx" Johnson.
The Baylor transfer is very vocal with his fellow defensive backs and with the Razorback receivers, and it's not always because he's telling them "good job." A competitor at heart, Johnson said he is just bringing energy to his teammates.
"I bring energy," Johnson said Saturday. "I don't know if I'm just trash talking. I don't know. Whatever gets them off (their game). Whatever gives the defense an advantage I will (do)."
Arkansas receiver Isaac TeSlaa was asked about Johnson on Thursday and the first words out of his mouth were "he loves to talk." While TeSlaa is getting used to that energy from Johnson, fellow transfer receiver Andrew Armstrong was already familiar with Johnson.
"Snaxx, man, I played 7-on-7 with him when he was at Lancaster I was at Bishop Dunne, so we used to have 7-on-7 tournaments," Armstrong said. "That was my first time I ever met Snaxx. Back then, I wasn't the receiver I am now, so he was really just sitting on everything. I was like, bro, what am I supposed to do?
"Now, me and him battle. We battle everyday I go against him. We talk about it after practice. Things he can do better, things I can do better just to make each other better. Because at the end of the day, we're competing against each other, but at the end of the day we're going to end up going against other teams."
Armstrong had plenty to say about Johnson, but it wasn't the same for the Razorback defensive back. A man of many words on the field, Johnson didn't have much to say when asked what receivers stand out to him.
"Really, all of them," Johnson said. "It's all had good work. There's nobody that I just go out there and it's a cakewalk. I've got to put my game face on every rep I go out there."
When asked for specific names, Johnson said he couldn't give the Arkansas receivers too much credit.
"They've been good work," Johnson said. "They've been competing, like I said. It ain't nobody just dominating nobody. Every day is competing."
Last year at Baylor, Johnson recorded 16 tackles, 1.5 tackles for loss, five pass deflections and forced one fumble as a redshirt sophomore. He's a former 5.7 three-star prospect out of Lancaster, Texas, who originally committed to LSU, but flipped to Baylor later on.
As for where he earned his nickname "Snaxx," it's a pretty simple story.
"It was my freshman year of college at Baylor," Johnson said. "We were in fall camp and I pulled some snacks out of my bag for meetings. I was a little big, too, so it started as a joke."
Johnson said he pulled out some Hot Cheetos and that was the birth of his nickname. The addition of the double-x at the end was just to "put some swag to it."
Arkansas is now less than a week away from its Red-White spring game, which will be held Saturday at noon CT at Donald W. Reynolds Razorback Stadium. The game will be streamed live on the SEC Network Plus.