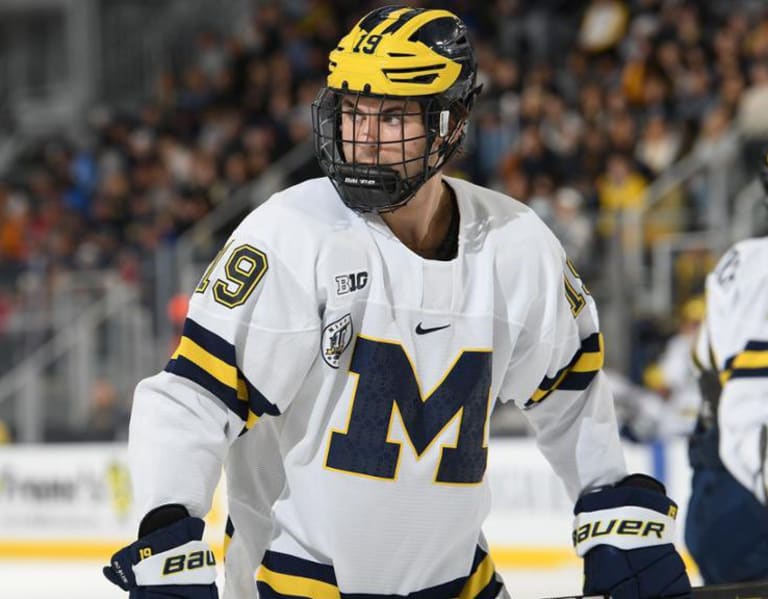 After three periods of uninspiring hockey on Thursday night in the national semifinal, Michigan saw its season come to a close in the form of a 5-2 loss at the hands of the Quinnipiac Bobcats. The Wolverines saw their season finish with just one piece of hardware: a Big Ten Tournament championship.
However, the hardware didn't end there for one Wolverine as Adam Fantilli won the Hobey Baker Memorial Award on Friday night. The award is the hockey version of the Heisman Trophy, and it's given to the best player in college hockey.
Although the two other finalists, Matthew Knies and Logan Cooley, both have led Minnesota to the national title game, neither player had a strong case to win the award over Fantilli.
The 6-foot-2, 195-pound freshman forward was far and away the best player in college hockey this season, and he had the stats to back it up.
Fantilli finished his freshman season with 30 goals, 35 assists and 65 points, all of which are top ten in the country. His 30 goals are tied with Western Michigan's Jason Polin for the most in NCAA Division I, and his 65 points are five more than Cooley, the closest Division I player.
Fantilli's winning of the award was the third such occasion in program history. Kevin Porter and Brendan Morrison were the other two winners in 2008 and 1997, respectively.
Michigan will now await the decision of Fantilli, who will be drafted in the first round of the NHL Entry Draft in June.
—
Discuss this article with our community on our premium message boards
Not a subscriber to Maize & Blue Review? Sign up today to gain access to all the latest Michigan intel M&BR has to offer
Follow our staff on Twitter: @JoshHenschke, @Berry_Seth14, @TrevorMcCue, @DennisFithian, @BrockHeilig, @JimScarcelli, @lucasreimink, @JaredHalus
Subscribe to our podcasts: Apple Podcasts, Google Podcasts and Spotify
Check out Maize & Blue Review's video content on YouTube
Follow Maize & Blue Review on social media: Facebook, Twitter, TikTok, and Instagram