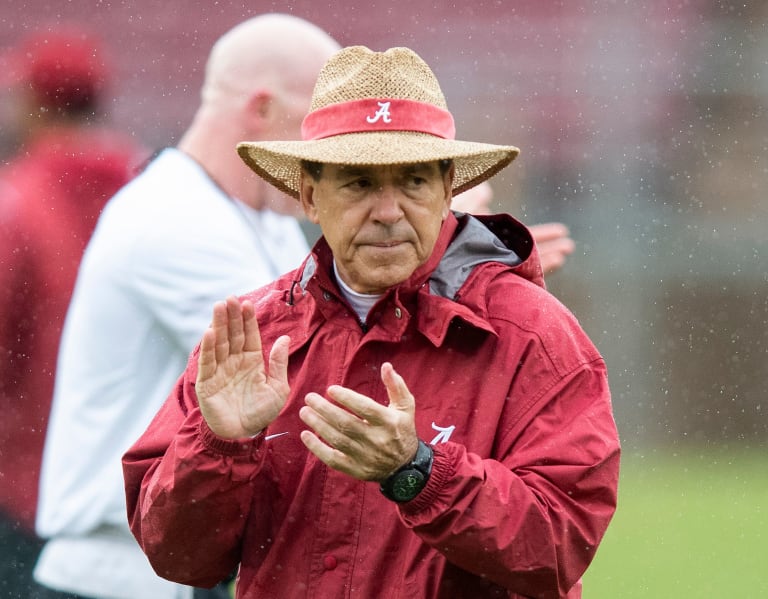 TUSCALOOSA, Ala. — With Alabama completing its first full of week of spring practice, head coach Nick Saban held a scrimmage at Bryant-Denny Stadium on Friday.
It was the first time the team was split up into "first team" and "second team" during this month-long stint. While many are clamoring over what the potential depth chart could look like, all eyes are on the offense, especially Jalen Milroe and Ty Simpson who are battling it out for the starting quarterback job.
Regardless of the position battle, Saban was pleased with the offense after the first spring scrimmage.
"I think we did a lot of good things today," Saban said. "I think there were a lot of good things out there. I thought the intensity was good. There was a lot of good hitting. We tried to play a little bit more physically on the line of scrimmage.
"Offensively I thought we were pretty consistent in terms of what we did. We moved the ball effectively and with balance in the run and pass. Both quarterbacks played equally well. Both of them got opportunities and both of them I thought did a really nice job out there and in the game."
Saban added that the offense made some "big plays" today highlighting Jermaine Burton and Ja'Corey Brooks as two returners who made an impact on Friday. The duo finished first and second for the team lead in receiving yards last season, tallying 1,351 of Alabama's 3,660 yards.
Along with Brooks and Burton, Saban highlighted newcomer Malik Benson noting that he's "had a really good spring. Is capable of stretching the field and making some really big plays." Benson was the No. 1 rated JUCO player from Hutchinson Community College as he caught 43 passes for 1,229 yards and 11 touchdowns in 11 games last season.
With so many new faces, Saban was able to get a look at how new offensive coordinator Tommy Rees, who was hired during the offseason. Rees helped Notre Dame's offense put up 31.8 points per game last season, which ranked 41st nationally, while they sorted through a quarterback battle of its own.
He also led the 2021 Fighting Irish offense that tallied 35.2 points per game which finished 19th in the nation. On Wednesday, Brooks said Rees has "a little swag in him" and it seems it has rubbed off on the rest of the players.
"The offense was great today," Saban said. "Tommy does a great job with the players. The players like him. … I'm really pleased with what we've been able to do on that side of the ball and how we've developed."