Experts say Moscow is likely to seek artillery shells and anti-tank missiles from North Korea, which wants advanced satellite and nuclear-powered submarine technology in return.
The White House warned last week that North Korea would "pay a price" if it supplies Russia with weaponry for the conflict in Ukraine.
Defying the warnings, Kim left North Korea for Russia on Sunday, according to the official Korean Central News Agency (KCNA).
He was accompanied by top North Korean military officials, including officials in charge of weapons production and space technology, it added.
Peskov said the two leaders would "cooperate on sensitive areas that should not be the subject of public disclosure and announcements".
KCNA images showed Kim's being given a "warm send-off" complete with red carpet and honour guard at Pyongyang station at around 7pm local time on Sunday.
On Tuesday, Russian state news agency RIA Novosti said Kim had crossed the border, with images showing the train with dark green carriages being pulled along a track by a Russian Railways locomotive.
Kim is travelling to Russia with his top military officials including Korean People's Army Marshal Pak Jong-chon and Munitions Industry Department Director Jo Chun-ryong, analysts said.
This indicates a Putin-Kim summit "is likely to heavily focus on Russia and North Korea's possible military cooperation," said Yang Moo-jin, president of the University of North Korean Studies in Seoul.
Moscow sent Defence Minister Sergei Shoigu to Pyongyang in July. He has recently mooted bilateral joint naval drills.
Kim has been steadfast in his support for Moscow's Ukraine invasion, including, Washington says, supplying rockets and missiles.
But both Moscow and Pyongyang have denied North Korea has or will supply arms to Russia, which has eaten into its vast stockpiles of munitions fighting since it launched its assault on Ukraine early last year.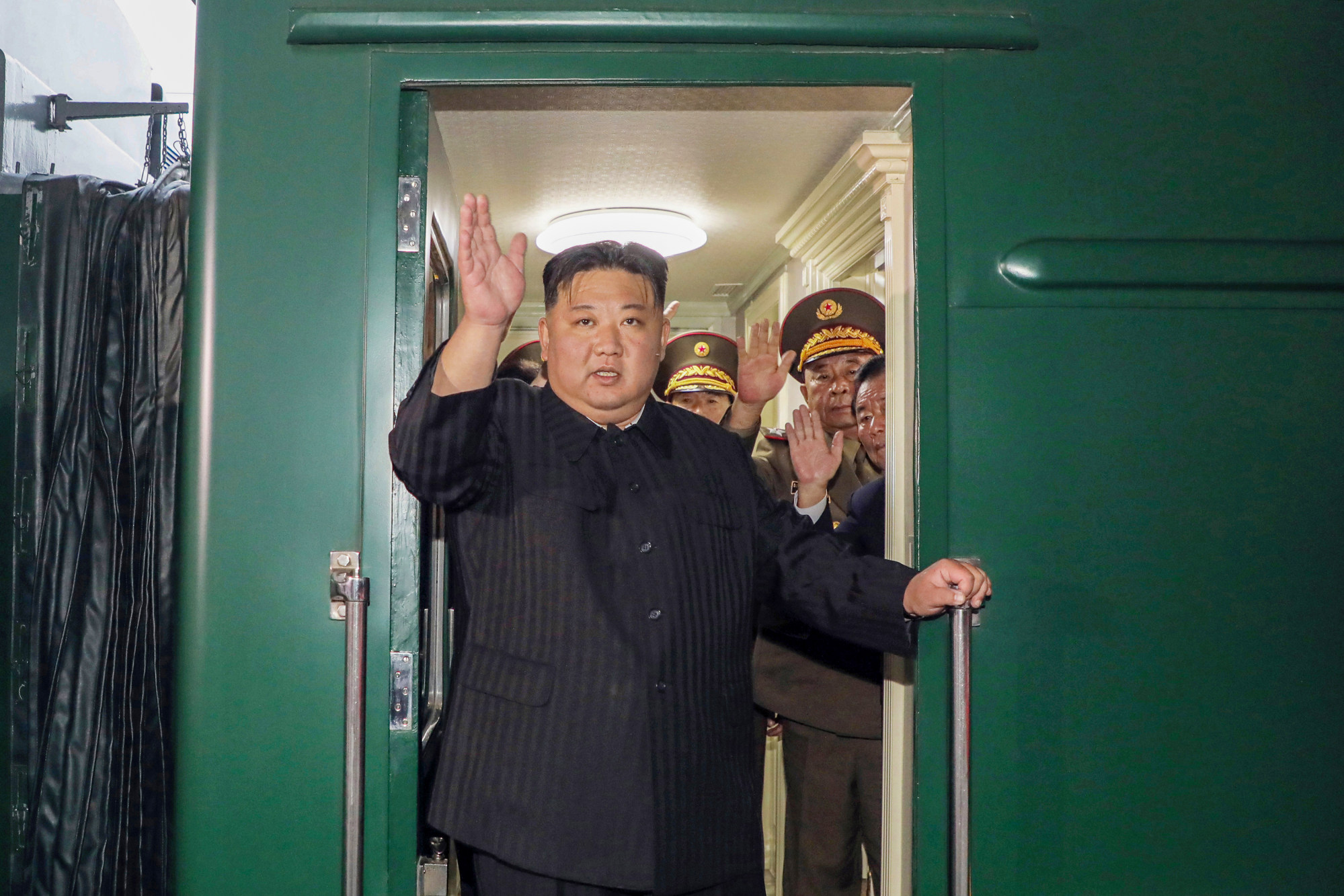 Kim has not travelled outside North Korea since the start of the pandemic. His last proper overseas trip was in 2019,
also to Russia to meet Putin
.
"North Korea has the crude ammunition that Putin needs for his illegal war in Ukraine, while Moscow has submarine, ballistic, and satellite technologies that could help Pyongyang leapfrog engineering challenges it suffers under economic sanctions," said Leif-Eric Easley, a professor at Ewha University in Seoul.
On Monday the US described Putin as desperate in seeking a meeting with Kim.
"Having to travel across the length of his own country to meet with an international pariah to ask for assistance in a war that he expected to win in the opening month, I would characterise it as him begging for assistance," State Department spokesman Matthew Miller said.
"I will remind both countries that any transfer of arms from North Korea to Russia would be in violation of multiple United Nations Security Council resolutions," Miller added.
Washington has said Russia could use weapons from North Korea to attack Ukrainian food supplies and heating infrastructure heading into winter to "try to conquer territory that belongs to another sovereign nation".
Andrei Lankov, a North Korea expert at Kookmin University in Seoul, said that a Putin-Kim summit was part of Moscow's "gentle diplomatic blackmail" of Seoul because Russia did not want South Korea to supply weapons to Kyiv.
Seoul is a major arms exporter and has sold tanks to Kyiv's ally Poland, but long-standing domestic policy bars it from selling weapons into active conflicts.
"The major worry of the Russian government now is a possible shipment of the South Korean ammunition to Ukraine, not just one shipment but a lot of shipments," Lankov said.
Kim is known for his preference for train travel when it comes to international trips. His father and predecessor, Kim Jong-il, was famously scared of flying.
EMEA Tribune is not involved in this news article, it is taken from our partners and or from the News Agencies. Copyright and Credit go to the News Agencies, email [email protected]