Overseas Pakistanis protesting for Imran Khan in many countries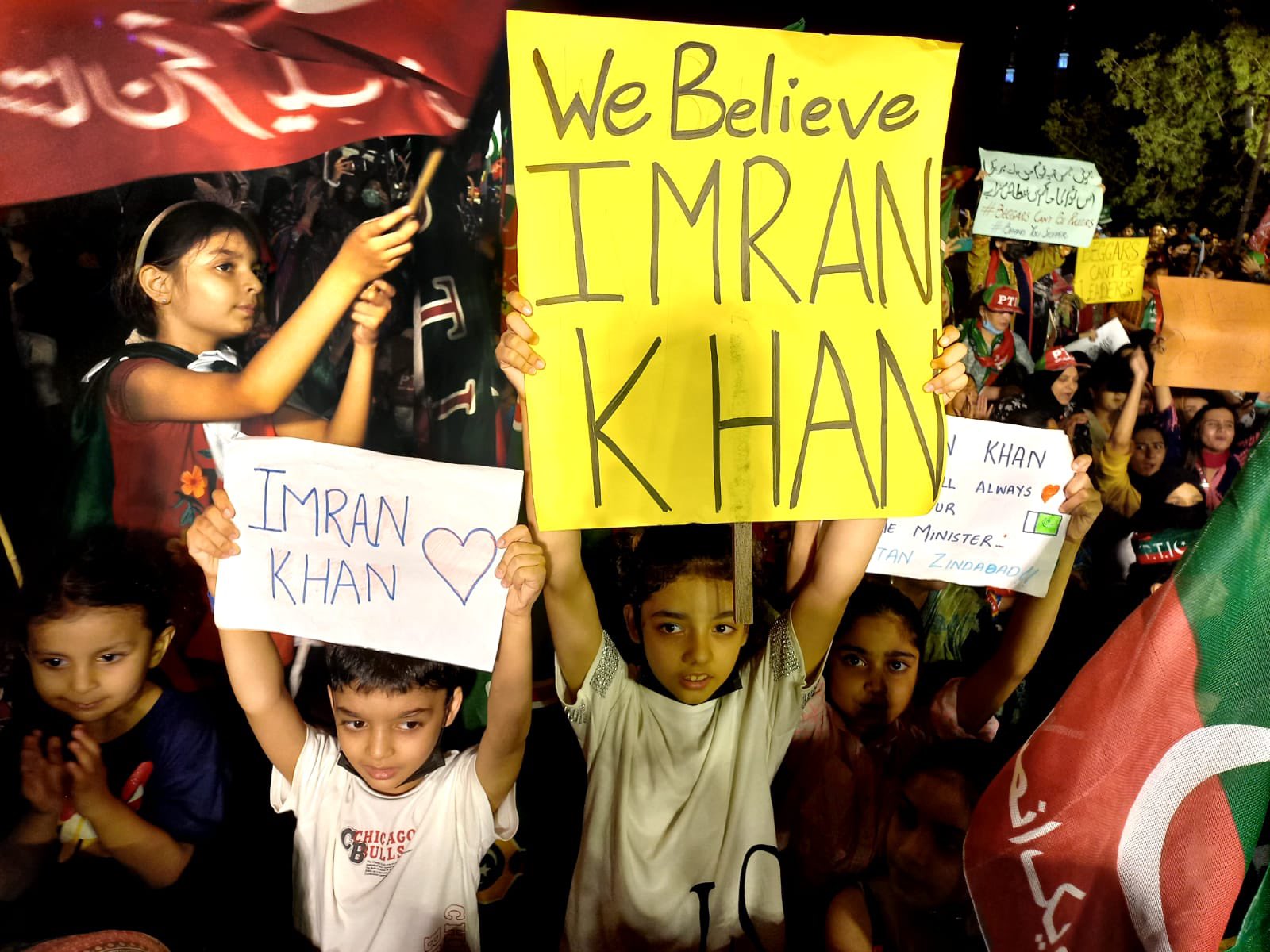 Pakistan: Thousands of Overseas Pakistanis are on roads in different parts of the countries on Sunday in favor of the Imran Khan an ex-Prime Minister of Pakistan who was forcefully sacked by the opposition in the name of the so-called "Vote of Confidence". Australia, the UK, France, the US, Germany, Canada, UAE, and many other countries have seen thousands of people come in support of Imran Khan. Many cities of Pakistan such as Karachi, Rawalpindi, Islamabad, Lahore, KP, and other cities are also witnessing a huge number of crowds, who have come in support of Imran Khan and protesting against the change of government, and hoping to get him elected once again.
For all the latest updates about the protests please follow the official handle of Tehreek e Insaf.
Overseas Pakistanis came in support of Imran Khan
Australia pic.twitter.com/dQs2V109VE

— Faisal Ismail (@fayslkhn) April 10, 2022
ساری قوم عمران خان کے پیچھے کھڑی ہے اور آج پاکستان کے ہر شہر میں امپورٹڈ حکومت کے خلاف عوام سڑکوں پر ہے۔ شیخ رشید احمد
#امپورٹڈ_حکومت_نامنظور pic.twitter.com/4Vd8IO1tao

— PTI (@PTIofficial) April 10, 2022
– @PTIofficial Protest in support of Imran Khan in Sheikhupura City.

#امپورٹڈ_حکومت_نامنظور pic.twitter.com/L0h9bbbAPg

— Musa Virk (@MusaNV18) April 10, 2022
Protests in Bajaur, KP #امپورٹڈ_حکومت_نامنظور#عمران_خان_نہیں_جھکا#ImranKhan pic.twitter.com/Ys7FDjCOCL

— PTI (@PTIofficial) April 10, 2022
امپورٹڈ حکومت کے خلاف خانیوال کا جنون !!!
#امپورٹڈ_حکومت_نامنظور pic.twitter.com/C0kxxE3KeH

— PTI (@PTIofficial) April 10, 2022
My constituency NA 126 Lahore's rally leaving for liberty chowk. pic.twitter.com/7omFjrBbdE

— Hammad Azhar (@Hammad_Azhar) April 10, 2022
لاہور میں غیر ملکی ایجنٹوں کے خلاف احتجاج کا آغاز- #امپورٹڈ_حکومت_نامنظور pic.twitter.com/mdZyPhHz1F

— PTI (@PTIofficial) April 10, 2022
اوکاڑہ کی تحصیل رینالہ خورد میں مُحب وطن پاکستانیوں کی جانب سے چیئرمین عمران خان سے اظہار یکجہتی کے لیےریلی کا اہتمام۔ #امپورٹڈ_حکومت_نامنظور pic.twitter.com/4W4ExUBcMo

— PTI (@PTIofficial) April 10, 2022
MashAllah! The charged crowd of Karachi clearly tells that the Nation stands with Imran Khan! #امپورٹڈ_حکومت_نامنظور pic.twitter.com/pJ5AZyZ4UF

— PTI (@PTIofficial) April 10, 2022
امپورٹڈ حکومت کے خلاف ملتان کی عوام کا جم غفیر ریلی کی صورت سڑکوں پر امڈ آیا۔
#امپورٹڈ_حکومت_نامنظور pic.twitter.com/3tbQUFAy1b

— PTI (@PTIofficial) April 10, 2022
ملتان میں سینٹر عون عباس بپی کی قیادت میں ریلئ نکالی ئی، عوامی جنوں کا یہ قافلہ چونگی نمبر 9 کی جانب گامزن ہے، جہاں سارے شہر سے آئے لوگ عمران خان سے اظہار یکجہتی کے لئے اکھٹا ہو رہے ہیں #امپورٹڈ_حکومت_نامنظور#عمران_خان_نہیں_جھکا pic.twitter.com/IxIxlsHgE1

— PTI Punjab (@PTIPunjabPK) April 10, 2022
"No Imran, No remittances" PTI supporters protest against "regime change" at Hyde Park, they say "we won't send any remittances until Imran Khan comes back. pic.twitter.com/iJNino3uDc

— Farid Ahmed (Qureshi) (@FaridQureshi_UK) April 10, 2022
گوجرانوالہ میں ہزاروں افراد عمران خان سے اظہار یکجہتی کرتے ہوئے- #امپورٹڈ_حکومت_نامنظور pic.twitter.com/wT1WqOiUgs

— PTI (@PTIofficial) April 10, 2022
Youth of Faisalabad is outside to defend their sovereignty & democracy !! 🇵🇰
#BehindYouSkipperAlways pic.twitter.com/T7rC4VQBx8

— Hunain Khalid (@PTI_Scientist) April 10, 2022
میزائل چوک حاصلپور#امپورٹڈ_حکومت_نامنظور#عمران_خان_نہیں_جھکا#ImranKhan pic.twitter.com/C6xStLSxGT

— Bilal Hussain (@Royal_PK) April 10, 2022
Abbottabad, KP

Which part of Pakistan isn't showing PTI Colors today! Pakistan has united to show their gratitude for #ImranKhan #امپورٹڈ_حکومت_نامنظور#عمران_خان_نہیں_جھکا pic.twitter.com/JB5YqBJpsN

— PTI (@PTIofficial) April 10, 2022
میانوالی کی بھی پکار، امپورٹڈ حکومت نامنظور
#امپورٹڈ__حکومت_نامنظور pic.twitter.com/8hLk27tFR0

— PTI (@PTIofficial) April 10, 2022
پاکستان تحریک انصاف اسلام آباد ریلی اسلام آباد ہائی وے ٹو ایف نائن پارک ہزاروں گاڑیوں میں فیملیز بزرگوں کی کثیر تعداد میں شرکت امپورٹڈ حکومت نامنظور امریکہ کا جو یار ہے غدار ہے غدار ہے کے نعروں کی گونج@SdqJaan pic.twitter.com/lP2ySRghRb

— Isma_ Shaukat (@isma_shaukat) April 10, 2022
بھٹو کو میں نے کھویا
بچو تم عمران کو نہ کھونا، احتجاج میں شریک بزرگ شہری کی نوجوانوں سے اپیل#امپورٹڈ_گورمنٹ_نامنظور #امپورٹڈ_گورنمنٹ_نامنظور @tariqmateen pic.twitter.com/QT0KX2fzUJ

— Shahid Hussain (@ShahidHussainJM) April 10, 2022
express highway huge crowd PTI @SdqJaan pic.twitter.com/YeJ050IPxr

— Isma_ Shaukat (@isma_shaukat) April 10, 2022
Read this Imran Khan Speech: PTI Lahore Jalsa at Minar e Pakistan