Pakistan
Fire erupted in Pak Army depot in Sialkot Cantt area: ISPR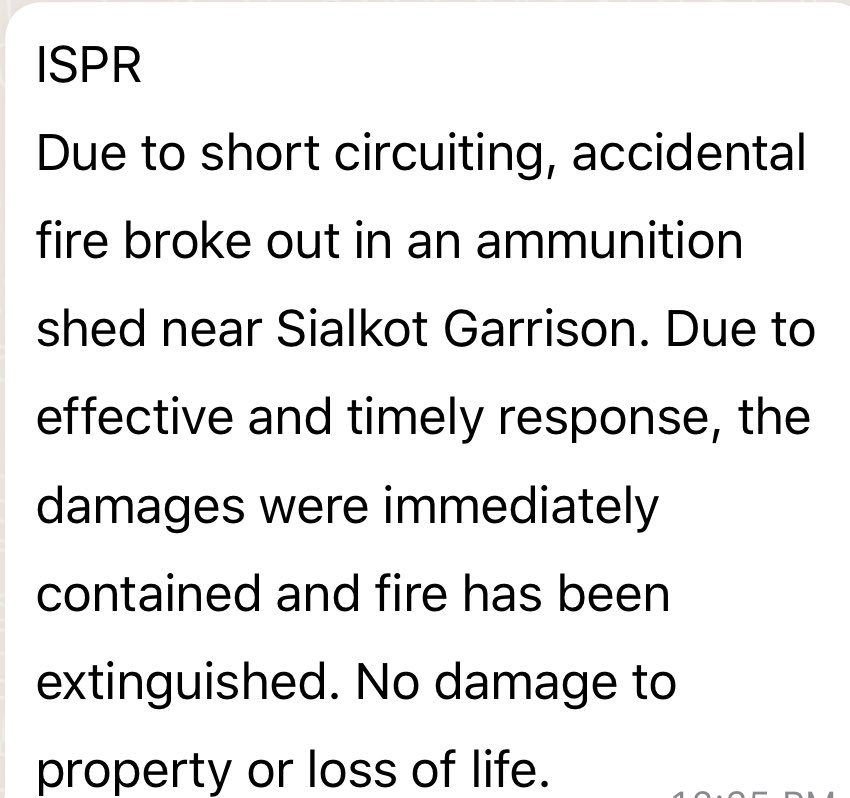 Pakistan: A fire broke out in an ammunition shed of the Pak Army due to a short circuit, however, no casualties were reported. Earlier in the morning on Sunday, a fire broke out in Sialkot, Cantt area.
According to Pakistan Army Public Relations (ISPR), a fire broke out in an ammunition shed near the Sialkot cantonment, however, with effective and timely response, the fire and damage were immediately brought under control. The fire broke out in the ammunition shed due to a short circuit, however, the fire did not cause any property damage or loss of life, ISPR said. Users on social media share the videos of the incident where the grey and black smoke can be seen from the site.
The Pakistani journalist Gharidah Farooqi shared the video on Twitter when the fire erupted.
This incident needs immediate address and clarification for all the rumours, fake news and fear being spread on social media.

What happened in #Sialkot this morning?

A clarification would do good in the wake of upcoming 23rd March and OIC Conference. pic.twitter.com/G39hIejzB8

— Gharidah Farooqi (@GFarooqi) March 20, 2022
Major Adil Raja (R) tweeted at 12:04 PM that fire was broke out at Pak Army ammunition depot at Sialkot, some Indians are spreading disinformation and everyone should ignore them. The situation is under control and no casualties have been reported.
An accidental fire broke out at an Ammunition depot of #PakistanArmy at Sialkot. Some Indian handles are spreading #disinformation regarding the incident. Please disregard them.
The fire is under control and no casualties have been reported. Not an incident of sabotage.

— Adil Raja (@soldierspeaks) March 20, 2022