Pakistan
Pakistan Ki Awaz ARY #PakistanKiAwazARY Social media users trending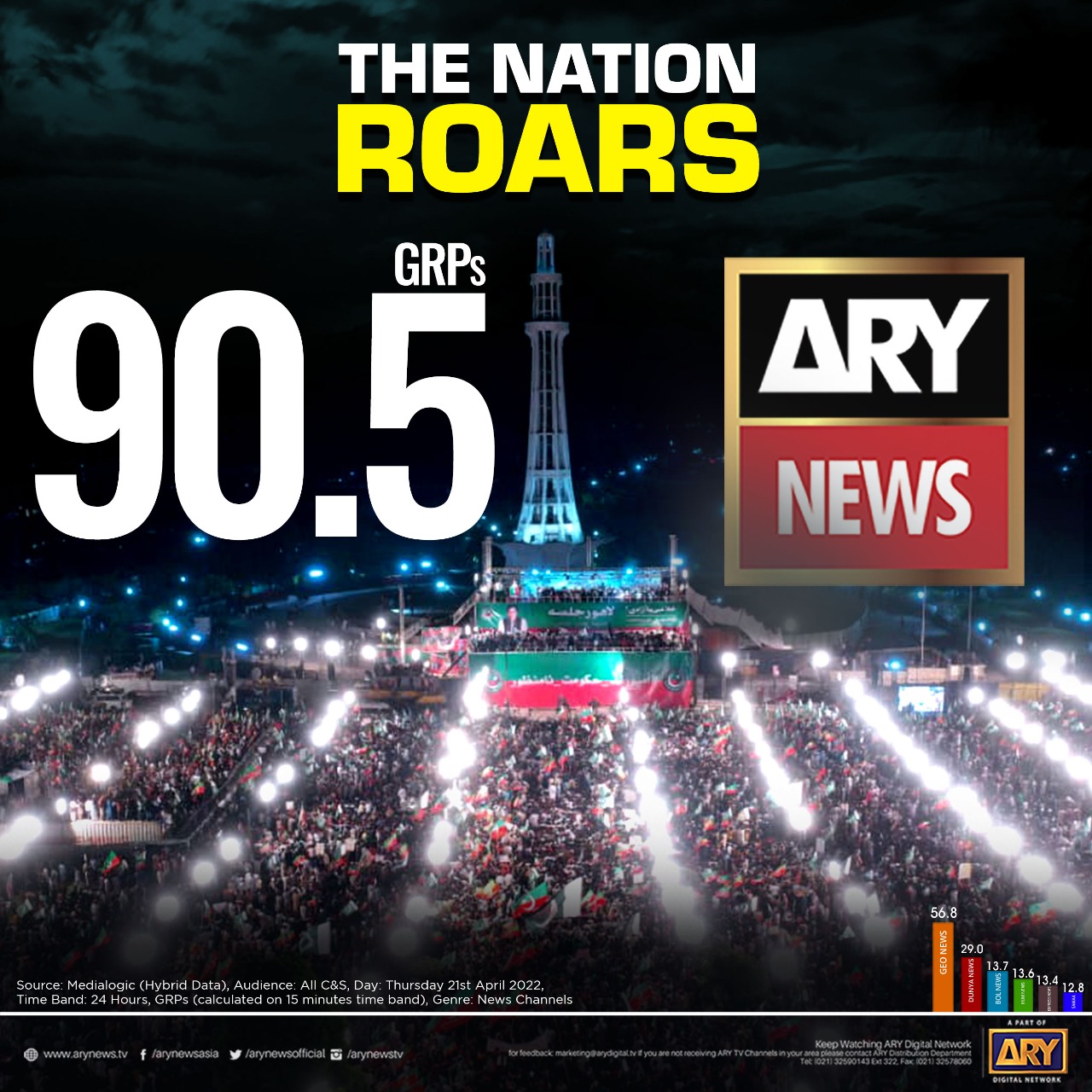 Pakistan: ARY is the only news channel that is sharing real news and truth, while the other media channels are on the payroll of PDM, shareefs, and other mafias. Social media users are trending Pakistan Ki Awaz ARY #PakistanKiAwazAry after the Government of Pakistan threatened the media channel ARY. Khawaja Saad Rafique and other ministers have sent direct threats to ARY and also blocked the channel in various cities of Pakistan 2 days ago when Imran Khan was giving a speech in Minar e Pakistan Lahore.
The govt in power threatening a media channel. @hrw @amnestysasia #PakistanKiAwazARY https://t.co/fsAwShc4Jh

— Arshad Sharif (@arsched) April 23, 2022
Pakistan Ki Awaz ARY #PakistanKiAwazARY
Channel CEO and President Salman Iqbal are now applauded by the masses for not bowing down against the mafias. ARY rating is grown by 95% after sharing live streaming of Imran Khan jalsa's. Their videos have been seen by millions of people in just a few days, the channel is gaining popularity among the masses. ARY anchor & prominent journalist Mr. Arshad Sharif has also tagged the Human Rights Watch and the Amnesty Asia about the "threat sent by the minister to ARY".
You cannot silence #PakistanKiAwazARY #PakistanZindabad pic.twitter.com/WdqtOFIyF3

— Arshad Sharif (@arsched) April 23, 2022
"Stay with the truthful, no matter how few, Stay away from the false no matter how many" Imam Ali ( AS)

#PakistanKiAwazARY pic.twitter.com/KhvklZyctc

— Dr. Iftikhar Durrani (@IftikharDurani) April 23, 2022
My Lord, the child needs an answer! #PakistanKiAwazARY pic.twitter.com/1Ug6H3KEH5

— Adeel Raja (@adeelraja) April 23, 2022
Shireen Mazari setting the record straight. #PakistanKiAwazARY pic.twitter.com/twzKzjw5AL

— Adeel Raja (@adeelraja) April 23, 2022
#PakistanKiAwazARY رجیم چینج کی کہانی 👇لائیو لنک https://t.co/KXYivNFFvD

— Murad Saeed (@MuradSaeedPTI) April 23, 2022
Stop state terrorism against ARY #PakistanKiAwazARY #PakistanZindabad

— Shehr Bano Official (@OfficialShehr) April 23, 2022
ہم پاکستان پاکستان صرف پاکستان کیلیےکام کرتےہیں،
آپ نےہمیں"عمران کوپاکستان پرمسلط کرنیکی سازش کےسپانسرکہا"آپ آپکی قیادت تو یہ الزام پاک فوج پرلگاتی ہے،سلیکٹرز کواب سازشی کہہ رہے ہیں؟
گولڈکیس نواز شریف نے زرداری پر بنایاتھا،
کیا آپ بلاول زرداری کودوبارہ دھمکا رہےہیں؟
۔صرف خبر https://t.co/of83ewruVF

— Sabir Shakir (@ARYSabirShakir) April 23, 2022