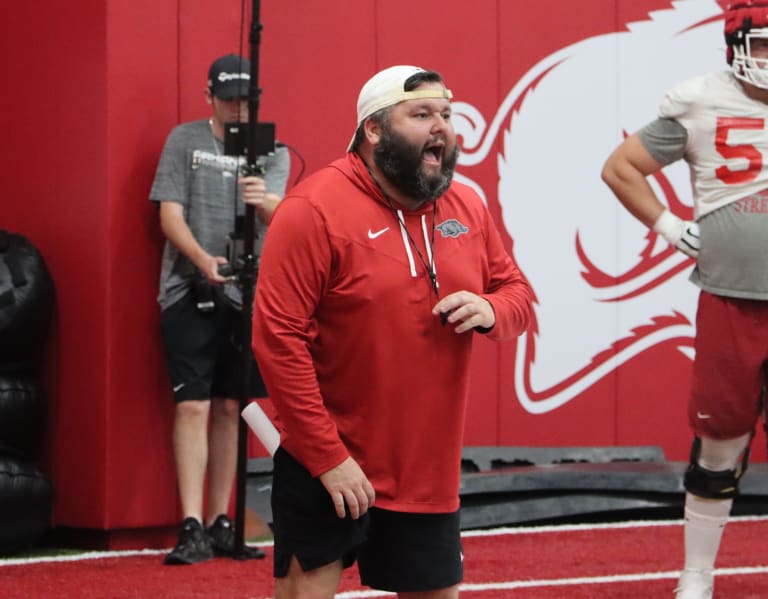 With head coach Sam Pittman leading the Razorbacks, it would be safe to assume that the offensive line would be one of the better performing position groups, but that wasn't the case during Saturday's 122-play closed scrimmage.
Pittman told reporters Tuesday that he and offensive line coach Cody Kennedy are still searching for the five best offensive linemen after the guys up front had trouble with run throughs on Saturday.
The defense stood out most to Pittman following the scrimmage and he mentioned that the offensive line struggled with communication and picking up blitz packages from defensive coordinator Travis Williams' group.
"You know, as an offensive line coach a lot of time you want to get that double team fit," Pittman said. "And Cody's been having those linebackers out there where they're getting their eyes up on the 'backer, but the 'backer backdoored them, and probably hadn't worked on that as much as we need to.
"Basically, the guard was too wide, so the center's got to go fit the G, and the linebacker's picking him coming back side, so we need to work on that. I thought that was probably the only real glaring point. And we had a hard time blocking them defensive ends with our tackles."
The Head Hog mentioned that working on limiting run throughs is something the offensive line needs to practice more during individual drills. Another thing of note was the lack of throwing the ball that Arkansas was able to due, which Pittman credited to the defensive line's performance Saturday.
Some of the struggles up front could be contributed to a revolving door with three of the five starters. Veterans Beaux Limmer and Brady Latham are mainstays with the first team, but the other three have been a different mix just about every practice that's been open to the media.
Names that have been with the first team include redshirt freshman E'Marion Harris, redshirt freshman Andrew Chamblee, redshirt sophomore Devon Manuel, Florida transfer Joshua Braun, senior Ty'Kieast Crawford and sophomore Patrick Kutas — all of which have played at different spots with the first group, aside from center, where Limmer has stayed put.
"We tried Braun a little bit at tackle in the scrimmage," Pittman said. "He obviously played guard (at Florida), but then there was a point in time where we put him out there at tackle. We're just trying to make sure that we have the best possible players out there, not only for the ones but for who might be that backup when we're needed because of injury or something of that nature."
A name that Pittman has praised multiple times this spring is Kutas (6-foot-5, 303 pounds). A 5.7 three-star recruit out of Memphis, Tennessee, in the 2022 class, Kutas was the first team right tackle during Tuesday's team portion of practice, and he is a player that Pittman is hoping will develop into a strong tackle.
"Obviously, we recruited Kutas to play tackle, and he hadn't gotten out there," Pittman said. "He did a fine job at center in the scrimmage some, so I think we're pretty solid that we think he could be that backup center, but we want to try and give him an opportunity to win the tackle position as well, and we're going to do that this week."
For those that are worried about the constant rotation up front and the struggles in the scrimmage: it's not time to panic. This is all by design, and Pittman went as far as to say he's having fun experimenting.
"I'll never forget it: I was at Georgia and I had Andrew Thomas at left tackle and then figured out, 'Well, I think he's one of our top five,' and he was behind Isaiah Wynn, who was a first rounder," Pittman said. "I go, 'Well, I'm going to move him in here at left guard.' He started at left guard, and this is all in preseason camp. I go, 'You know what, I need a right tackle more than I need a left guard right now,' and I moved him to right tackle two weeks before the first game.
"I remember Kirby (Smart) said, 'Pittman, it better work man.' And of course he went out there and we went to the national championship game and he was the fourth pick in the draft. Those things are fun to find out about your kids."
Back to Kutas, Pittman said he really believes that the second year big man can play at tackle and they will find that out soon enough.
"Right now, we got exploited a little bit on the edge during the scrimmage," Pittman said. "So we need a little help out there. We need to get better and things of that nature. Yes, I'm having a blast doing it and I have no reason to believe that we won't have a really good offensive line again. We've just got to make sure we've got the right five out there at the right positions. And I am having fun doing it, yes."
Arkansas' next practice will be its 10th of the spring on Thursday afternoon. The Hogs will have 15 total spring practices, with the 15th being the Red-White game Saturday, April 15, at noon CT inside Reynolds Razorback Stadium.