Pakistan
Justice for Nazim Jokhio: Protest at Karachi Press Club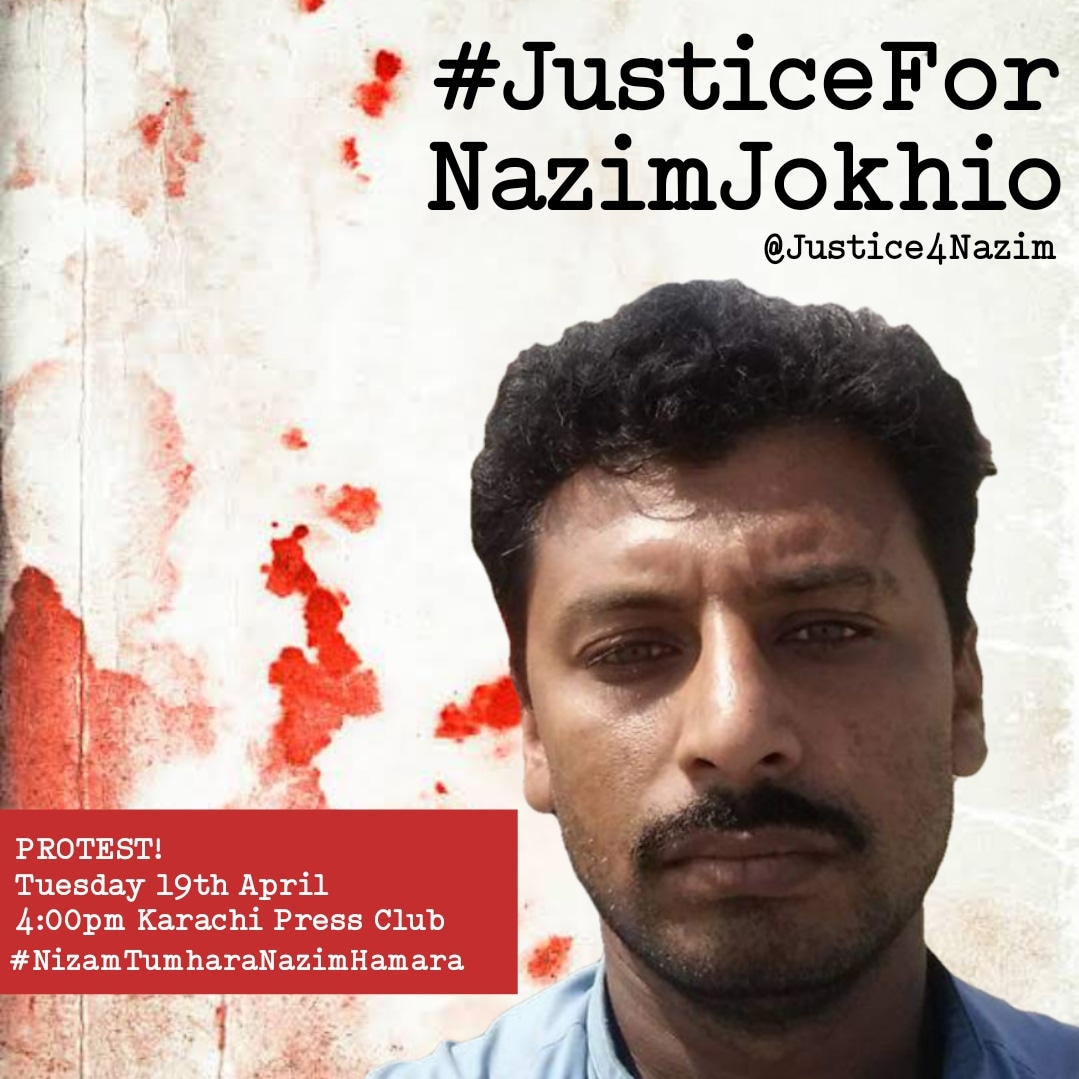 Karachi: People are gathering today at Karachi Press Club this afternoon at 4 to raise their voices against the mockery of justice in Nazim Jokhio's murder case. Justice for Nazim Jokhio is trending on Twitter by the people demanding justice. Banners are placed all over Karachi including teen talwar Clifton near Bilawal House.
Turn on your Camera, Record your Protest, Speak up & Demand #JusticeForNazimJokhio and tweet it with the #. This is a campaign for rule of law, the real struggle to uphold constitution which impacts you & me unlike #PPP for whom Constitution is only relevant for coming into power pic.twitter.com/VqWdLxL9pT

— M. Jibran Nasir 🇵🇸 (@MJibranNasir) April 18, 2022
Banners placed by students & activist from #DoTalwar–#TeenTalwar however saw #JusticeForNazimJokhio was even struggling to find space on poles as multiple #PPP banners "آئین کے محافظ" were being put up covering Nazim's banner. For them آئین means PPP's rule without accountability pic.twitter.com/0oaoQN047s

— M. Jibran Nasir 🇵🇸 (@MJibranNasir) April 19, 2022
Justice for Nazim Jokhio
Member of the National Assembly Jam Karim and Member of the Provincial Assembly Jam Awais from the PPP (Pakistan Peoples Party) are the killers of the Nazim Jokhio. They have forced her widow to get the case and FIR back, everyone pressurized her and forced her to remain silent or face the consequences. Nazim's family has alleged that PPP leaders and their henchmen tortured him to death as he filmed their guests hunting the animal.

On the way to court this morning: #JusticeForNazimJokhio pic.twitter.com/LHGhNLPd6n

— Abdul Moiz Jaferii (@Jaferii) April 19, 2022
27 in age, resident of Malir, diehard jiyala who raised slogans of Shaheed BB and took selfies with Shah sahab taking pride in it. Just imagine when this young jiyala was murdered brutally by a PPP MNA and this 33 year old young leader protected the MNA. #JusticeForNazimJokhio ✊🏽 https://t.co/iKoJ0zueUF

— Farhad Jarral (@FarhadJarralPK) April 18, 2022
People are in anger and it's natural because the killers were appreciated by the PPP and Bilawal Bhutto. On the other hand, PPP lawmakers removed the names of PPP MPs, along with six others from challan.
Good morning @BBhuttoZardari #JusticeForNazimJokhio pic.twitter.com/IpLW0Mgaok

— Siasat.pk (@siasatpk) April 19, 2022
Please help trend #JusticeForNazimJokhio#NizamTumharaNazimHamara. Become voice of the voiceless, this struggle is not for any power or government it is for basic human dignity and justice. Speak up for Nazim otherwise no one will speak for us tomorrow. pic.twitter.com/66KlEw5xai

— M. Jibran Nasir 🇵🇸 (@MJibranNasir) April 18, 2022
Read U.S. Supreme Court Justice Clarence Thomas was admitte…
Follow me on Instagram