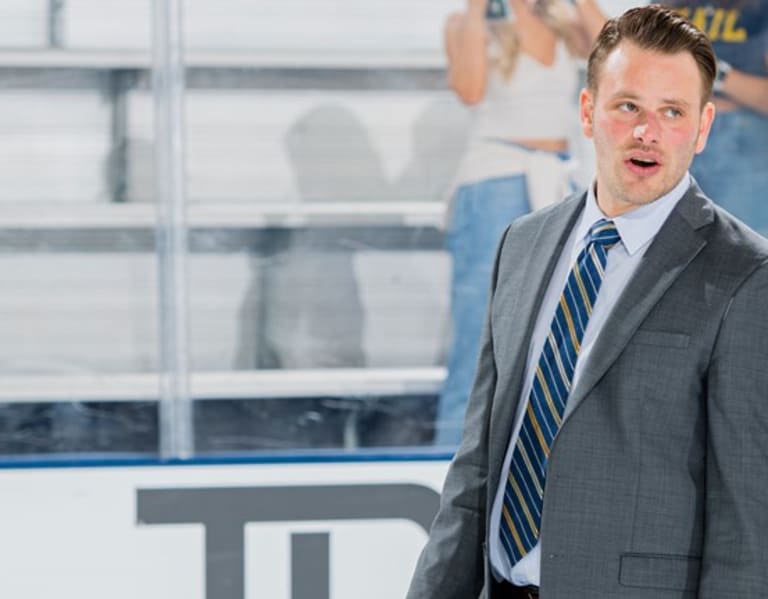 Red Berenson knows a thing or two about how to be successful in the college game. A legendary former coach at Michigan, he is witnessing his former player, Brandon Naurato, carve out his own path in Ann Arbor as the head coach of the hockey program.
Naurato's journey to becoming head coach at U-M was certainly off the beaten path as someone that didn't have much coaching experience usually doesn't end up with a high-profile job like the one Berenson used to coach.
Regardless, Naurato has passed every test in his first year as an interim head coach now as a full-time guy.
For Berenson, who appeared on M&BR's Good Afternoon, Michigan Football podcast, a life in coaching wasn't exactly something he envisioned Naurato doing.
"It's been quite a few years ago and I would have to say I didn't see that," Berenson said. "I didn't see that in many of our players. They were what we were looking for in their performance. Obviously, when they graduated, they went on to do their own thing. Brandon Naurato has come into this situation from a non-traditional background. He loved hockey, he loved the game, he only played it a couple of years in the minors and then he got involved in hockey camps and hockey schools.
"Although he doesn't have the coaching resume that a lot of guys have when they get a job like this, he definitely has worked around good coaches and around good players. He's been a skill development guy for the Red Wings for a number of years and then he became an assistant coach here for one year under Mel Pearson. He started to understand the skill level of the college players.
Adding:
"He knew this team, even though he wasn't the coach a year ago, he knew this team and the kind of players he had. I think he's done a great job putting guys into roles that they can do well in."
As something that is important for any coach, surrounding himself with talented people who can help run a program is paramount for any level of sport, whether that's the college game or professional ranks.
Naurato understood what he needed to do and Berenson gives him credit for making the tough decisions when they needed to be made.
Which is a major reason why the Wolverines are currently back in the Frozen Four.
"I think Brandon knew that he had a lot to learn," Berenson said. "I think everybody told him that and he realized that. The one area that I thought he was really ready for was running practices and being organized. Having his team all understand what we're doing, when we're doing it and how well we're doing and so on. Then it was a matter of figuring out how to run the bench and so on. He's got a lot of experience around him. Billy Muckalt essentially recruited most of those players and so he knows the players, too. He's been there as a national champion, a two-time winner with Michigan and he's played in the NHL and so on.
"Billy is a good support coach for Brandon but Brandon still had to make the tough calls. I think he's made them. He's been learning on the fly, so to speak. I think he's getting more confident, more comfortable and more respected from the inside the locker room and the outside of the locker room as the season went on. Good for him and good for Michigan."
—
Discuss this article with our community on our premium message boards
Not a subscriber to Maize & Blue Review? Sign up today to gain access to all the latest Michigan intel M&BR has to offer
Follow our staff on Twitter: @JoshHenschke, @Berry_Seth14, @TrevorMcCue, @DennisFithian, @BrockHeilig, @JimScarcelli, @lucasreimink, @JaredHalus
Subscribe to our podcasts: Apple Podcasts, Google Podcasts and Spotify
Check out Maize & Blue Review's video content on YouTube
Follow Maize & Blue Review on social media: Facebook, Twitter, TikTok, and Instagram