This latest unveiling of intelligence about
Russia's
struggles comes as US President
Joe Biden
is pressing the Republican-controlled House to go along with providing more funding for
Ukraine
as Kyiv tries to repel Russia in a war that has no end in sight.
Kirby pointed to the information as he renewed a plea for Congress to pass a nearly US$106 billion supplemental funding request that Biden unveiled last week. The funding request includes more than US$61 billion for Ukraine.
"President Putin is not giving up on his aspirations to take all of Ukraine and as long as Russia continues its brutal assault we have to continue to support the Ukrainian people and their self defence, because his intentions are clear," Kirby said. Putin "basically said that if Western weapons to Ukraine stop, Ukraine would have a week to live. So to ensure that we can continue to do that it's critical that Congress step up and pass the supplemental requests that the president put forward last week."
Kirby did not provide any details on how many Russian troops have been executed for failing to follow orders or any specific examples of units threatened with execution for retreating from Ukrainian fire.
The Wagner Group military contractor was reported to have had a practice of executing those who fled. The contract soldiers were pulled out of Ukraine after their leader, Yevgeny Prigozhin, mounted an armed rebellion in June. There also have been reports, including from the British Defence Ministry, that the regular Russian military has deployed "barrier troops" that threaten to shoot any deserters.
"They are in such desperate need to make some kind of progress, particularly in the Donbas, the Donetsk areas, that they are literally throwing young men into the fight who haven't been properly trained, haven't been properly equipped, and certainly are not being properly led," Kirby said.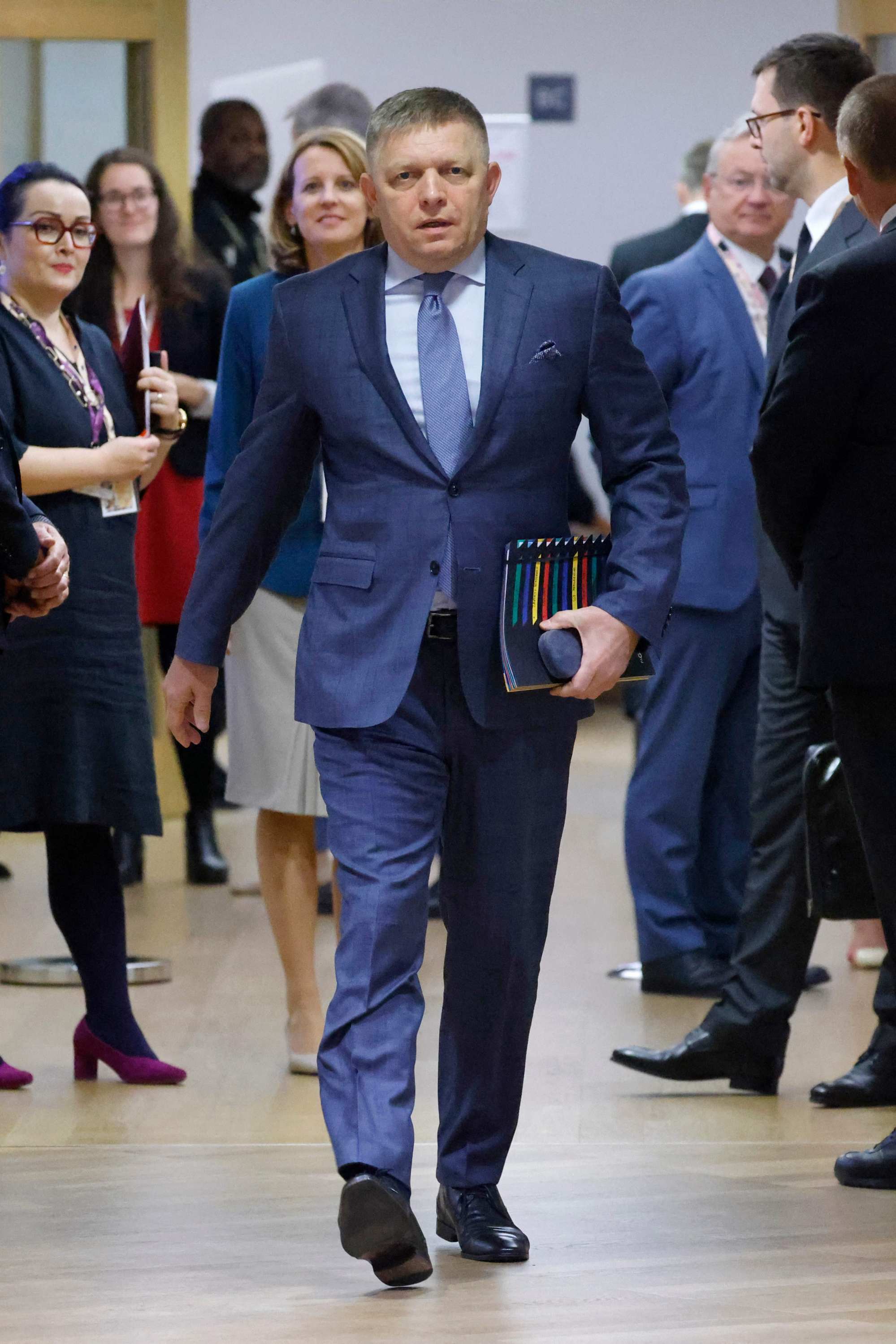 Meanwhile, Slovakia's new populist Prime Minister Robert Fico said on Thursday that he had "informed" the
European Union's
executive of his decision to stop military aid to Ukraine, the first such Western reversal of backing for Kyiv.
Fico said he had spoken to the head of the European Commission about his government's move at a meeting before the bloc's summit in Brussels.
In a Facebook post, Fico said Ursula von der Leyen respected "the sovereign right of member countries to support Ukraine militarily or not, and she appreciated our position on humanitarian aid."
Earlier on Thursday, Fico told MPs that the country would "no longer supply weapons to Ukraine" but would still supply humanitarian aid to its war-torn neighbour.
"I will support zero military aid to Ukraine … An immediate halt to military operations is the best solution we have for Ukraine. The EU should change from an arms supplier to a peacemaker," Fico said.
Russia immediately dismissed the impact Slovakia's decision to halt military aid to Ukraine would have on the conflict.
"Slovakia did not have such a big share in the supply of weapons, so it will hardly affect the entire process," Kremlin spokesman Dmitry Peskov told reporters, when asked about Bratislava's decision.
Bratislava's previous pro-Western government had shown strong support for Ukraine.
The Central European country of 5.4 million people was notably the first Nato nation to deliver fighter jets to its war-torn neighbour.
According to the Germany-based Kiel Institute, Slovakia had pledged €680 million (US$718 million) in total government support to Ukraine until July 2023.
That puts Slovakia among the countries with the largest government support to Ukraine by GDP (0.65 per cent), behind Norway, the Baltic states, Denmark and Poland.
However, Fico's party won last month's general vote on pledges to end military help for Ukraine, raising concerns about cracks in Western support for Kyiv.
Following his party's victory, Fico said: "The people in Slovakia have bigger problems than (dealing with) Ukraine" and called for peace talks as "further killing will not help anyone."
In the run-up to last month's Polish general election, Warsaw said it would restrict arms deliveries to Kyiv as it needed to build up its own army.
A very public diplomatic row ensued, with Polish President Andrzej Duda comparing Ukraine to a "drowning man" who risked dragging his rescuers into the water.
Speaking at the UN at the time, Ukrainian President Volodymyr Zelensky spoke of some EU countries "feigning solidarity" and thereby "indirectly supporting Russia".
Fico also expressed opposition to sanctions against Russia.
"If there are to be such sanctions that will harm us, like most sanctions have, I can see no reason to support them," he said.
Slovakia is one of the most pro-Russian countries in the European Union, according to the Bratislava-based Globsec think tank.
"Respondents' belief that Russia was responsible for the war in Ukraine stood at only 40 per cent, with most falling prey to disinformation narratives, blaming Ukraine or the West," it said in a 2023 report.
By contrast 71 per cent of respondents in the Czech Republic blamed Russia for the conflict.
EMEA Tribune is not involved in this news article, it is taken from our partners and or from the News Agencies. Copyright and Credit go to the News Agencies, email [email protected] Follow our WhatsApp verified Channel