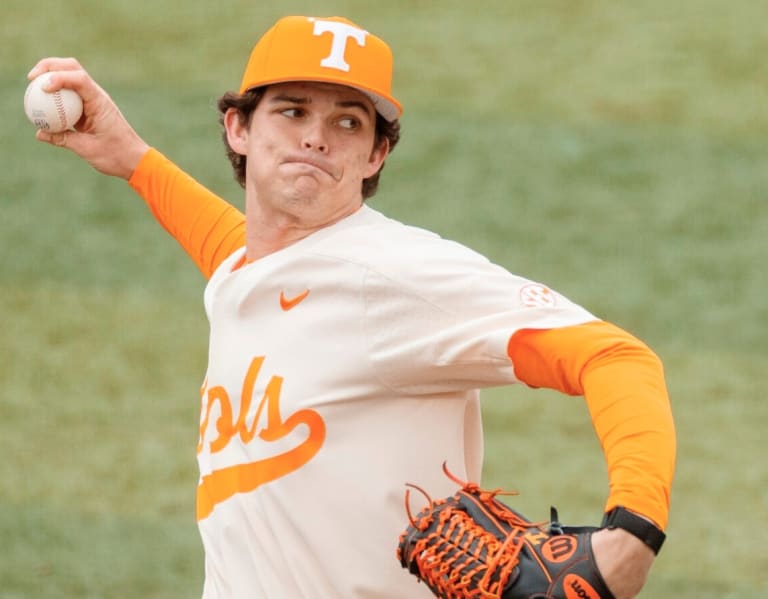 FAYETTEVILLE — If you ask Brady Slavens, the Diamond Hogs were simply distracted Wednesday when they lost 11-4 to the Little Rock Trojans.
"I just think (we were) looking too far ahead to this weekend instead of coming out and being fully focused today," Slavens said. "That's on us, so now that the weekend's here, we have to be ready to play."
The Razorbacks' target, so big they overlooked the No. 234 team in the RPI, is the No. 16 Tennessee Volunteers.
This weekend's three-game set at Baum-Walker Stadium is so important that SEC officials re-released the 2023 schedule after erroneously omitting it. A cross-divisional rivalry has taken on a new life since head coaches Dave Van Horn and Tony Vitello got into it with each other after Arkansas won two of three games two years ago in Knoxville, Tennessee.
"It's going to be fun," Slavens said. "I mean, you see things on Twitter, you see things on social media, and it excites you. It's the reason you want to come here and play."
Although the Volunteers were one of the biggest stories in college baseball in the last two seasons, the 2023 iteration of the team has underachieved. They have lost 10 games, already surpassing their 2022 total, including seven of their 12 SEC contests.
Like Arkansas, there was a near-complete overhaul in terms of the batting order, ushering in eight new bats to the starting lineup. Through four weeks of league play, the struggles have been evident.
Tennessee is hitting .249 as a team, which is seven points worse than their opponents' average. Three players — third baseman Zane Denton, outfielder Griffin Merritt and first baseman Blake Burke — have hit multiple home runs, compared to the Razorbacks' five, and none of them have averages over .230.
Center fielder Hunter Ensley is leading the way for the Volunteers offensively with a team-best .371 average and .463 on base percentage in league play. His .514 slugging percentage trails only Denton and Merritt, whose few hits have mostly gone for extra bases.
Jared Dickey is another consistent producer, leading the Vols with 14 hits as an everyday starter. Splitting time behind the plate and the corner outfields, he is one of the few returners from 2022. Others with double-digit knocks in conference play are middle infielders Christian Moore, another returner, and Maui Ahuna, a former Kansas teammate of Arkansas center fielder Tavian Josenberger.
The most underwhelming part of Tennessee's game so far has been its pitching staff, which had lofty expectations upon entering the year.
Righty Chase Dollander, the No. 2 draft prospect on MLB.com at the onset of 2023, has registered a 6.00 ERA through 21 SEC innings. That was bad enough to get himself yanked from the starting rotation against Arkansas, which features two TBAs after Andrew Lindsey on Friday night.
"Chase Dollander, he hasn't been bad," Ryan Schumpert of Rocky Top Insider said on the Diamond Hawgs Podcast, "it's been a lot of instances or outings where he's been just a little bit off. He doesn't have his best stuff, but he's done a good job of fighting around it. He hasn't been terrible, but he hasn't been a guy that came into the year as the top college pitching prospect."
Lindsey has logged 11 1/3 innings across five relief appearances in league play, surrendering four earned runs on seven hits with a 14:3 strikeout-to-walk ratio.
Also absent from the starting rotation are sophomore right-handers Chase Burns and Drew Beam. The former has an SEC ERA nearly double that of Dollander and has allowed opponents to hit .329 against him in 17 1/3 innings.
"He's gotten rocked," Schumpert said. "There's really no other way to get around it. He's struggled to throw his slider, and really all his offspeed stuff."
Beam, however, has been extremely effective, allowing just five earned in 18 1/3 innings.
"He's a pitch-to-contact, mid-90s guy, kind of a classic Sunday starter in the SEC," Schumpert said. "He's not dominant, but he's been pretty good."
Other starting candidates are Seth Halvorsen and Camden Sewell, a pair of righties with sub-3.00 ERAs with a handful of relief appearances each.
Regardless of who throws for the Vols, the Razorbacks know they have some of the toughest competition in the country on tap this weekend.
"They have three really good starters and good relievers as well, but we've been facing really good pitching in SEC play so far," Josenberger said, "so we're just going to stick to what we do best, which is competing, and we're going to try to get after 'em."
The series is scheduled to open at 7 p.m. CT Friday on the SEC Network, followed by a 6 p.m. start Saturday and the finale at 2 p.m. Sunday. Friday's game will be broadcast on the SEC Network, while the Saturday and Sunday games will be streamed live on the SEC Network Plus and the ESPN app.
Powered by the biggest crowds Baum-Walker Stadium will have seen all season, the home team should take two of three if it plays the brand of baseball it has been playing.
The unknown quantity that is Lindsey starting Friday is not a good recipe when the opposing pitcher is Hunter Hollan, so Arkansas should have two chances to win the series come the weekend.
With TBAs on both sides for the final two games, the most reasonable prediction is a split. Neither Hagen Smith nor Will McEntire were particularly impressive in their starts last weekend, and the competition is only going to be fiercer this time around.
Luckily for the offense, Tennessee has the same problem, so it should be able to outslug the Vols in at least one of the weekend games.