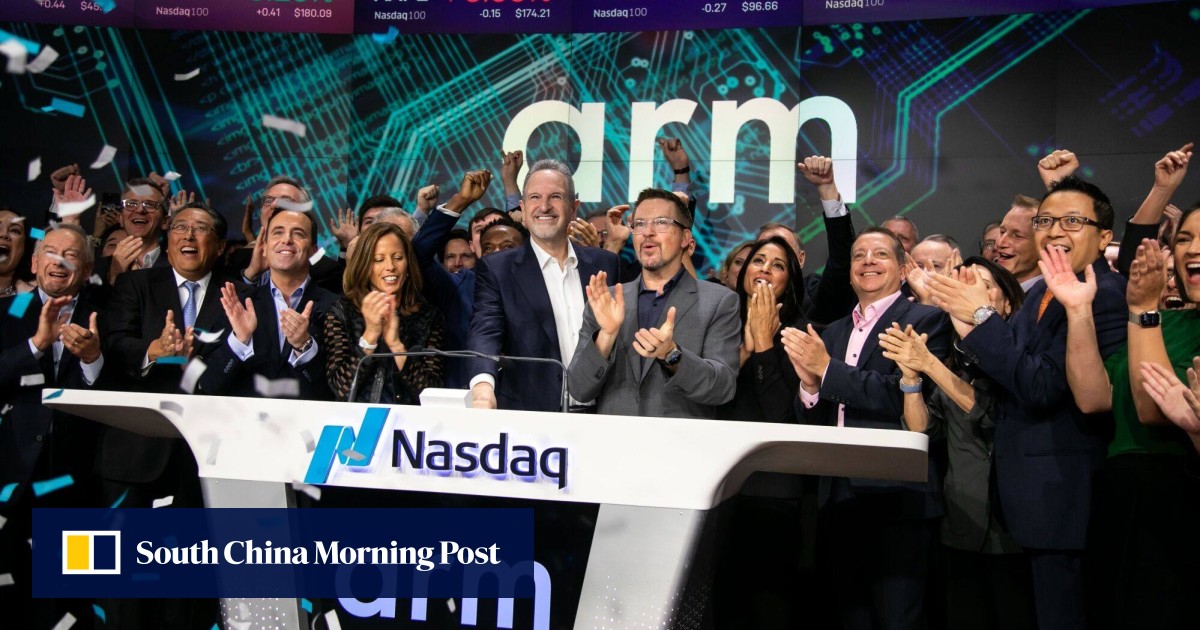 British chip designer Arm Holdings has launched a successful US$5 billion initial public offering (IPO) in New York, as investors rushed to buy into the company despite its heavy exposure to heightened China-US tech tensions.
The IPO was the largest US public offering in almost two years, with shares in the SoftBank Group-owned company soaring almost 25 per cent above its debut price on the Nasdaq in trading on Thursday, valuing the company at around US$65 billion.
Shares continued to jump during after-market trading.
The valuation is within a previous target range that was dampened by some details in Arm's
IPO prospectus
, such as its China exposure. It was also slightly above the US$64 billion valuation implied last month when SoftBank bought a 25 per cent interest in Arm from its investment vehicle SoftBank Vision Fund for US$16.1 billion.
"The reception to the IPO and the initial stock reaction have been very favourable," said Rolf Bulk, an analyst at New Street Research, adding that it also signals some investor confidence in Arm's business in China, at least in the short term.
Other elements to the blockbuster IPO include factors such as its scarcity due to a low float of 10 per cent and a perception of coming growth in the smartphone market, he said.
Arm, which relies on royalties and licensing for most of its income, gets a quarter of its revenue from China, according to a filing last month. The interest in its shares was viewed by some experts as a litmus test for investors' appetite for the semiconductor market amid increased risks associated with a US tech decoupling from China.
While Arm's total revenue from China increased in its latest financial year to March, the company listed an economic slowdown in the country and other factors related to "export control and national security matters" as reasons for slower growth in royalty revenues.
In its IPO prospectus, Arm said it was "particularly susceptible to economic and political risks affecting [China]", which could be exacerbated by tensions between China and the US or the UK over chip technology.
But while trade frictions and China's goal of chip self-sufficiency pose as growth challenges for Arm, the market is likely seeing it as more of a 10- to 20-year risk, according to New Street's Bulk.
"It's a headwind in the long term, but it has not derailed the equity story for the company and its investors, and the risks are the same for all Western semiconductor companies, not just Arm," he said.
Other China risks flagged by Arm in its prospectus include its strenuous relationship with Arm China. The Chinese entity operates independently from Arm and SoftBank and has exclusive rights to distribute Arm's technology in the country.
In its August filing, Arm said it had previously had problems receiving reliable and timely information needed to determine the payments it was owed from Arm China, adding that while the historical issues "did not have a material impact" on operations, any missed payments in the future "could have a material adverse effect" on its business.
Exposure to the "black box" of Arm China was likely already priced in as a risk and limiting factor in Arm's IPO, according to Astris Advisory analyst Kirk Boodry. At one time, SoftBank had been looking to raise as much as US$10 billion, Bloomberg reported in May.
While investors are not overlooking the risk, the IPO suggested that they were giving Arm's business in China "the benefit of the doubt", Boodry said.
The US-China trade war and the possibility of further trade restrictions "present another layer of risk entirely, but is a bit of a known unknown" that investors might not be factoring in at this point, he added.
EMEA Tribune is not involved in this news article, it is taken from our partners and or from the News Agencies. Copyright and Credit go to the News Agencies, email [email protected]