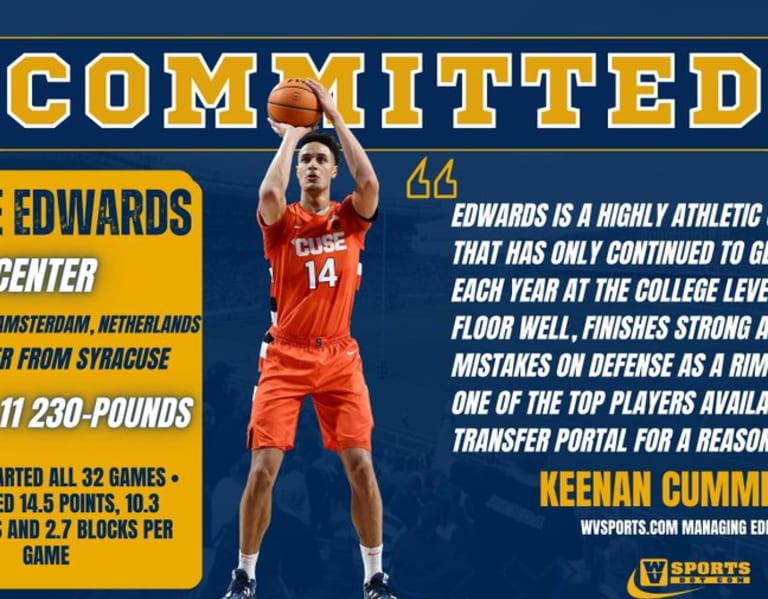 The West Virginia basketball program has landed a major piece to next season's developing roster with a commitment from Syracuse big man Jesse Edwards.
Edwards, 6-foot-11, 230-pounds, spent four seasons with the Orange but elected to enter the transfer portal April 11 opening up a floodgate of opportunities given his skillset and experience. However, it was the Mountaineers that were able to secure a commitment from the talented big man after getting him to campus.
West Virginia wasted little time getting in contact with Edwards when he first entered into the transfer portal and things only continued to build from there between the two as the Mountaineers secured his first and only visit April 14-16.
Along with West Virginia, Edwards head from a long list of programs such as Kansas Gonzaga, Michigan, Arkansas, Kansas State, Florida, Missouri, Florida State, N.C. State, Georgia and many more. He had previously cut his list of options down to West Virginia, Kansas and Gonzaga ahead of his trip to Morgantown.
Edwards is coming off a season where he averaged 14.5 points and 10.3 rebounds while also blocking 2.7 shots per game which topped the ACC. Edwards shot 59-percent from the floor and was a third-team all-ACC selection as a highly athletic and skilled big that has plenty of experience.
Edwards also improved his free throw percentage to 72.8-percent last season after shooting under 60-percent during his junior season showcasing his overall improvement.
The talented big started all 56 games he played over the past two seasons.
A native of Amsterdam, Netherlands, Edwards arrived in the United States in December 2018 where he played at IMG Academy. He has developed over time to become one of the better available bigs on the market and his decision to enter the transfer portal even initially was a major surprise.
Edwards will have one year of eligibility remaining and will be expected to take on a major role in the post with the West Virginia basketball program.
The addition of Edwards is just another major pull for the Mountaineers as the roster is being reconstructed joining Arizona point guard Kerr Kriisa and Manhattan guard Omar Silverio.
Kriisa averaged 9.9 points and led the Pac-12 in assists per game at 5.1 and has two years of eligibility remaining. Silverio didn't play this past year due to transferring but averaged 10.9 points and 3.3 rebounds while shooting 37-percent from the field the year prior at Hofstra. He also shot 36-percent from three and would have one year left in his career this fall.
West Virginia also has been able to keep guard Jose Perez, forward Tre Mitchell and guard Joe Toussaint in the fold for another year.
WVSports.com will have more with Edwards in the near future.