In this week's 3-2-1 Column we are talking all about the NFL Draft and how it relates to Pitt. Last night, Calijah Kancey was selected 19th overall by the Tampa Bay Buccaneers in the first round of the 2023 NFL Draft, making him Pitt's 27th all-time first round draft pick.
Pitt has plenty of other draft hopefuls heading into tonight and tomorrow and we discuss their chances as well.
We also talk about some movement in the transfer portal for both Pitt basketball and football and how those programs are going about finishing out their respective rosters for next season.
As always, plenty to discuss in the world of Pitt athletics.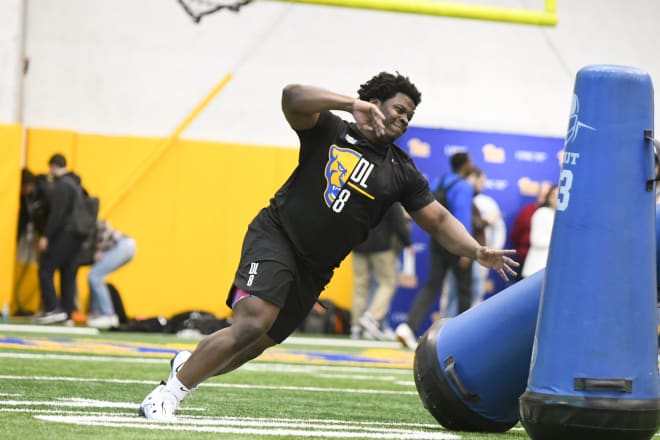 THREE THINGS WE KNOW
Calijah Kancey goes No. 19
Calijah Kancey was selected in the first round last night as the Tampa Bay Buccaneers took him with the No. 19 overall pick. Kancey is now the second first round draft pick coached by Pitt Head Coach Pat Narduzzi, joining Kenny Pickett who went to the Pittsburgh Steelers in the first round last year.
Kancey's rise to prominence as a player was a little unexpected, but then again, maybe it wasn't?
Pitt recruited Kancey heavily in the class of 2019, while not many other programs were doing the same. He was a three-star recruit and was listed as a 6'1" and 265-pound tackle out of Miami Northwestern High School. His other power-five offers included Georgia Tech, Kansas State, Louisville, Rutgers, and South Carolina.
Pitt liked Kancey from the start, while many other programs missed the boat. After a redshirt season, he flourished in a defensive system catered to his abilities and playing style. Kancey was named a freshman All-American in 2020, and he helped lead Pitt to an ACC Championship in 2021 while collecting All-ACC honors.
The future Buccaneer took it to another level this past season in 2022. He racked up 7.5 sacks and 14.5 tackles for loss and earned unanimous All-American honors along the way. Kancey was the anchor to a Pitt pass rush that recorded 102 sacks as a team over the course of his two years a starter, the most for any program during that span.
The impact Kancey had in college was never in question, but can it translate to the pros? Tampa must think so, because while he was a fit in Pitt's defense, there were some doubts where he can project in the NFL.
Let's start off by saying he is not Aaron Donald, nobody is, but at the same time he is also the closest thing to Donald as a prospect in this draft. The future hall of famer Donald, somewhat paved the way for future undersized defensive tackles and showed the rest of the league the type of effectiveness they can bring to the table.
Kancey was a productive player in college and he backed it all up at the combine and everything else he had to do leading up to last night's first round and ultimately he was rewarded for all of that by being picked in the top 20.
At the same time, Pitt also benefitted from this as well.
They had a darn good idea what they were getting in Kancey, and they also have a pretty strategic plan moving forward with how they recruit this position as well. Kancey succeeding at Pitt and then getting drafted high showed others who maybe fit his profile that they can do the same.
If we're being frank here, I feel as though the COVID-19 season messed with this whole strategy a little from a Pitt perspective. Jaylen Twyman was pretty clearly on a similar career path as Kancey, but after his successful 2019 season, the scope of his career changed as he opted out of the following year and dropped to a sixth round pick.
You hate to play 'What if' game, but if the 2020 season was normal and Twyman played as he was expected to, I don't think he would have been a first round pick, but certainly higher than a sixth round pick.
But let's remember getting drafted is a good thing, even in the sixth round. Kancey getting drafted in 2023 after Twyman was selected in 2021 makes two pass rushing Pitt defensive tackles in a row to get drafted.
Not bad, right?
This whole thing of featuring these kind of defensive tackles is blueprint moving forward, and it's pretty obvious by how Narduzzi and Pitt defensive line coach Charlie Partidge (who should get A LOT of credit for all of this) are recruiting these days.
Pitt is very excited about redshirt freshman Sean FitzSimmons, a disruptive player on the defensive line expected to break through this year. The Panthers top-rated incoming true freshman, Isaiah Neal, is a smaller defensive tackle who fits into the mold of this defense perfectly and already has high expectations. The current 2024 recruiting class is headlined by, you guessed it, a small, quicker defensive tackle in four-star Jahsear Whittington.
Pitt is taking dudes like Twyman and Kancey, not highly rated guys and maybe on the smaller side, and putting them in the league and future recruits are noticing. For Pitt, these type of players anchoring their defensive line is something that works, and for others, well they see it as a problem.
"I'm a huge Aaron Donald fan, but Aaron Donald has hurt college football and defensive tackles, in my opinion, because every single one of these kids think they're Aaron Donald," Penn State head coach James Franklin said in an interview in spring. "Well, there's been one Aaron Donald in 50 years at his size to be as disruptive as he is and as strong and as quick and as explosive. The problem is, everyone thinks they're the exception."
For Pitt, maybe they keep finding the exception then?
Of course that quote from Franklin led for a rebuttal from Narduzzi himself, while maybe not so direct, we can infer who he was talking to, I think.
"Some people don't have the scheme and the ability to coach like we do," Narduzzi said at Kancey's pro day workout. "We can play with those guys. We're not worried about the Aaron Donalds of the world, we kind of like those guys. We don't worry about size at all ever."
Talk your talk, Pat.
Pitt was right about Kancey all along. These type of players do not come around all the time, but at the same time we know that is what Pitt is shooting for these days.
Hard to blame them.
Pitt lands a transfer tight end
Pitt added some tight end help over the weekend as Malcolm Epps, a 6'6" tight end with one year of eligibility, will be joining the team to add depth and experience. Epps will be entering his sixth and final season in college at Pitt after prior stops at Texas and most recently USC.
Epps, a native of Texas, was a four-star recruit in the class of 2018. He was initially committed to play for Nick Saban and Alabama before flipping his commitment to stay home and play for the Texas Longhorns. Epps started his career out in Austin as a wide receiver before making the move to tight end.
Epps has recorded 37 catches in his five-year career to date with 483 yards and seven touchdowns. His most productive season came back in 2019 for Texas when he caught 20 passes for 232 yards and two touchdowns as a redshirt freshman. Over the course of his two year run at USC, Epps caught only 13 passes, but three went for touchdowns.
Epps took an official visit to Pitt during spring ball, and seeing how the program operated helped lead to a quick decision.
"The culture is established and they were In constant communication with me through and through," Epps told Panther-Lair.com after his commitment. "And the players on the team are very good guys and I can see my personality mixing in very well with them."
Pitt has had some success in recent years in adding veteran players who have made quick impacts and will be hoping the same thing happens this year. Heading into the 2023 season, the Panthers will be expecting big impacts from transfers like Phil Jurkovec, Shayne Simon, and MJ Devonshire to name a few.
Can Epps continue that recently strong pipeline of transfers helping the team? It remains to be seen, but he is walking into a position that needed some depth and also some production.
Pitt's two-man tight end duo of Gavin Bartholomew and Karter Johnson combined for only 27 catches and two touchdowns last season. The production for the tight end position was down considerably from 2021 when Bartholomew and Lucas Krull combined for 66 catches and 10 touchdowns.
There were varying reasons for why the tight end production slipped in 2022. Pitt went from a first round pick at quarterback in Kenny Pickett to a struggling transfer in Kedon Slovis. The offensive coordinator changed as well, and of course they seemed to miss the downfield threat Krull brought to the table. Bartholomew did not effectively transition into that role completely as a sophomore, so it made sense to add a safety valve like Epps.
Given the backstory here, Epps has a similar profile to Krull, who turned out to be a very valuable weapon in his one healthy season at Pitt. They both stand in at 6'6" and have bounced around for colleges without tons of production. Pitt always believed Krull's size and athleticism would work out, and they were rewarded in that belief with 38 catches and six touchdowns in 2021.
Epps has tools and pedigree, but probably did not play in an offense conducive to tight end production. USC had eight wide receivers catch at least 15 passes for Heisman winner Caleb Williams in 2022, which did not leave many opportunities for the tight end spot.
Pitt's offense will be a bit more tight end friendly for sure. Frank Cignetti Jr. likes to use multiple formations in his offense, and a tight end, sometimes two, will almost always be on the field, especially given the question marks at wide receiver.
Bartholomew flashed potential in 2021, and even made some big-time plays last season, but Pitt needs more consistency from the third year player, especially in the downfield passing department. Johnson won the Ed Conway Award as the most improved tight end, but his role profiles more as a H-Back. Adding Epps gives them a big body tight end with a wide receiver background and experience playing power five football.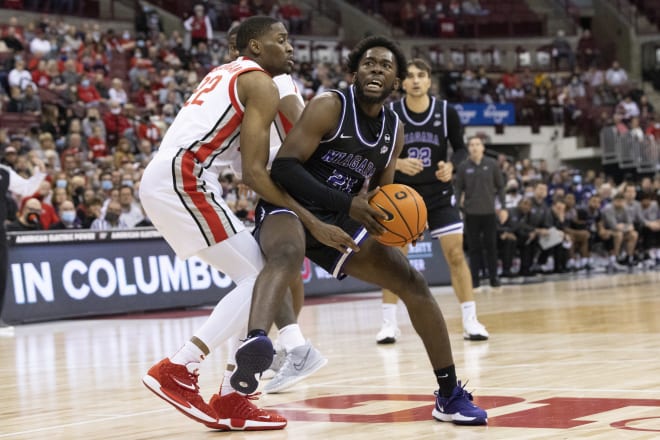 Pitt set to host to Noah Thomasson
Jeff Capel and the Pitt basketball program is in a different position than in previous years. The Panthers are coming off of a season in which they won 24 games and made the NCAA Tournament for the first time under Capel. Given the positive momentum last season created, there is certainly a sense of stability around the program for the first time in a while.
Pitt has always felt like it has been in scramble mode in some recent off-seasons, which isn't necessarily a bad thing, but it does make things hectic when they are reaching out to seemingly every player who enters the transfer portal. Pitt had to add several pieces to last year's team and netted commitments from guys like Nelly Cummings, Blake Hinson, and Greg Elliott, who all worked out perfectly for this program, and that roster construction that took place last year was huge to the success during this most recent season.
Having said all of that, it feels like this offseason is moving with a little more purpose and direction for Capel and his staff. Pitt already has a team identity now with its returning core in place and they seemingly have an idea of what they are looking for in the transfer portal. Sure Pitt has reached out to numerous names to this point, but when it gets down to hosting visits Pitt is two for two in netting commitments. That's a pretty good batting average in recruiting success (how bout them Bucs, by the way).
Pitt is now in a position where they only have two roster spots that need filled before the start of next season and once again they seem to be zeroing in on their next target, and that is 6'3" Niagara transfer guard, Noah Thomasson.
Unlike Pitt's previous two commitments in Zack Austin and Ishmael Leggett, the competition for Thomasson will be a little more fierce. The Panthers are already in his final five which also includes Georgia, St. John's, Penn State, and San Francisco. He has already visited three of those programs, and will be heading to Penn State this weekend.
Pitt is set to host Thomasson next weekend, which will be his last official visit before making a decision. Thomasson has an announced commitment date of May 10th. The Panthers are perfect so far in hosting visits during this transfer portal season and getting him on campus, especially getting the last word in, could be significant in his decision.
Thomasson is a very solid player and is regarded as one of the better transfers available at the moment. He was a first team All-MAAC performer last season after averaging 19.5 points per game at Niagara. The 6'3" senior will have one year of eligibility wherever his next stop is. He is a bigger body guard with a nice lefty touch and is also one to embrace contact and can play with the ball in his hands as a playmaker, but is more comfortable as a scoring threat with a 38% career average from three-point range.
Pitt already has a unique makeup in the backcourt for next season with some highly regarded young guards like Dior Johnson, Jaland Lowe, and Carlton Carrington, plus the veteran transfer Leggett. Adding another veteran like Thomasson may create a logjam of sorts, but it would also solidify the depth and give the team another scoring option from the perimeter. Pitt thrived this past season with multiple playmaking guards all playing vital roles, and it's clear the direction of this offseason is trying to replicate that method a bit.
We will see how Thomasson's recruitment plays out as he has a visit to get through this weekend before he even steps foot in Oakland, but it's clear Pitt is prioritizing him a good bit right now. The Panthers have also done well when recruits actually visit campus, so it is certainly something to watch as the team tries to fill out next year's roster.
TWO QUESTIONS WE HAVE
What happens if Hinson does not return?
The general vibe around Pitt basketball has been pretty good since really the start of the 2022-23 season. The program had a big year on the court, they've already added talent through high school recruiting and the portal, and all of that has led the fanbase to having more buzz about Pitt basketball in well…a while.
Pitt lost some big-time players off of last year's team with the graduation of Jamarius Burton, Nelly Cummings. Greg Elliott, and Nike Sibande, but it returned a core group led by senior forward Blake Hinson.
Hinson, however, opted to put his name through the pre-draft process late last week. Should he remain in the NBA Draft, then that would be the first real big blow to this program in a while. Hinson leaving would make for all five of Pitt's leading scorers off the team from last year gone, and would also leave the Panthers with only one returning starter in Federico Federiko.
Hinson finished his junior season with 15.3 points and 6 rebounds per game, good to lead Pitt in both categories. He knocked down 97 three-pointers at a 38% average and his ability to hit outside shots helped defined the success of the team.
Losing Hinson would be a huge blow, because there is not another defined shooter on the team. The expectation is that all the guards will make shots, but nobody else on the roster is an outside marksman the way Hinson can be for this team.
Pitt has some intriguing options in the backcourt, and the front court is certainly promising with the Diaz Graham twins and Federiko, but removing Hinson from this bunch would change the entire outlook and add a lot more pressure to the younger players.
Hinson remaining in the draft would also put a little more pressure to land another impact player in the portal and also create a third open roster spot that needs addressed. We discussed the additions of Austin and Leggett and they are expected to help big-time, and there is also the potential of landing Thomasson as well, but again none of them are proven in the ACC the way Hinson is.
In the end, I tend to think Hinson will be back for his senior year. He can shoot it from the outside very well, but I would expect his draft feedback will mention that he needs to work on driving more and handling the ball a bit better, while also becoming more consistent on the glass.
Hinson figures to be big piece to the puzzle next season, but the possibility is out there he could be gone and it would change the scope of this team and ultimately next season. He has until May 31st to withdraw his name from NBA Draft consideration.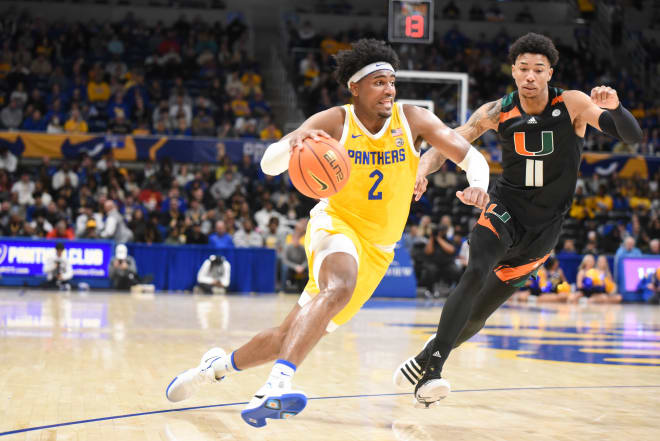 Who will be drafted in 2024?
The focus of this weekend is all about the 2023 NFL Draft, of course, but why not start looking ahead? You know somebody out there already has a 2024 NFL mock draft fired up and ready to post the second Mr. Irrelevant has his name called. It's just the way sports media is these days, and I suppose we'll also jump on that bandwagon.
Pitt has a handful of players that will hear their names called this weekend, but what about next year's draft? Who are the top names there? I think there are a few that make sense right away and a couple more that will need to really step up next season to give themselves a chance.
When looking at the current 2023 Pitt football roster, at least in terms of draftability, you are probably looking at the defensive side of the ball first. The Panthers have been better at churning out draft picks on that side of the ball under Pat Narduzzi, and that will likely be the case heading into next year as well.
Pitt has done a good job of sending defensive backs to the NFL and veterans like Marquis Williams, AJ Woods, and MJ Devonshire should all have a chance to play in the NFL with a good 2023 season. Williams has been a lock-down type player at corner and rarely saw the ball come his way this past season, but he is undersized. He has the blueprint of former Panther and current Eagles plater Avonte Maddox to follow, however. Devonshire certainly has the frame, playmaking ability, and speed. He played better at cornerback as the season went on and of course has a knack for making impact plays.
Pitt's defensive line has been pretty solid of late at churning out NFL players, but I do wonder about the group for 2023. Pitt has veterans like Tyler Bentley, Devin Danielson, and David Green who have never struck me as NFL prospects necessarily, but they will be given more opportunities to showcase themselves this season without Calijah Kancey.
Dayon Hayes is in the same boat. He's been pegged behind Deslin Alexandre, Haba Baldonado, and John Morgan, but flashed big-play potential with three sacks in Pitt's regular season finale against Miami.
Maybe a Pitt defender I have my eye on the most for next year's draft is Bangally Kamara. He started for the first time last season and had some initial growing pains, but was playing well at the end of the season. Kamara could pass for an NFL linebacker today physically, so one big season in 2023 could get him in draft conversations.
It is a little different on offense because there aren't as many obvious candidates. There aren't many skilled position players you would say have a chance to be drafted next year. Maybe if Rodney Hammond has a breakout season, but otherwise you are looking on the offensive line. Jake Kradel and Matt Goncalves are two seniors with plenty of experience for one, but they also have been forced to bounce around positions through the years, which should only help them from a versatility standpoint. I am not sure wither one is a sure fire candidate to be drafted, but with a good season they can make a case.
Oh, and there's one more.
The key to Pitt's whole season is really going to come down to the play of Phil Jurkovec at quarterback. Jurkovec had a strong 2020 season at Boston College and went into 2021 as a legitimate draft prospect, a top round guy at that, but injuries have derailed him the past two seasons. Jurkovec has all the physical tools. He's big, he can run, and he can throw. The Pitt quarterback will also be playing in an pro-style type of offense under Frank Cignetti Jr., which could work in his favor.
Pitt does not have many sure fire draft picks for next year as it stands today, but, isn't that the case for everyone? There are a lot of college football players that need a big year to boost their stock.
Maybe all we learned is that super way-too-early-early mock drafts are just plain stupid?
ONE PREDICTION
Pitt has six players drafted
The NFL started its current seven-round draft format back in 1994. Pitt's high-water mark of drafted players in a single year has been six since then, and I feel the Panthers will match that total this weekend.
Kancey is already off the board, but as we go into rounds two and three tonight and the conclusion tomorrow, I feel like five more Panthers will get their names called. I feel fairly confident that Israel Abanikanda and Carter Warren will be the next two Pitt players off the board, but after that there are no sure things.
Despite not being locks, I feel like SirVocea Dennis and Brandon Hill will also be drafted at some point this weekend. We've seen some recent buzz by some national pundits lately about Dennis and his cerebral play as a linebacker. I don't think they would be throwing out that narrative without a reason, and it leads me to think he will be selected.
Hill has a strong case due to his performance in the combine. He was the fastest safety in Indianapolis, which should count for something, and also just because he's a proven, veteran player who manned a tough position for two seasons.
Hill started a bunch of games for Pitt and was a steady player back there. Pitt's defense puts a lot of pressure on its secondary, and that added stress in college has translated well to the league. Not to mention some prior safeties from Pitt like Jordan Whitehead and Damar Hamlin have excelled in the NFL which probably has opened the door for a guy like Hill.
OK, so who is number six? I think Habakkuk Baldonado is probably the most likely candidate. Heading into the 2022 season, I expected him to really take that next step and play like prior Pitt defensive ends, turned draft picks like Patrick Jones or Rashad Weaver, but that never came to fruition and some nagging injuries caught up with him. Baldonado went into the season with some draft buzz and has somehow regained it through the pre-draft process. He played well at the Shrine Bowl and was invited to the NFL Combine as well. I think both of those factors weigh in his favor.
If there is a wildcard beyond those six names, it's probably Erick Hallett and it would be for many of the same reasons I talked about with Hill. He played a tough position in Pitt's defense, he's smart, and other safeties paved the way for him a bit.
It should make for an exciting two days ahead, and when it is all said and done, Pitt will have six players drafted in the 2023 NFL Draft matching a program-high (under the current format) set in 2004 and 2021.