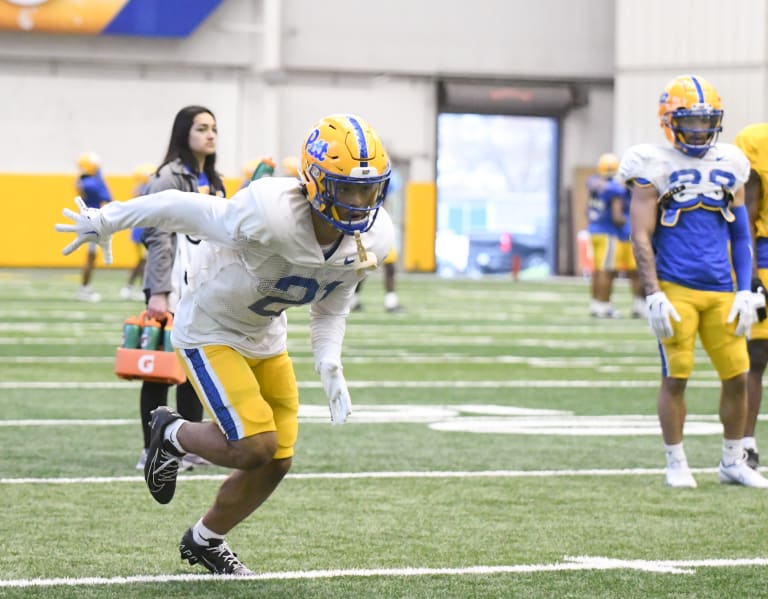 One of the most unique elements Pat Narduzzi brought to Pitt when he arrived in 2015 was the spring game format.
Developed during his time with Mark Dantonio at Michigan State, Narduzzi used a draft system to set the team rosters for the Blue-Gold Game at Pitt. The coordinators draft the assistant coaches and the coaches draft the seniors to get a "brain trust" for the Blue Team and the Gold Team. Then, on the Wednesday before the Blue-Gold Game, the seniors would draft the rest of their rosters.
The draft would operate position-by-position, with the first selection in each round "opening" a position; that position would be drafted until all players were selected, and then the draft would move on to the next round and a new position.
It was a unique approach and generally a pretty fun activity, but the downside was that the Blue and Gold rosters featured mismatched offensive lines, which usually led to ineffective offensive performances on "game day."
In the past, Narduzzi has brushed aside any such concerns in the interest of preserving the format, but he said Thursday that there might be something new on the horizon.
"We may change the spring game," he said. "I don't know if there will be a draft or not. We're thinking about changing it up a little bit, just to change it up. Obviously it will be on TV and all of that stuff, so we're debating on that."
Alternative formats could include a basic offense-vs-defense or some combination of first and second-team offenses and defenses facing each other.
Play a real game
Earlier this week, first-year Auburn heard coach Hugh Freeze said he would like to see teams play something closer to a real game in lieu of the intra-squad scrimmages that are commonly referred to as spring games.
Freeze's off-the-cuff proposal during a press conference was that FBS teams could play FCS teams as a cap to spring camp. Certain limitations could be put in place – teams still wouldn't hit the quarterback – and the revenue could be donated to charity. B
But Freeze thinks it would be a good idea for a lot of reasons, not the least of which is the reduction in injury risk for each team.
On Thursday, Narduzzi was asked about the idea, and he was fully behind it.
"I would love to do that," Narduzzi said. "I think I said that a couple years ago. I'd like to do it for players' health and safety. Saturday when we went, when I say we got 130 plays, you know, it's 22 players going each snap. You're risking an injury every snap you go out there, so when you talk 130 plays and you times that every one of those plays times – you know, 130 times 22, your chance of injury increases. But when you have just 11 guys out there going against another opponent in a spring scrimmage, I think spring games would be a lot more fun. Just make it a spring game. You get to go play a team on your spring game, set it up and do it.
"At Michigan State, we did it in the summer. We're not allowed to set it up, but in the summer, we used to get Grand Valley and Michigan State used to do seven-on-seven. As long as we didn't set it up as coaches, the two quarterbacks got together and said, 'Hey, come on over, hey next week, we'll come to you.' So we've done something like that. Kirk Cousins used to set that up with the quarterback over there. It's good stuff."
Fond of the freshman
C'Bo Flemister has been at Pitt for less than a year, but he's one of the "old men" in the running back room this spring. That has put him in something of a leadership position, but one player he has taken a special liking to is T.J. Harvison, the freshman who enrolled in January.
"I'm a little fond of T.J." Flemister said Thursday. "I may be a little biased because he's from Georgia, he's from south Georgia, you know, my area, and his style kind of resembles mine. He's coming in raw; he reminds me of myself coming in raw. But he sees the cuts. He's physical, he's not scared of the contact. He's working on his pad level for right now, because coming out of high school, you could just run through those guys. Now we're in college, you have to get your pads down. So that's his one thing. Once he gets that down, like I said, he can see the cuts already, he's not scared to stick his nose in there. I don't know, I'm just really excited for him, excited to have him.
"And another big thing about him, the dude studies. He's learning quick. It's a lot to take in with protections, because we didn't throw the ball in high school; we weren't protecting. So him coming in now, it's just awesome seeing how much he's grown from Day One to now. He's going to be a great spot."
A room of cannons
Pitt's quarterback room is largely made up of new players. In fact, of the seven quarterbacks on the roster this spring, only three – Nate Yarnell, Jake Frantl and Eli Kosanovich – were here last year. And two of those three are walk-ons, leaving Yarnell as the only returning scholarship quarterback in spring camp.
But Flemister said the four scholarship quarterbacks – Yarnell, transfers Phil Jurkovec and Christian Veilleux and freshman Ty Dieffenbach – have one thing in common.
"Every quarterback in that room has a cannon," Flemister said. "That's the first thing. I think you don't see that very often where everybody has a cannon. You're going to have a touch passer, you're going to have people anticipate, but everyone of them has a cannon. Everyone of them is good with anticipating balls. I'm confident with anybody who's in there.
"We already know what Nate can do; he stepped in for us big last year. He stepped up for us big last year. Christian, he came in immediately and we did a lot of work before spring ball started, just getting that chemistry down, so the transition was smooth. With Phil and Christian, the transition was smooth. Nate already had it, and I think having Nate – Nate is young but I think he's very much like a veteran, so as far as run tracks or how wide to get, they were able to get that from him. We have a lot of chemistry on this team and this offense right now. I love it."