Pakistan: I have never seen any hashtag trending in almost 20+ countries including Pakistan for more than 12 days continuously. Imported Hukumat na Manzoor #امپورٹڈ_حکومت_نامنظور hashtag is still trending on top in Pakistan having millions of tweets+ and millions of engagements in just 12 days is a milestone. The hashtag also trended worldwide in the past 10 days.
5/6/2022 3:00 PM PST The hashtag has now 126,607,905 tweets! Shared by the Twitter Analytics tool "Twitter Binder"

Ok, here we go. #امپورٹڈ_حکومت_نامنظور updated count: 126,607,905 tweets! We cannot believe these numbers, @elonmusk is going to own an amazing "town square". pic.twitter.com/jU1x5StDUz

— Tweet Binder (@TweetBinder) May 6, 2022
6/3/2022: The hashtag is once again on top panel
4/26/2022 1:00 PM PST the hashtag is now back on the panel with 2 more million tweets added
4/24/2022 4:00 PM PST the hashtag has crossed the 100 million tweets

4/22/2022 3:00 PM PST People are still trending and tweeting about the hashtag despite having invisibility on the Twitter panel. Millions of tweets were sent with the hashtag in the past 24 hours
4/21/2022 5:00 PM PST hashtag is not visible to the people in Pakistan

4/20/2022 8:30 PM PST still trending in Pakistan on the number 1 spot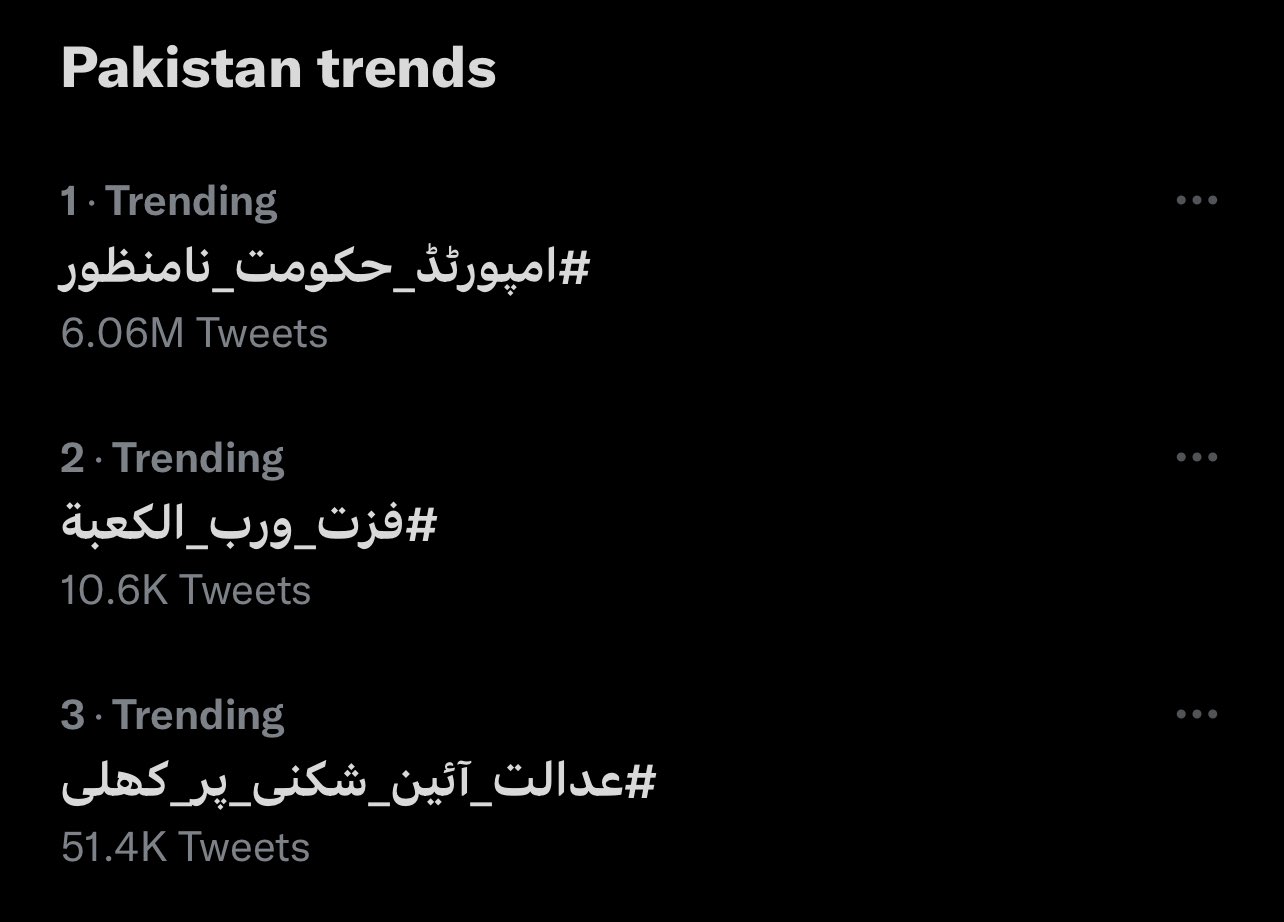 4/19/2022 9:00 PM PST Imported Hukumat na Manzoor still trending in Pakistan, Singapore Saudi Arabia with 2.69, 2.34, and 2.67 million tweets.
The current government has tried to sabotage this hashtag by making other fake trends on Twitter, but they failed to down this hashtag. People are expressing themselves on social media by using this hashtag and are categorically telling the world that they are not accepting the new government in Pakistan. The current PM of Pakistan Shahbaz Sharif is on bail on a money laundering case, out of 34 ministers of government in the current cabinet, 24 are also on bail with serious charges of money laundering, and other crimes.
Shoaib Khan Sudozai tweeted that 61.2 Million tweets on the hashtag Imported Hukumat na Manzoor #امپورٹڈ_حکومت_نامنظور by Pakistanis all over the world. This must be an international twitter record!
People are trolling Maryam Aurangzeb and exposing her for the fake press conference and tweets in which she said the bots are tweeting and making this hashtag, but she failed to understand the algorithm behind this. The hashtag has millions of Tweets and is trending in almost all big countries, how come bots trend or participates in this trend? She is talking about fake hashtags which the government is making by itself to sabotage the correct hashtag. All the verified accounts are taking part in this trend including PTI officials, ex-ministers, governors, chief ministers, journalists, and others. This hashtag #امپورٹڈ_حکومت_نامنظور is one of the huge in the history of Pakistan that is trending in Pakistan alone for the last 10 days, and that's why the current government is worried that how they are still managing to get this hashtag on top.
کن جوکرز کے ہاتھ میں ملک چلا گیا ہے؟ غلط HT کو موضع بحث بنا کر پریس کانفرنس ہی کر ڈالی۔ محترمہ اگر آپ کو سوشل میڈیا کی سمجھ نہیں تو PTI آپ کو مفت سبق دے سکتی ہے۔ اصل HT #امپورٹڈ_حکومت_نامنظور
ہے جس پر 6 کروڑ کے قریب ٹوئیٹس ہو چکیhttps://t.co/rhoUxebNBD

— Dr Arslan Khalid (@arslankhalid_m) April 18, 2022
These bots are not beggers #امپورٹڈ_حکومت_نامنظور

— آزاد رینــچ (@NaikRooh) April 19, 2022
I am NOT a Bot and I don't accept corrupts and looters to rule my country again. Just btw, to reject this imported government we don't need to create bots, Pakistanis themselves are enough.#امپورٹڈ_حکومت_نامنظور

— Noman Khan (@mnk_4313) April 19, 2022
You serious or what?
I am a concerned citizen, a very concerned citizen. Kesay ker letay hain ye log ye sabh kuch itne confidence k sath live TV per. 🤦🏻
I am Not a Bot!#امپورٹڈ_حکومت_نامنظور

— Umaid Asif عمید آصف 🇵🇰 (@umaid_asif) April 19, 2022
Insafian se BOTsafian tak ka safar!

Us beech Imported Hukoomat Na Manzoor #امپورٹڈ_حکومت_نامنظور

NOT a BOT says #PakistanNeedsElections pic.twitter.com/ELyYB44VVY

— Jibran Ilyas (@agentjay2009) April 19, 2022
I Omar Ayub Khan am NOT a BOT #امپورٹڈ_حکومت_نامنظور pic.twitter.com/6S96V6fSDq

— Omar Ayub Khan (@OmarAyubKhan) April 19, 2022
Top Trend in Pakistan for the last 10 days!

Well done 🤖s pic.twitter.com/pFWArtrNKG

— Imran Ghazali | #DigitalStrategy (@ImranGhazaliPK) April 19, 2022
This is Qasim Khan Suri and I am NOT a BOT.

Also, I do not accept the Imported Government in Pakistan. #امپورٹڈ_حکومت_نامنظور

Thank you. pic.twitter.com/Qu7LtN3ca8

— Qasim Khan Suri (@QasimKhanSuri) April 18, 2022
This is Not a BOT !! But the genuine IK's Volunteers Force behind causing your not ending headache !! IA we will continue to surprise you in future. 😃🇵🇰 #امپورٹڈ_حکومت_نامنظور pic.twitter.com/zDSMOvvHWp

— PTI Scientist (@PTI_Scientist) April 18, 2022
This is Team PTIOfficial and we are NOT a BOT

Also, we do not accept the Imported Government in Pakistan! #امپورٹڈ_حکومت_نامنظور

Thank you!

— PTI (@PTIofficial) April 18, 2022