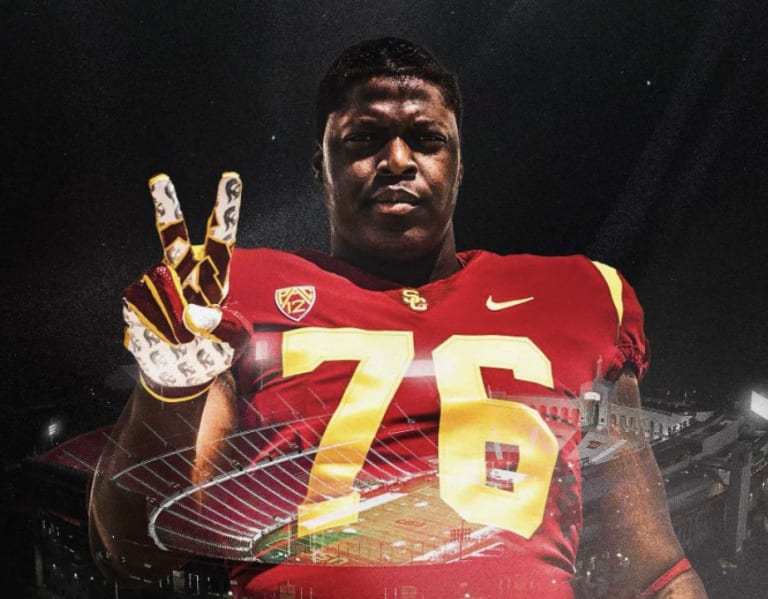 USC hosted two offensive line transfer targets over the weekend and got good news Wednesday as Wyoming offensive guard Emmanuel Pregnon announced his Trojans committment.
Pregnon, who started at right guard last season for the Cowboys, generated significant interest after hitting the transfer portal, landing offers from LSU, Texas A&M, Penn State, Tennessee, Miami, Auburn, Ole Miss, Virginia Tech, Oregon, UCLA and others.
He now joins the Trojans with three years of eligibility left.
Pregnon did not play in any games for Wyoming in 2020 or 2021 before starting at right guard last season. Per PFF, he allowed only 7 pressures (2 sacks) over 288 pass-blocking snaps and received a solid 73.9 season grade overall.
Pregnon stated in a tweet announcing his transfer intentions that he has three years of eligibility remaining.
Why is this a big deal for USC?
Well, after landing Georgia defensive tackle transfer Bear Alexander on Sunday, offensive guard was very clearly the most pressing need for the Trojans.
They had expected Florida transfer Ethan White to arrive this summer, but coach Lincoln Riley confirmed last week that White is no longer coming due to injury questions about his football future.
If redshirt junior Jonah Monheim, who started at right tackle the last two seasons, remains on the outside, then USC really had only one truly experienced offensive guard in Washington State transfer Jarrett Kingston.
Kingston manned right guard this spring while redshirt senior Gino Quinones, who did start two games last year in his first real college action, was the primary left guard. Behind them are untested Andrew Milek, Cooper Lovelace and the incoming freshmen class.
It will be interesting to see if Kingston — who arguably has the most accomplished resume of any Trojans offensive lineman — stays on the right side or swings over to left guard now that White isn't coming. Either way, Pregnon will immediately step into a competition with Quinones for the starting job at the other guard spot.
That he isn't a one-year rental adds to the value of this addition for USC.
The Trojans also hosted Houston offensive guard transfer Cam'Ron Johnson on an official visit last weekend. It's unclear how Pregnon's commitment would affect Johnson's considerations — he had said previously he was choosing between USC and Missouri and spoke highly of his Trojans visit — but Riley noted he'd like to bring in one or two offensive line transfers after losing White and outgoing OT transfer Courtland Ford.