Italy wins the UEFA Euro 2020 Final: Gianluigi Donnarumma saved two penalties as the Azzurri claimed their second EURO title after a tense final at Wembley. Italy won the European Championship title for the second time. Italy won the European Championship for the first time since 1968.
Gianluigi Donnarumma denied Bukayo Saka and Jadon Sancho, while Marcus Rashford hit the post as Italy edged a penalty shoot-out dripping in tension to overcome England in the UEFA EURO 2020 final.
England had a dream start to their first-ever EURO showpiece, Luke Shaw thumping in a fine goal inside two minutes to light up Wembley. Yet Italy slowly found their feet and midway through the second half, Leonardo Bonucci found the net. On to extra time, and then penalties, where both goalkeepers saved two; history, though, belongs to Donnarumma the victor.
With its second straight penalty-kick shootout win, Italy won the European Championship in thrilling fashion thanks to two straight saves from Gianluigi Donnarumma as England missed its final three penalties in a 3–2 spot-kick triumph for the Azzurri after a 1–1 draw through extra time.
Marcus Rashford, Jadon Sancho, and Bukayo Saka all missed after Harry Maguire had given England the shootout edge through two kicks, with Donnarumma claiming Player of the Tournament honors after his heroics.
On a night fraught with tension, Italy clinched its first major title for 15 years with a penalty shootout win over England in the Euro 2020 final.
Luke Shaw's goal inside the opening two minutes gave England a lead it looked like it would hold onto all night, before a goalmouth scramble midway through the second half allowed Leonardo Bonucci to poke home an equalizer for Italy.
For the remainder of the match, it felt as though extra-time and penalties were inevitable, as neither side seemed willing or brave enough to commit enough men forward to really trouble the opposing defenders.
England had suffered innumerable heartbreaks on penalties over the years and this time it was Italy's turn to inflict yet more pain on beleaguered English fans as Marcus Rashford, Jadon Sancho and Bukayo Saka all missed from the spot.
During the wild Italian celebrations, Bonucci — who had been immense all night and rightly earned the man of the match award — screamed "it's coming to Rome" into the pitch-side camera to rub yet more salt into the wounds of English fans.
Italy Wins UEFA EURO 2020 Final:
England's wait for a major title goes on as Italy fought back to beat them on penalties in the Euro 2020 final after the scores had finished 1-1 following extra time at Wembley.
Aiming for football to finally 'come home' after a 55-year absence since lifting the World Cup in 1966, England was forced to endure more heartache after suffering spot-kick defeat despite taking an early lead in a game that was short on quality but high on tension.
Luke Shaw's goal had given England a dream start inside the opening two minutes, but Italy equalized through veteran defender Leonardo Bonucci in the second half.
The scores remained 1-1 after extra time as the contest went to penalties, with England trio Marcus Rashford, Jadon Sancho and Bukayo Saka all missing their efforts with Gianluigi Donnarumma inspired in goal as Italy won the shootout 3-2.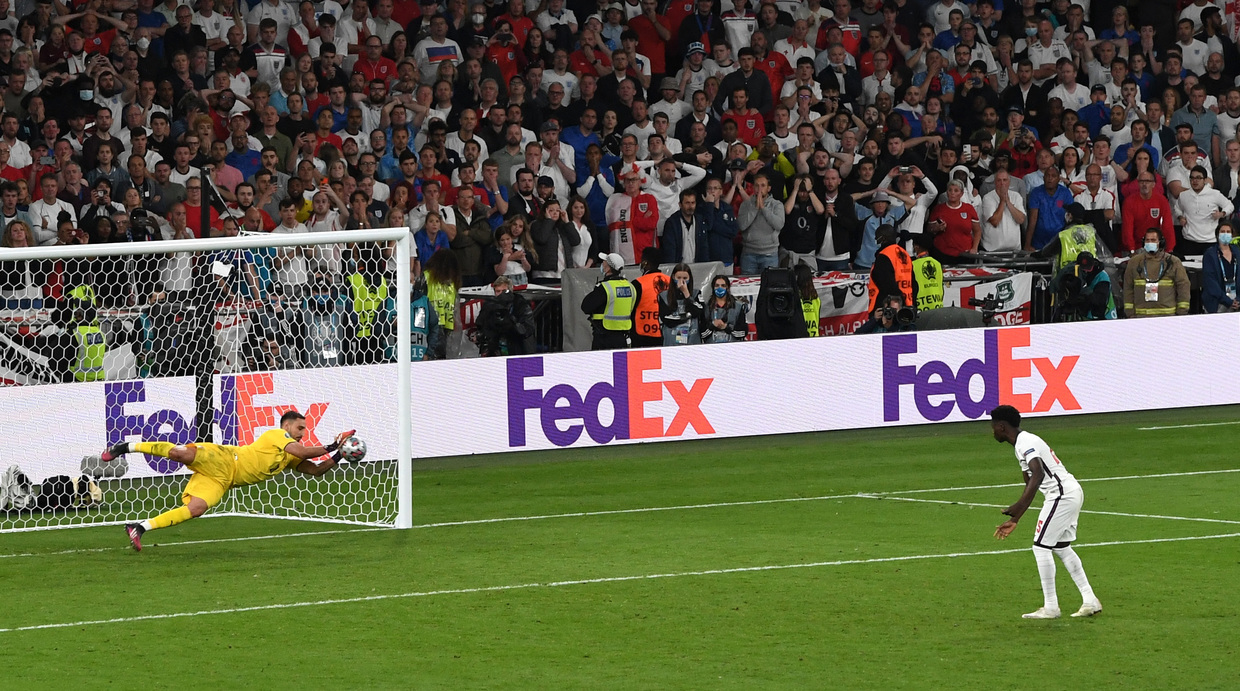 England goalkeeper Jordan Pickford had himself saved efforts from Jorginho and Andrea Belotti, but Rashford struck the post before Donnarumma guessed correctly to thwart Sancho and teenager Saka to hand Italy a second-ever European title in front of a distraught Wembley.
In stark contrast, pumped-up Italy star Bonucci yelled "It's coming to Rome! It's coming to Rome!" into the camera as he spelled out the final destination of the trophy.
Read some more news on https://emeatribune.com/sports/