Starmer appeared largely unfazed, removing his glitter-strewn jacket to deliver his much-anticipated speech after making several quips about the incident.
"If he thinks that bothers me he doesn't know me," Starmer told the cheering audience.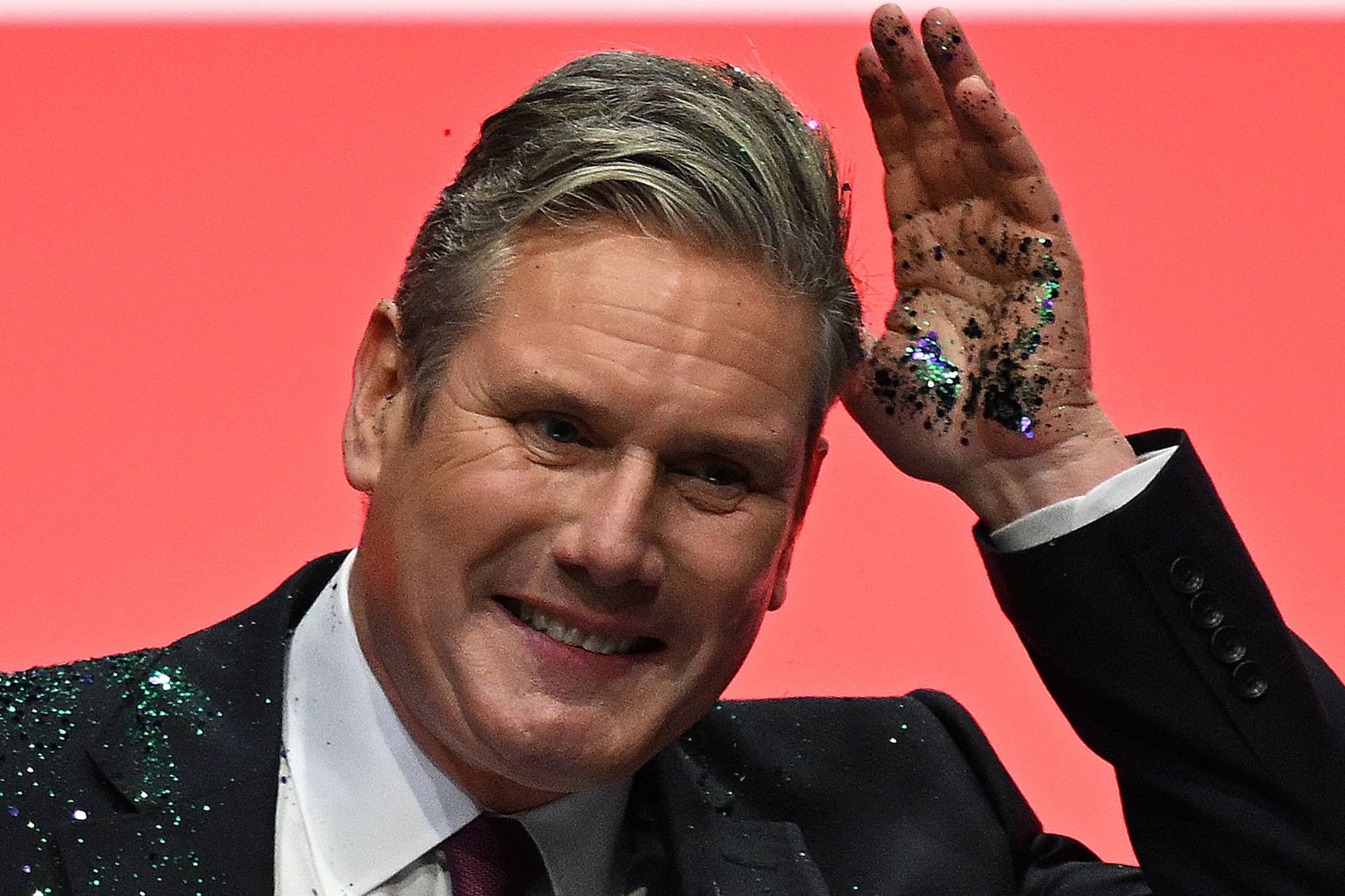 "Protest or power? That is why we changed our party, conference," he added.
Starmer has revived Labour's standing since replacing leftist Jeremy Corbyn as its leader in 2020, overhauling the party after it suffered its worst election performance in decades in December, 2019.
Corbyn had been a Labour lawmaker for decades but never held a government post during its 13-year period in power from 1997.
Starmer used his speech to praise the spirit of the British people despite the "Tory project to kick the hope out of this country," in reference to the governing Conservative Party.
He set his sights on a "decade of national renewal" under Labour, suggesting he wants at least two terms in power.
In a nod to New Labour, as the party was rebranded under former prime minister Tony Blair, Starmer said the country had "13 years of 'things can only get better' versus 13 years of 'things have only got worse'".
He said "the fire of change still burns in Britain" and it "lives on inside Labour".
Starmer set out the importance of helping people with Britain's cost-of-living squeeze, claiming that Prime Minister Rishi Sunak and the Tory Party could not understand the way people were suffering.
He said the squeeze on living standards "intrudes on the little things we love, whittles away at our joy".
"Days out, meals out, holidays the first things people cut back on. Picking up a treat in the supermarket just to put it back on the shelf."
Setting out the scale of the challenge likely to face Labour if it wins the general election expected next year, he said: "If you think our job in 1997 was to rebuild a crumbling public realm, that in 1964 it was to modernise an economy left behind by the pace of technology, in 1945 to build a new Britain out of the trauma of collective sacrifice, then in 2024 it will have to be all three."
Starmer is seeking to persuade voters fed up with economic stagnation and political turmoil to switch allegiance to his party, which has been out of office since 2010.
Starmer's speech in Liverpool at a conference that has been overshadowed by violence in Israel and Gaza was a key moment for a politician who has managed to unite a fractious party and gain a substantial lead in opinion polls but remains a blank slate to many voters. A barrister and former head of the national prosecution service, he's widely seen as managerial and a bit dull.
Labour has lost four straight national elections. Its landslide 1997 election victory under Tony Blair – the peak of its popularity – was a quarter-century ago and in the last election, in 2019, voters handed Labour its worst drubbing since 1935.
Since then, Britain has been through the Covid-19 pandemic, left the European Union and absorbed the economic shock of Russia's invasion of Ukraine, all of which pushed UK inflation above 11 per cent late last year.
Voters are weary from a cost-of-living crisis, a wave of public sector strikes and political turmoil that saw the Conservative Party dispatch two prime ministers last year – Boris Johnson and Liz Truss – before installing Prime Minister Rishi Sunak to try to steady the ship.
With an election due by the end of 2024, polls put Labour as much as 20 points ahead of the Conservatives.
Starmer, elected leader in 2020, steered the social democratic party back toward the political middle ground after the divisive tenure of predecessor Jeremy Corbyn, a staunch socialist who advocated nationalisation of key industries and infrastructure.
Starmer also repaired relations with Britain's Jewish community and vowed to root out antisemitism that's alleged to have tainted the party under Corbyn, a strong supporter of the Palestinian cause.
Labour leaders condemned Saturday's Hamas attack on Israel, and led delegates in a minute of silence for the victims on Monday.
Starmer condemned the attack by "the terrorists of Hamas" and said Israel "has the right to defend her people."
Starmer's move to the centre has angered some grass roots Labour members who want a bolder agenda, but it has revived the party's poll ratings and put a spring in the step of conference delegates.
The next election will be fought against a challenging economic backdrop of high interest rates and low growth. The International Monetary Fund projected on Tuesday that the UK will see the weakest economic growth among the Group of Seven leading industrial nations next year, at just 0.6 per cent.
That leaves Labour trying to walk a delicate line. Party leaders want to persuade voters it can ease Britain's chronic housing crisis and repair its fraying public services, especially the creaking, state-funded National Health Service – but without imposing tax increases on the public.
Reporting by Agence France-Presse, Associated Press, dpa
EMEA Tribune is not involved in this news article, it is taken from our partners and or from the News Agencies. Copyright and Credit go to the News Agencies, email [email protected] Follow our WhatsApp verified Channel