President Volodymyr Zelensky denied on Saturday that Ukraine's
war with Russia
had reached a "stalemate", pushing back at suggestions Western leaders were lobbying for peace talks.
The sprawling frontline between the two warring sides has barely moved in almost a year, with one senior Ukrainian official
warning this week
that the conflict was deadlocked.
"Time has passed, people are tired … But this is not a stalemate," Zelensky told a press conference in Kyiv with EU Commission chief Ursula von der Leyen.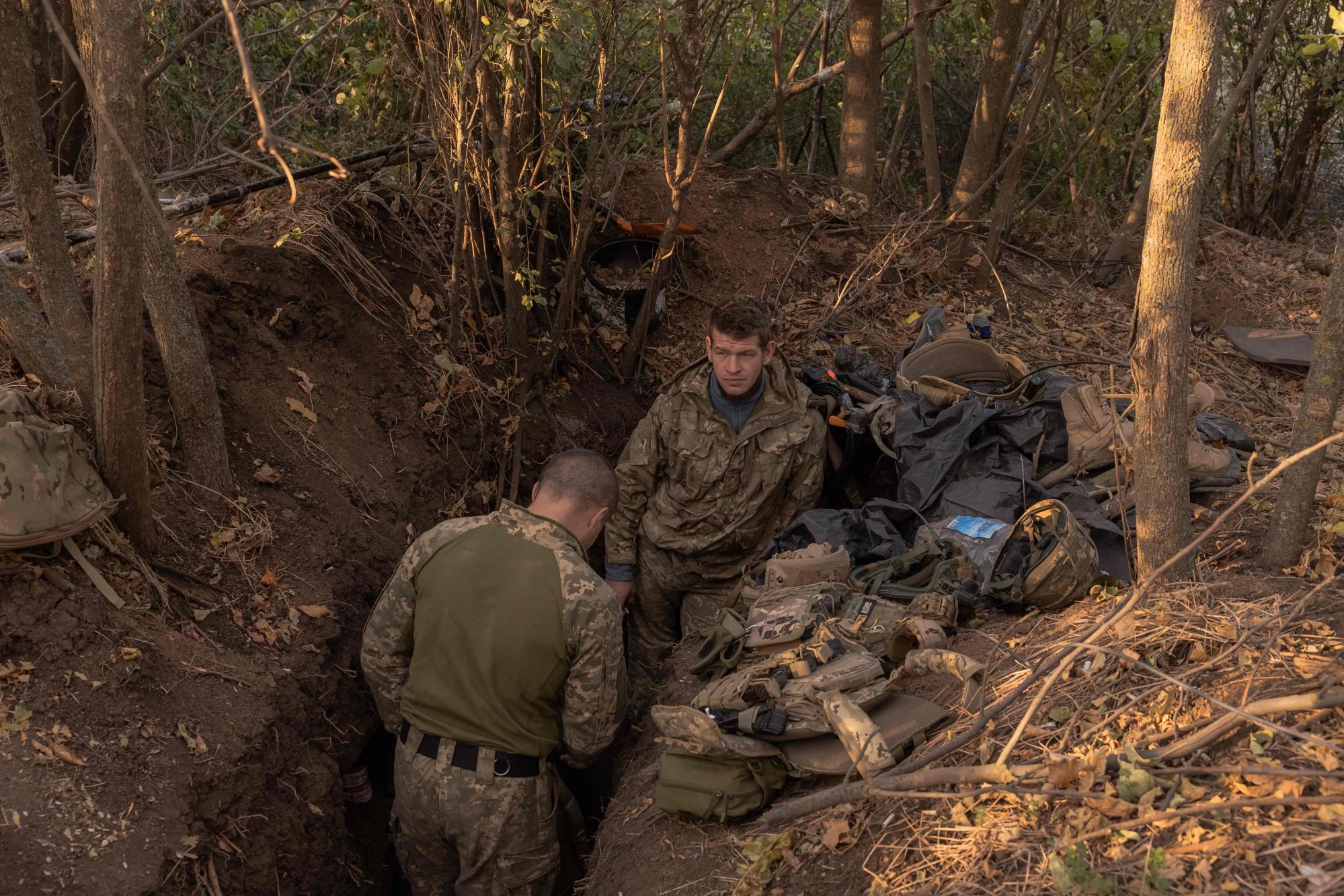 The Ukrainian leader also rejected the idea Western countries were putting pressure on him to enter negotiations with Russia, amid reports US and EU officials had spoken to Kyiv about what such talks would entail.
"No one among our partners is pressuring us to sit down with Russia, talk to it, and give it something," he said.
With the war now in its 20th month and Ukraine struggling to gain ground in its counteroffensive, Zelensky has routinely met Western leaders in a bid to stave off fatigue with the conflict.
Zelensky said the war between Israel and Hamas had also drawn attention away from Ukraine, and said that this was "Russia's goal".
"Of course, it's clear that the war in the Middle East, this conflict, is taking away the focus," Zelensky said.
"We have already been in very difficult situations when there was almost no focus on Ukraine," he said, but added: "I am absolutely sure we will overcome this challenge."
Von der Leyen at the press conference on Saturday said that Ukraine had made "excellent progress" towards EU accession, days ahead of a key report on Kyiv's membership bid.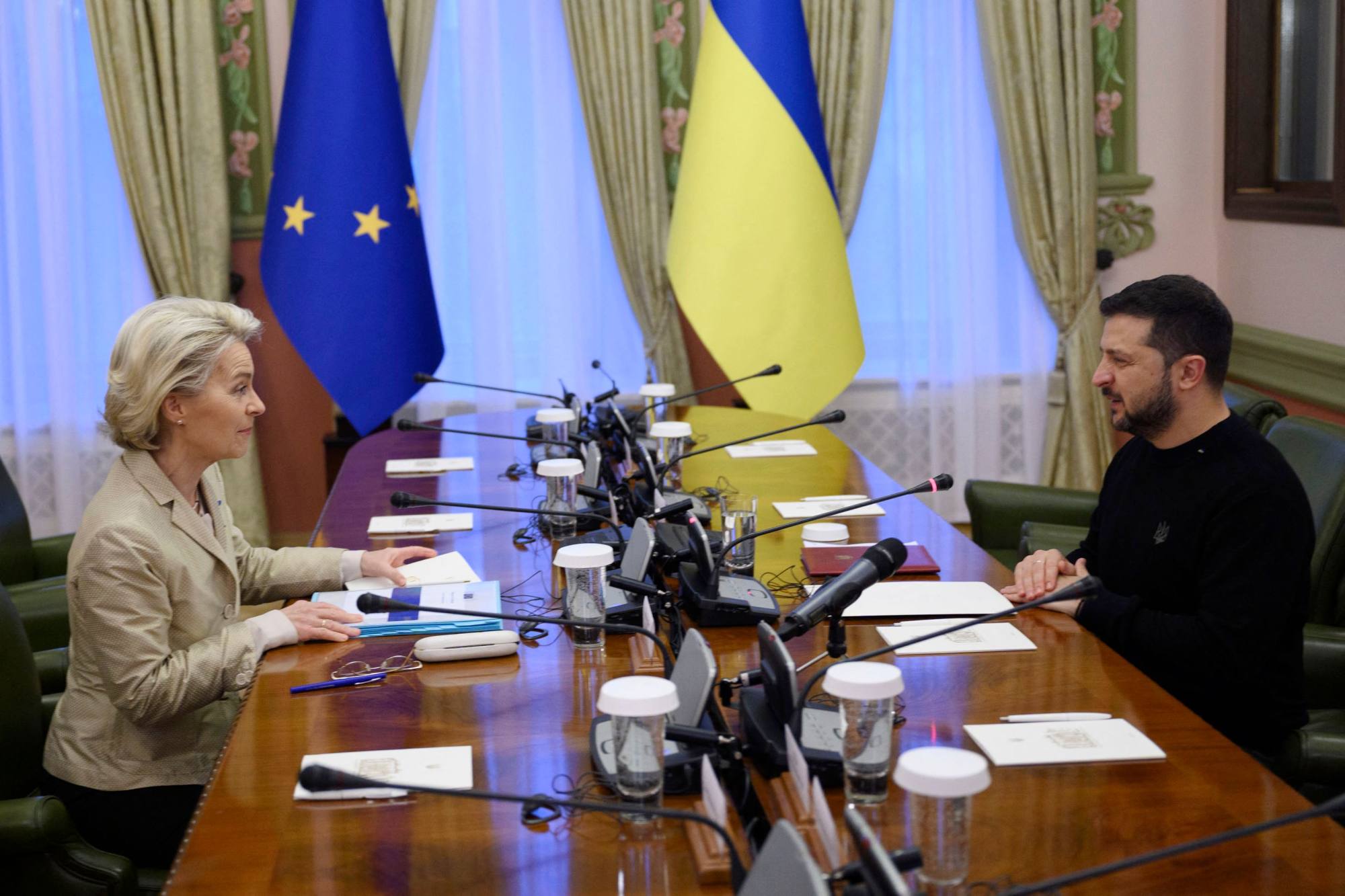 She said Ukraine had reached many milestones despite the war with Russia, highlighting Kyiv's judicial reforms.
"I must say you have made excellent progress," she told a joint news conference in Kyiv. "I know you are in the process of completing outstanding reforms. If this happens and, I am confident, Ukraine can reach its ambitious goal of moving to the next stage in the accession process."
The EU assessment due on Wednesday is expected to say how far Ukraine has advanced in fulfilling various economic, legal, and other criteria to clear the way for accession talks in December.
Ukraine, which applied to join the European Union days after Russia's full-scale invasion in February 2022, sees membership as a top priority.
The EU's 27 members are due at a summit in December to decide whether to allow Kyiv to begin accession negotiations, which would require unanimous backing.
Ukraine's bid received a boost on Thursday when German Foreign Minister Annalena Baerbock said she was confident the EU would advance Ukraine's application next month.
Membership talks typically take years and involve extensive legal, political, and economic reforms. Ukraine's case has been made much harder by the war.
Von der Leyen's visit comes as Ukraine's troops face battle fatigue and concerns swirl over the future of vital US military assistance.
Ukraine's backers, including the United States, have maintained they are ready to support Kyiv with military and financial support for as long as it takes to defeat Russia.
The EU had already provided 83 billion euros ($90.2 billion) for Ukraine and plans to send another 3 billion euros by the end of this year, von der Leyen said.
She also said work on a proposal on pooling profits from frozen Russian state assets to help Ukraine with reconstruction was ongoing with a result expected before the end of the year.
Additional reporting by Reuters
EMEA Tribune is not involved in this news article, it is taken from our partners and or from the News Agencies. Copyright and Credit go to the News Agencies, email [email protected] Follow our WhatsApp verified Channel