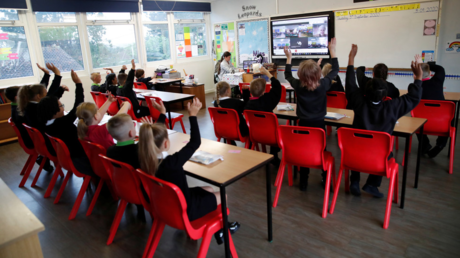 Imperial College London's (ICL) REACT study has found the decision to let pupils return to the classroom after the summer holidays allowed Covid infections to remain high in England, despite cases falling among adults.
Infection levels in the UK have remained higher than other Western European countries, with over 30,000 confirmed cases recorded in Britain every day of October, compared with over 80,000 at the peak of the pandemic. Since schools returned in September, numbers have not fallen below levels seen during the summer.
Researchers for the REACT study found that despite prevalence of the virus being below 1% in adults, it was at 2.55% in 13-17-year olds and 2.32% in 5-12-year olds.
Similarly, the estimated reproduction rate, known as the 'R' number, has been declining in 18-54-year-olds, while it has grown in under-17s.
"Prevalence was high and increasing in school aged children during September," REACT study researcher Paul Elliott said, suggesting that "increased vaccination uptake in school-aged children, and the unvaccinated or partially vaccinated adults will help reduce the potential for transmission."
Also on rt.com

NHS Covid pass suffers outage for several hours, leaving people unable to show proof of vaccination status
The UK government allowed for the return of pupils after the summer holidays, believing that continued absences due to the Covid pandemic could have a significant "knock-on impact" on "children's wellbeing," as well as an "economic impact" on the workforce due to parents having to care for students off school.
The REACT study, known as the Real-time Assessment of Community Transmission, has been ongoing since April 2020, providing a picture of how the Covid pandemic is spreading across England, looking at results from antigen and lateral flow testing.
Think your friends would be interested? Share this story!