US President Joe Biden said on Sunday that he met with Chinese Premier Li Qiang in India, his highest-level direct talks with the Chinese leadership in months, adding that he did not expect that the country's economic difficulties would prompt it to invade Taiwan.
Biden also denied that the US was trying to box China in even as he cemented relations with Vietnam on China's southern flank and paved the way for greater "de-risking" of vital technology supply chains, including semiconductors.
"What this trip was about – it was less about containing China. I – I don't want to contain China," Biden said in Hanoi, according to the White House. "I just want to make sure that we have a relationship with China that is on the up and up, squared away, everybody knows what it's all about."
Biden said, without going into detail, that he and Li talked about "stability" and the Southern Hemisphere. He added that the Chinese economy has struggled in part due to the international environment, real estate difficulties and domestic policy.
But all countries go through difficult patches, he added, and he did not see it as a pretext for Beijing to change the status quo of self-governing Taiwan, which Beijing considers a part of its territory.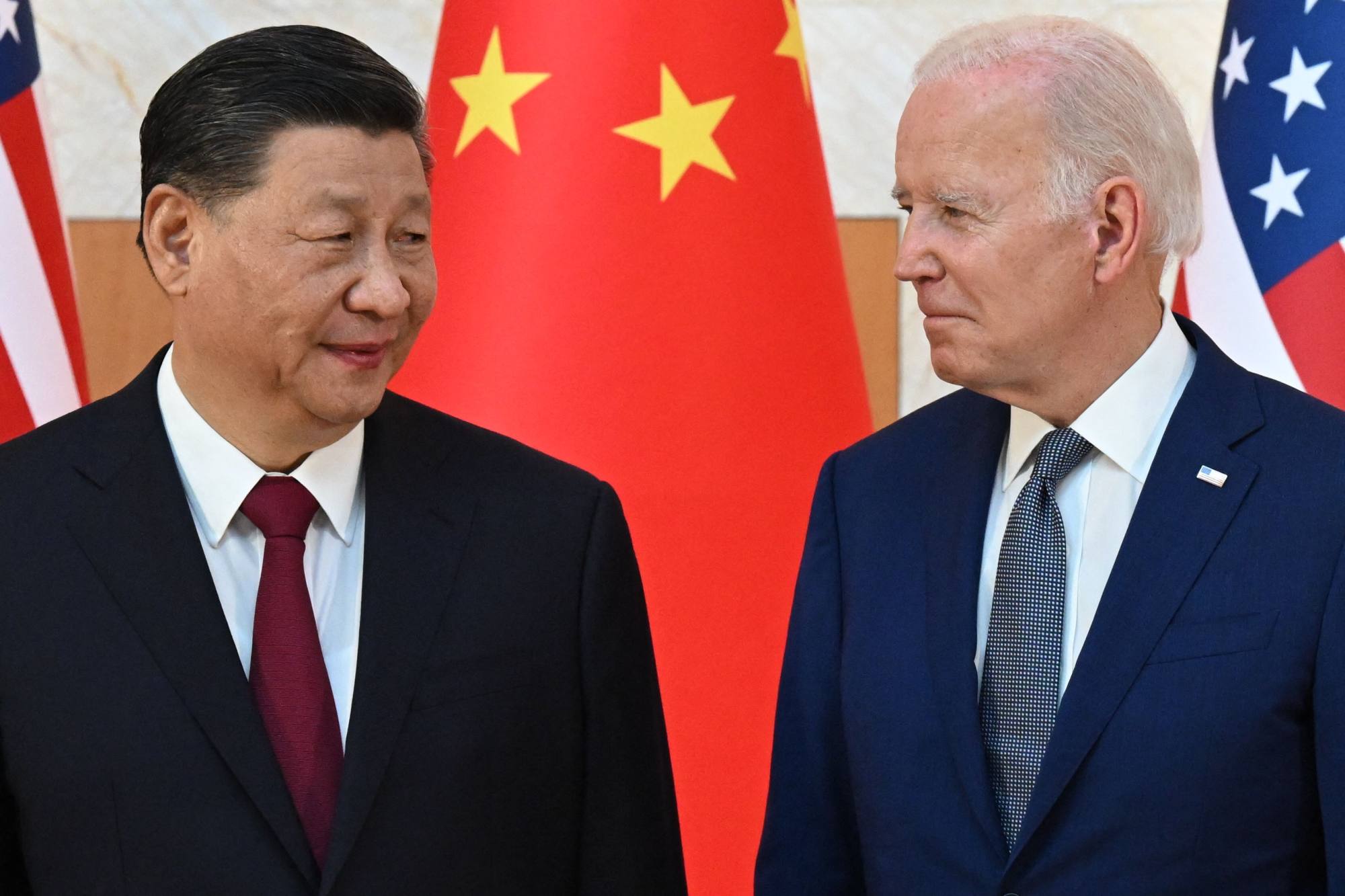 "I don't think it's going to cause China to invade Taiwan," he told the press in Hanoi. "And, matter of fact, the opposite – it probably doesn't have the same capacity that it had before."
Biden left India, this year's
G20
host, Sunday morning before arriving in Vietnam a few hours later. Although his unannounced meeting with Li took place in New Delhi, he only mentioned it after landing in Hanoi.
The US and China have seen relations hit new lows over a host of trade, technology, espionage, visa and military differences. But the two economic giants have sought in recent months to halt further deterioration with a series of
high-level meetings
toward a possible November sit down between Biden and Chinese President Xi Jinping at the Asia-Pacific Economic Cooperation summit in San Francisco.
The Biden administration has accused China of not playing by international rules. In response, Washington has worked to rally allied nations in a bid to check what it sees as Beijing's growing assertiveness in its trade practices, economic coercion and territorial claims with India, Japan and in the South China Sea.
"One of the things that is going on now is China is beginning to change some of the rules of the game, in terms of trade and other issues," Biden told reporters.
China has countered that the US is pursuing divisive policies based on a Cold War mentality.
Xi
skipped
the G20 without providing a reason, nor was Russian President Vladimir Putin at the summit, leaving more room on the stage for Biden and his administration's messaging.
"In contrast to Xi's absence, the presence of US President Joe Biden at the summit and a highly productive bilateral meeting between him and Indian Prime Minister Narendra Modi demonstrated US support for India taking on a greater global leadership role and acting as a bridge to the global south," said Lisa Curtis, a senior fellow with the Centre for New American Security, a Washington think tank.
"If the intent of Chinese President Xi Jinping's decision to skip this year's G20 summit was to remove the sheen from the meeting that was being held in New Delhi, his effort was unsuccessful."
Biden said Sunday that the US was not looking to impair China's development and did not want to decouple the two economies.
"We're all better off if China does well, if China does well by the international rules. It grows the economy," he said. "What I'm not going to do is I'm not going to sell China material that would enhance their capacity to make more nuclear weapons," adding that the US does not want to bolster China's defence activities not regarded as a "positive development" by most people in the region.
"But we're not trying to hurt China."
On Monday, China's Foreign Ministry confirmed the "brief conversation" between Li and Biden.
"Premier Li stressed that China's development is an opportunity, not a challenge, to the US and the two countries should step up exchanges," the ministry's spokesperson, Mao Ning, added.
While Biden was in Hanoi, he and General Secretary Nguyen Phu Trong elevated their bilateral relationship to a comprehensive strategic partnership. Vietnam has been one of the most vocal critics of China's expanded claims to the South China Sea.
As part of the US-Vietnam partnership, the two agreed to create a "new semiconductor partnership", cooperate in science and technology, enhance educational ties, deepen trade and economic links, bolster security and address the legacy of their two decades long war.
"This partnership represents a new chapter in US-Vietnam relations and is an important step in maintaining regional security and the global balance of power," said congressman Michael McCaul, a Republican from Texas and chairman of the House Foreign Affairs committee, adding that it would strengthen deterrence against China in the region.
"The United States and Vietnam have overcome a difficult past to become trusted partners," the White House added.
China has vowed to reunite Taiwan by force if necessary. Few countries, including the US, recognise the self-governing island as an independent state. But Washington is obliged by law to support Taiwan's military defence capability and has sought to expand the island's presence in global health, crime prevention and
aviation
– objectives Beijing opposes.
EMEA Tribune is not involved in this news article, it is taken from our partners and or from the News Agencies. Copyright and Credit go to the News Agencies, email [email protected]