Pakistan: Veterans of Pakistan Army press conference in Islamabad was held today at 6:00 PM. In a press conference, many retired armed force majors, brigadiers, and generals were present. The press conference of veterans was first stopped and then didn't broadcast on any television news channel, on the other hand, a looter was doing a press conference without hesitation at the same time.

Veterans of Pakistan Army press conference
Retired Army officers said that when the government was overthrown through conspiracy, our retired officers met General Bajwa. Bajwa assured me that I will hold elections in 90 days. Either the President of the country or the Election Commission, says General Ali Kuli Khan Khattak.
جنرل باجوہ صاحب نے ہم سے وعدہ کیا تھا 3 ماہ میں الیکشن کروائیں گے جنرل صاحب کیا اپنا وعدہ بھول گئے؟ ریٹائرڈ فوجی افسر کا سوال ؟ pic.twitter.com/qPIAgoBkeX

— Naya Pakistan (@Naya__Pakistan_) June 6, 2022
Retired military officers demand the immediate removal of Interior Minister Rana Sanaullah, dissolution of parliament, and new elections.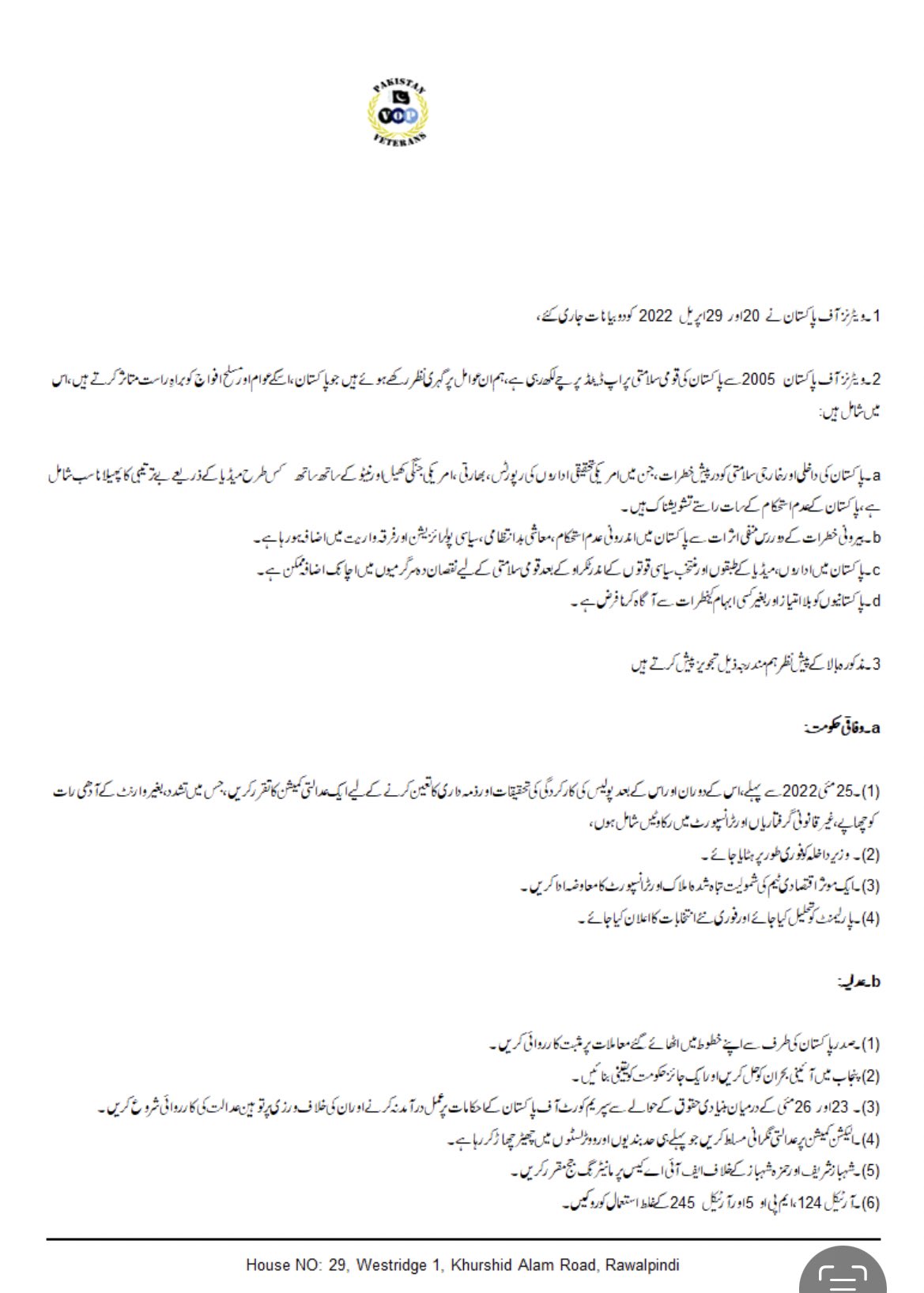 ریٹائرڈ فوجی آفسران کی خصوصی گفتگو
مداخلت ہوئی تھی ۔۔عمران خان کا صرف یہ قصور تھا اس نے ملک کی خوداری کی بات کی تھی ۔۔آزاد خارجہ پالیسی کی بنیاد رکھنا چاہی pic.twitter.com/ga1HO4vM8I

— Naya Pakistan (@Naya__Pakistan_) June 6, 2022
If we see someone better than Imran Khan, we will support him. We love Pakistan, not Imran Khan and at the moment we do not see any better leader in Pakistan than Imran Khan, Ex-servicemen's statement.
SAD, PRESS CLUB: Sorry to hear that PC Admin first booked a Presser for Veteran Officers and then cancelled it at the last minute without any reason. Also heard, not confirmed, PC got a big donation from Govt. If this is so, fellow colleagues must apologize and redress this wrong

— SHAHEEN SEHBAI (@SSEHBAI1) June 6, 2022
All this filth is spread by the Shareefs. He has joined hands with the enemy forces and pushed Pakistan into the clutches of slavery.
سابقہ فوجی افسران کو نیشنل پریس کلب میں داخلہ نا ملنے کے بعد باہر ہونے والی پریس کانفرنس کے مناظر۔ pic.twitter.com/npx8HSIZv3

— Adil Raja (@soldierspeaks) June 6, 2022
These are our heroes!!! These are the people of whom Bajwa says "hamai apnai shauhada aur ghaaziyon ko nahi bhoolna chaye". Hear it from them @OfficialDGISPR. We DONT admire any COAS who allowed use of force against peaceful protesters. #BajwaHasToGo pic.twitter.com/KCWTaJC4gG

— Fahad Masood (@FahadMa68850071) June 6, 2022