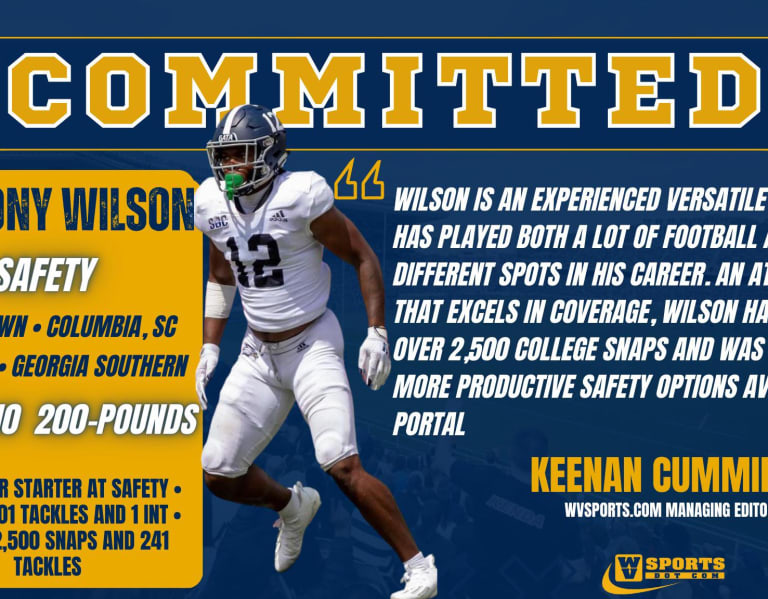 West Virginia wanted to secure more help in the transfer portal in the defensive backfield and the coaches have done just that with a commitment from Georgia Southern safety transfer Anthony Wilson.
Wilson, 5-foot-10, 200-pounds, is one of the more productive players available in the transfer portal after playing over 2,500 snaps during his time with the Eagles.
Last season Wilson piled up 101 tackles and an interception, while over his three-year career he recorded 241 total tackles, 10.5 tackles for loss, 23 passes defended, 3 sacks and a pair of interceptions.
The experienced defensive back has started 36 games over the past three years.
After entering the transfer portal April 11, West Virginia was one of many programs that quickly jumped into the mix for Wilson. It was a list that also included Baylor, Louisville, Indiana, Tennessee, Purdue, Pittsburgh, Minnesota, Cincinnati, Central Florida and a number of other schools.
The Mountaineers efforts were led by secondary coach ShaDon Brown who built a strong connection with Wilson in a short period of time. That led to the South Carolina native electing to take an official visit to campus April 28-30, which was all he needed to see to end his recruitment.
Wilson also took an official visit to Louisville April 20-22, but saw the opportunity that he was looking for in Morgantown as well as a plan that piqued his interest for his usage.
West Virginia sees Wilson as a free safety with the ability to move around to various spots in the secondary depending on where the biggest needs are for the program.
"He was talking about starting me off at free safety while I can also play strong or in the slot," he said.
Wilson has two years remaining in his career and is set to enroll at West Virginia in May.
The versatile defensive back becomes the 12th commitment for West Virginia from the transfer portal this off-season and represents the fourth in the secondary.
Wilson joins Kent State cornerback Montre Miller, Buffalo safety Keyshawn Cobb and Minnesota defensive back Beanie Bishop as players that have transferred into the Mountaineers football program since the end of last season.
WVSports.com will have more with Wilson in the near future.