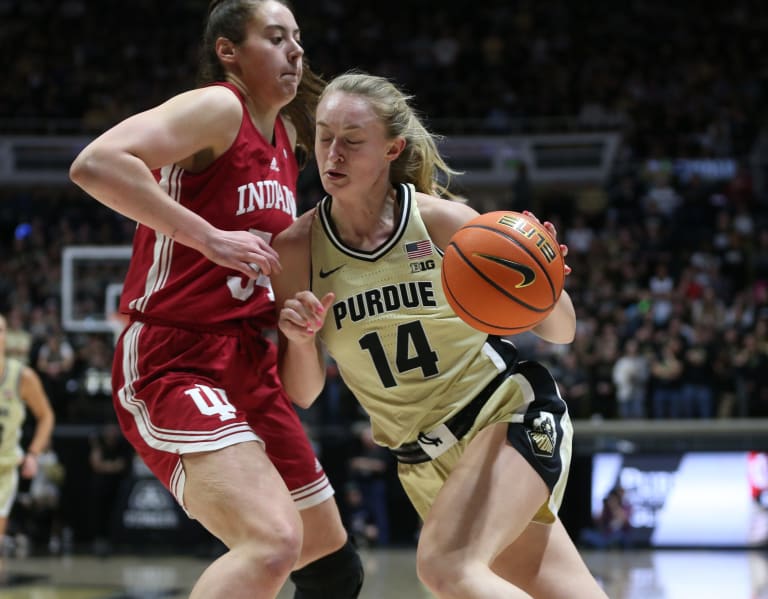 Purdue women's basketball saw two players exit the program on Wednesday as sophomore forward Ava Learn entered the transfer portal and freshman guard Ainhoa Holzer left the program, a source confirmed to Boiler Upload.
Learn has entered the NCAA Transfer Portal after two seasons with the Boilermakers. Holzer's status is uncertain, as she could head back to her home country of Switzerland or opt to enter the transfer portal. That decision has not been disclosed at this time.
Learn is the third Boilermaker to enter the transfer portal in search of greener pastures, following Lilly Stoddard and Addison Potts. Purdue also saw the last remaining member of the 2022 recruiting class depart after just one season on campus with Holzer's exit. Purdue will lose Lasha Petree, Cassidy Hardin, and Rickie Woltman this off-season as well.
A 2021 recruit, Learn spent two seasons in West Lafayette, suiting up in 52 games. Learn averaged 3.8 points and 2.2 rebounds in just over 10 minutes per game for head coach Katie Gearlds. After a strong freshman campaign, Learn saw her minutes decrease from 12.1 per game to 9.5 as a sophomore. She was utilized as a high-energy forward off the bench, forming a frontcourt tandem with Rickie Woltman for the Boilermakers.
Holzer came to Purdue last summer after a prep career in Switzerland, where she was the 2022 Swiss Basketball League Sixth Woman of the Year and Most Improved Player. The international guard also joined the Swiss National Team in 2021-2022 as they prepared for the Women's EuroBasket 2023 qualifiers. Holzer missed all of 2022-2023 with a torn ACL.
Learn's departure makes Purdue's frontcourt depth a question mark heading into 2023-2024. The Boilermakers will have two traditional forwards on the roster, sixth-year senior Caitlyn Harper and incoming freshman Mary Ashley Groot, for next season.
Katie Gearlds has already been rumored to have shown interest in several transfer portal players this off-season. That pursuit will likely ramp up in the coming days and weeks as two more scholarships become available. As Learn and Holzer depart, Purdue will have five open scholarships for next season.